•  Words by Adam Clarke - GM, EMEA
Why brands are trading ROAS for MER as part of a two-speed marketing plan
The digital marketing landscape is changing and what comes with it is the need for brands to take a wider view of overall brand or business success, rather than simply zooming in channel-by-channel.
It's been a difficult year for performance marketing. 
After the lockdown-induced peaks, several factors have combined to make life harder:
Retail stores stealing sales back from digital
Consumers' busy doing other things (such as socialising, travel and festivals)
Loss of Apple iOS tracking continuing to bite
This has meant ugly looking customer acquisition graphs and a rush by marketers to question the success of channels that, until recently, were propping up a brands' growth.
You can't solve a problem until you're asking the right questions
A repeated question this year has been..
Cue paid marketers frantically coming up with explanations (often touching upon the bullet points above). 
But 2022 is very different to 2021, which is very different to 2020, which is very different to… you get the idea.
In the middle of 2020 when the global pandemic led to store closures and the shift to online buying, Facebook and Instagram were basking in the glow of record levels of direct sales. 
Everybody working in performance marketing was celebrating their hockey stick shaped charts. But back then consumers literally had nothing better to do than shop online, trading their disposable income for purchase endorphins.
2 years later and the landscape has shifted considerably, with our obsession of looking back preventing our ability to move forward. A better question to the one posed above might be… 
"Is Facebook ROAS even the right metric for our brand?"
In a lot of cases, the answer to this is a big, fat… NO! 
So, why is ROAS outdated?
To start with, we can no longer trust the data. 
Apple's crackdown on app tracking will before long be compounded by the 'death of the cookie'. There are tools out there like Triple Whale which aim to refill the blanks but ROAS has never been telling the full story anyway.
ROAS has always failed to reward marketing activity which:
Creates a pool of 'prospects' who don't buy directly but do come back at a later date. With most marketers still hooked on 'last click attribution', ROAS never tells the full story.
Builds long-term relationships with customers by telling powerful brand and product stories.
Transitioning to MER as a way to scale marketing spend
ROAS allowed you to zoom in on a channel to check on its performance but it neglected a wider view of what that meant for the overall brand or business success. The equivalent of analysis is the health of a forest by only looking at individual trees in silo.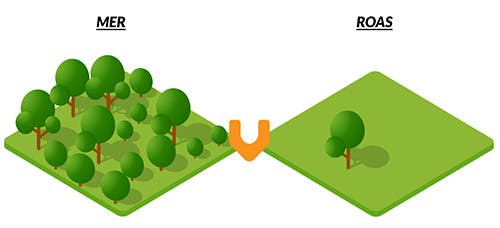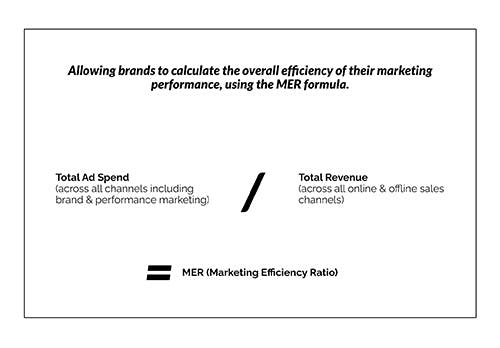 Let's put some example numbers behind it...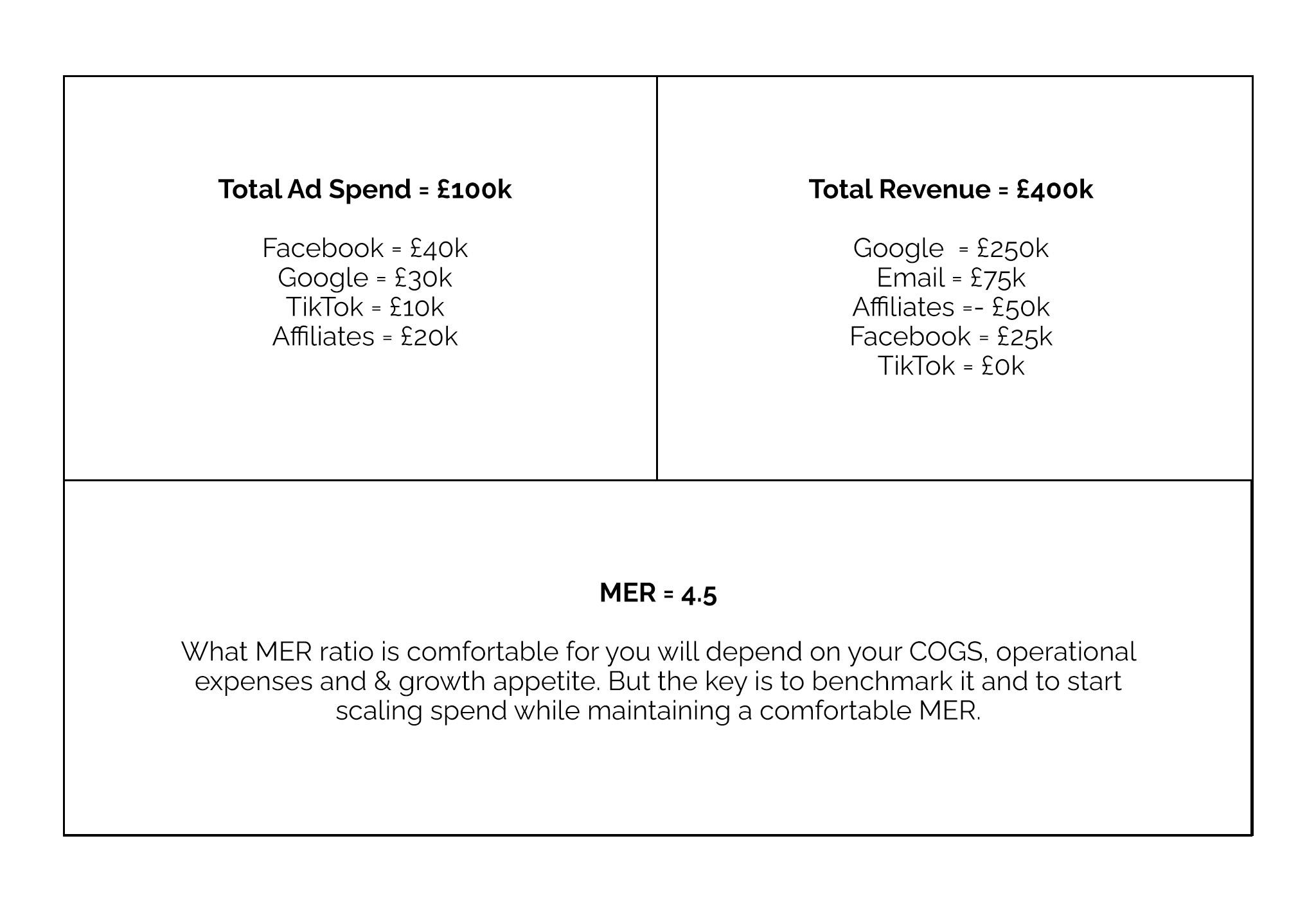 MER allows you to:
Demonstrate the impact of paid activity away from last click attribution (i.e. what role does TikTok actually play in the growth of your brand?)
Allows you to improve efficiency and profitability of all your marketing over time (by combining channel optimisations with overall improvements to brand communications and customer experience).
Scale total paid spend by keeping flexible budgets across your channels, without losing sight of your bottom line profitability.
Dan Howe, Reload's GM of Marketing also suggests going beyond MER to look at ncROAS and POAS. For now though, let's take a look at what else brands and retailers are doing to compliment a rethink in business-critical metrics.
Alongside a rethink of business-critical metrics, what else are brands and retailers doing?
Brands switching performance marketing for performance branding
Whether you're a global retailer like Adidas or a digital-first newcomer like Cubitts, brands are now using digital channels such as Facebook, Instagram, YouTube and TikTok not just to push product and promotions… But instead to create meaningful conversations with customers. 
Brand-building is no longer the sole responsibility of above-the-line mediums such as linear TV, radio and billboards.
Instead, marketers need to adopt an integrated approach across brand and performance activity...
A strong communication strategy should weave a brand's proposition into all forms of customer engagement, whether that's:
Digital billboards
Video-on-Demand advertising
TikTok 
PLPs 
Post-purchase emails
Brand is too important to be the sole owner of the brand department, and the performance marketing team and eCommerce teams should be championing good brand marketing across all creative, copy and landing pages.
To see this in practice, check out Finisterre, who weave their core brand values of sustainability and ocean protection, "designed by those who love the sea, for those who love the sea", through all parts of their marketing. Whether it's their community of ambassadors (lifeguards, surfers, activists and academics), through to their Sunday email broadcasts or their detailed product pages, the brand DNA is never far away. 
Find your two-speed marketing plan
Old habits die hard and it can be all too easy to stick to what's achieved success. 
But in the current climate, it might be time to rethink the questions you're asking, the metrics you're using and how to find more joined-up thinking between your channels. 
Brands who are developing this two-speed marketing plan by finding a better balance between brand and performance are plotting a more sustainable journey towards future growth. 
Want to know more about to implement a two speed marketing strategy? Download our new ebook for inspiring brand stories, industry insights and actionable frameworks to help get you started.
Alternatively, speak to a Reloader about devising your own two-speed marketing plan.
Creating a unique Retention & Lifecycle strategy
With acquisition costs on the rise, Reload Digital shares tips eCommerce brands can implement to improve efficiencies and drive long-term growth using a robust retention & lifecycle strategy. This article explores how using loyalty schemes, referral programs & SMS you can create a layered retention program that keeps users repurchasing.
A Peak Planning Model for the BFCM retail and ecommerce season
As peak retail season approaches, Reload Digital shares tips eCommerce brands can implement to maximise performance over the biggest trading months of the year. This article explores how November is just the tip of the iceberg, and brands need to look at their strategy from September through to January to keep driving year-on-year growth.