•  Words by Sophie Pease-Watkin - Paid Specialist
How the Apple iOS 14 update impacts eCommerce advertisers and what you can do to prepare
Summarising what will be affected in Facebook ads, what these changes mean and how to minimise the impact.
As you may have heard, Apple have recently announced changes to their user privacy policy as part of their latest software update, iOS14 and to put it bluntly...Facebook is a little unhappy. Launching an extensive PR campaign and webinar series in response to outline how these changes will irrevocably hinder small businesses advertising efforts as well as their own extensive advertising network. 
So what exactly is the update?
As part of their update on user privacy, Apple will now give users the chance to opt-out of their data being tracked, prohibiting data collection and sharing for app owners. This will be done through issuing a prompt to users on their iOS 14 devices via the App Store: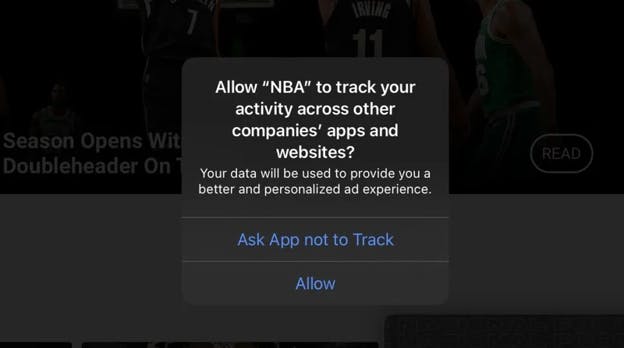 This presents a BIG problem to Facebook and that's because the Facebook family of apps currently tracks the following: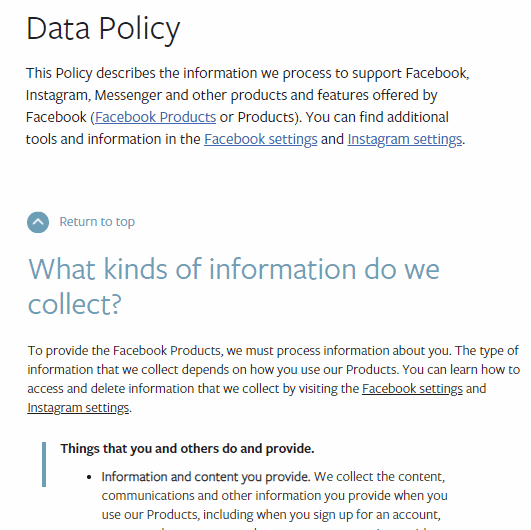 Even as a Digital Marketer… that's a long list. As a result, these privacy focused changes are expected to have the biggest impact on social media platforms such as Snapchat and Facebook, although it will still impact the likes of Amazon and Google to a lesser extent. This is due to the nature of how social platforms currently track their users, enabling advertisers to get sophisticated in using behavioural data. By users opting out of tracking, ad personalisation and performance reporting will be limited. 
A couple of important facts to note:
We still don't know how actually these changes will affect Facebook advertisings parameters
We don't know how many users will opt out, or what the uplift of use of this feature will be.
Apple hasn't released when the update will be enforced, but Facebook expects it could be as early as this month.
Although the update only impacts iOS users (and not Android), Facebook has made changes to their interface that will impact all advertisers.

   

What we know will be affected in social advertising
For anyone currently advertising on Social, this update and the ambiguity around it can seem daunting. To help we've broken down what we know will be affected & what you you can start doing to help minimise the impact on your advertising.
Pixel Events
Any advertising campaigns that track user behaviour or optimise towards a Pixel Event, such as add-to-carts, purchases, lead submissions or a custom conversion will be under-reported, with a proportion of users now opting out. This is because for users that do opt-out, Facebook will now only be able to report on one action they take. Advertisers will have to 'rank' their Pixel events in order of priority for what they want to track. Whilst for the majority of advertisers this will be purchase, followed by add to cart, view content, etc. it is worth considering this ahead of the update.
To summarise, all of the below Ad Objectives will be impacted: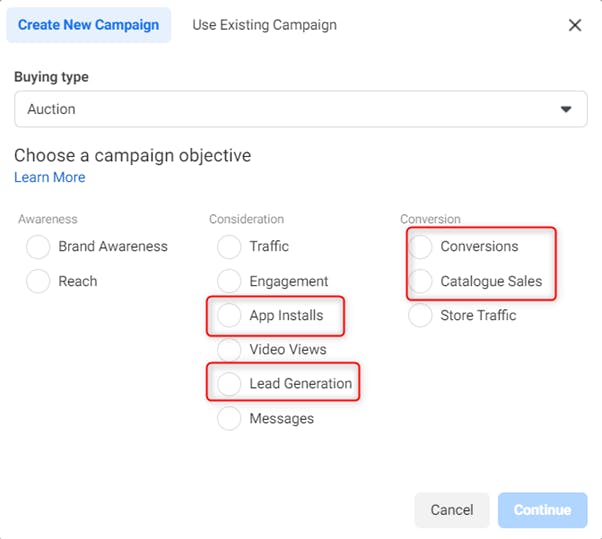 Audiences
The ability to build advertising audiences (remarketing, look-a-like etc) of users who have visited your site will be affected as iOS users who have opted out will no longer go into your previously created audience lists. Reducing the size of your existing website custom audiences and increasing the risk of ad exhaustion & fatigue at the remarketing level.
So what exactly does this mean for advertisers?
Well the big one is reporting – not only will real-time reporting not be supported (up to 3 days), clarity on what's working is just going to get harder for all advertisers. You will no longer be able to see 'breakdowns' within the ad platform – ie: age, gender, placement etc. This makes your campaign optimisations much trickier.
This is especially relevant when you consider some of the other additional changes Facebook are making to account for the update. Facebook will be limiting optimisation events to 8 per domain (think your standard events plus any custom ones), in this instance we'd suggest reviewing what you are currently tracking and culling any events that are no longer needed or you could 'live' without.
Facebook is also adjusting its attribution windows (for all users, not just iOS14) – a long standing area of discussion in the ad world. Previously the norm was 28 day click and 1 day view; moving forward Facebook will just be reporting on:
7-day click (the new default)
1-day click
1-day click and 1-day view
7-day click and 1-day view.
Facebook has already started to roll out this change meaning depending on how you currently report, you could begin to see a decrease in performance & the number of reported transactions.
So how can I mitigate these changes for my ads?
Facebook has suggested the following:
1. As first priority, businesses verify their website domain via an admin of the business manager, this is simply done via a line of code which can be copy and pasted to the top level domain of your website. Check out this Guide to Domain Verification for more information. 
2. Review your current Pixel Events and decide which 8 events you'd like to track in order of priority as part of the new 8-event limit.
At Reload, we also suggest:
1. Changing your current attribution windows to benchmark the effect on performance moving forward.
2. If you currently rely heavily on website custom audiences for remarketing, consider focusing on growing other remarketing lists such as video viewers or email subscribers in advance of the update. This will help mitigate against any ad fatigue as your website custom audience shrink.
3. Review the current device breakdown of your campaigns. If a large number of your existing impressions are coming from iPhone (compared to Android & Desktop) performance could be impacted significantly. Consider the option of running separate Android & iOS campaigns to allow for a degree of complete visibility over campaign performance.
No doubt this is going to affect all advertisers and businesses to various degrees, and while the changes are still fluid and ambiguous, it's highly likely that this isn't the last privacy-focused change ecommerce and digital advertisers will have to adapt to.
Have a chat to the Reload team today to find out more about how you may be affected and how you can still maximise the performance of your Paid Social campaigns.
Sophie Pease-Watkin - Paid Specialist
Creating a unique Retention & Lifecycle strategy
With acquisition costs on the rise, Reload Digital shares tips eCommerce brands can implement to improve efficiencies and drive long-term growth using a robust retention & lifecycle strategy. This article explores how using loyalty schemes, referral programs & SMS you can create a layered retention program that keeps users repurchasing.
A Peak Planning Model for the BFCM retail and ecommerce season
As peak retail season approaches, Reload Digital shares tips eCommerce brands can implement to maximise performance over the biggest trading months of the year. This article explores how November is just the tip of the iceberg, and brands need to look at their strategy from September through to January to keep driving year-on-year growth.