Redefining the Black Friday rulebook: Key trends and tips for a killer BFCM strategy
Ensure you're set up for a killer holiday season with our 3 key trends and tactics to help your brand stay ahead of the competition.
Words by Pia Kempe, Senior eCom Strategy Manager & Frankie Raggio, Growth Manager
The countdown is on - eCommerce brands are gearing up for the eagerly awaited BFCM sale period in November, but with rising advertising costs and an increasing flurry of retailers fighting for customers' attention online, is your brand doing enough to capture sales over your key competitors?
In this article, we explore why and how a winning BFCM strategy should go far beyond simply driving new customer acquisition through discounting.  Instead, we should be refocusing on the opportunity to surprise and delight customers, building positive sentiment that results in long-term relationships and higher customer lifetime value over time.     
Below we've summarised our top 3 tips for maximising the BFCM period this year, making your marketing budgets work harder to cut through the discounting noise, without compromising brand value and integrity. 
1. Add value beyond the discount
Whether you're a brand that operates a sale-driven approach or reserves discounting for specific occasions, the general consensus across all verticals is to turbo-charge discounting during BFCM to get a piece of the sales pie and drive additional customers through the door. Whilst most customers will indeed be gearing up to grab a bargain over the month of November, this gun-ho approach to BFCM can leave existing customers feeling undervalued and underappreciated, leading to a lack of trust in brands. 
New research from our partners Loyalty Lion found that an increasing amount of shoppers have a negative sentiment towards Black Friday discounting, with some of the prominent reasons being that "BFCM discounts are never as good as they expect them to be" or brands don't do enough to prepare for the surge in orders. Other reasons include that brands often put pressure on customers to make a purchase through constant promotional messaging and that the focus tends to be on "winning new customers over making their existing customers feel special during BFCM". 
 So, why are retail brands still trudging down the same path every BFCM, neglecting loyal customers they've worked so hard all year to nurture? Whilst the answer to this may be complex and involve deep-rooted habits learned over many years, it does present a huge opportunity to shake things up for 2021 and use BFCM as a way to kick-start positive new customer relationships whilst strengthening existing ones. 
So how exactly can brands add value beyond the discount during BFCM? We've listed the key tactics we'd recommend adopting:
Offer existing or VIP customers early access to the sale.


Offer free or discounted shipping to your high-value customers.


Offer all customers the option to join a loyalty program to build reward points that can be redeemed against their next purchase. 


Offer brand loyalists additional perks within your loyalty program such as exclusive access to content, new product launches or events. 


Give customers the option to contribute to a charity or initiative aligned with your brand values with every BFCM purchase to build trust and advocate philanthropy. 


Offer customers the option to send back empty packaging in return for a coupon to redeem on their next order - this works well for the beauty and F&B industry. 


2. Scroll stopping creative & tailored landing pages
The importance of having strong, scroll stopping creative in your Paid Social campaigns is well known, yet we still often see brands using standard undifferentiated designs during BFCM - typically black/red themes with flashing discount text. With Facebook reporting that shoppers' attention spans across its platform average at 2.5 seconds on desktop and 1.7 seconds on mobile, rethinking your creative strategy during a heavily saturated and competitive sale period is crucial for success. 
We'd recommend steering away from the conventional BF creative themes and messaging to avoid blending into the background. Adding bold colour (in-line with your brand aesthetic), stand-out product imagery and video where possible is key.
Our Paid Specialist, Sophie, also advocates using the 'hook, benefit, solution' tactic in Paid Social creative to get customers attention and drive engagement. This includes using a bold statement for the "hook" e.g. the UK's no. 1 tanning serum", highlighting product benefits and USPs for the "benefit" and using UGC or customer reviews to showcase how your product can meet their needs as the "solution", encouraging action with CTAs. You can read more about this here.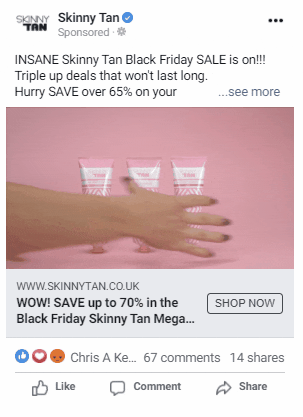 Skinny Tan is a great example of a brand that uses alternative creative to promote their Black Friday offers to customers on Paid Social ads, using engaging video to 'stop the scroll'.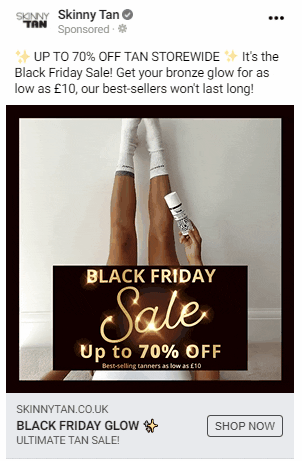 You've got customers to click-through on your Paid Social ads - now what?
Once you've encouraged new potential customers to visit your site, the next step is giving them a strong and engaging introduction to your brand and products. We've found directing people to hybrid landing pages works really well for this. These landing pages allow you to create a smooth user experience from the FB/IG advert to your website, including both inspirational and informative content as well as shoppable products, reviews and FAQs. They can play a vital part in getting customers ready to convert, particularly if they are new to your brand. 
Functional and sustainable clothing brand Finisterre do this well in their Waterproof Jackets Guide where they have included guidelines and key considerations for shopping waterproof jackets, care instructions and direct links to relevant products. For customers who click through from Paid Social, this guide is a one-stop-shop for all the information they need for purchasing, which creates a seamless customer experience.
Another example of this is jewellery brand Astrid & Miyu's Ear-Cyclopedia, where they showcase the different types of earrings they offer and how they can be worn, in a visual and engaging way, whilst also including shoppable links for users to continue their journey if they wish to purchase.
Whilst these examples aren't BFCM specific, similar pages can be set up for the products that are on offer during the sale period, and for more tips on how to create magnetic landing pages for BFCM, head to our Content Manager Laura's article.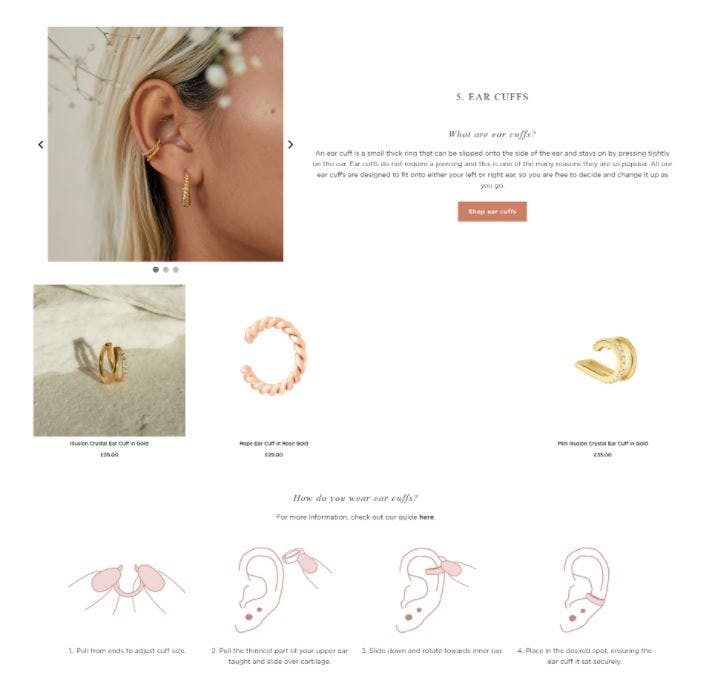 Astrid & Miyu Ear-Cyclopedia hybrid landing page
3. Turning acquired customers into repeat purchasers
So, you've managed to cut through the noise, bring customers to your site and convert them - that's the hard bit done right? Wrong. 
Once you've acquired those all-important new customers by offering unbeatable discounts and non-discount incentives, all that effort may be redundant if they never come back and shop with you again. When planning your BFCM strategy, it is equally important to think about your customers' post-purchase journey, from the unboxing experience to how you keep in touch with them going forward and the type of content they receive. The customers you acquire during BFCM will need a different approach to your existing customers and those acquired during non-promo periods throughout the year, so build your strategy accordingly. 
Here are our top tips for ensuring that your post-purchase journey nurtures your new customers through to their next purchase:


Include samples or exciting additions within your packaging:
For specific industries such as beauty, food & beverage and fashion accessory brands, including samples for orders over a certain value will introduce customers to other products within your range that they may not otherwise get the opportunity to trial. In a consumer study by tech firm Odore, 75% of those surveyed stated they were more likely to purchase from a brand they had never heard of after being given a chance to sample a product. This showcases the clear benefit of using sampling to encourage repeat purchases long after the Black Friday period. 
Keep post-purchase communication frequent and relevant:
Okay, you've sent a 'thank you for your order' email, but the work doesn't stop there. The key to building trust during Black Friday is to not neglect your customers once you've made the sale and they've received their product - this can lead to feelings of delusion and feeling taken advantage of. 
Consider segmenting all customers acquired during BFCM within your chosen ESP, using properties such as product category bought, order value, gender etc.. as appropriate for your brand. Platforms like Klaviyo and Ometria make this very straightforward, with advanced segmentation options available. 
Once segmented, these fresh new BFCM customers should receive tailored communications that seek to tell the brand story and add additional value through informative and engaging content, for example, styling tips, recipes, competitions and sustainability initiatives. You also may consider cross or up-selling alternative products based on what the customer bought previously. This communication can be set up as an automation that will trigger based on set time delays and further actions the customer takes, or through a weekly email newsletter.
Building brand affinity through email tailored content will be the key to building strong long-term relationships with your customers beyond Black Friday, which in-turn will support your customer retention strategy. 
Community-building is also a great way to do this through loyalty programs, providing informative value-add content and bringing customers together through other initiatives unrelated to purchasing a product. Premium sportswear brand Sweaty Betty do this incredibly well with their gym classes held in their stores, whilst skincare brand Glow Recipe have mastered the value-add content with their Glowedit, giving customers tutorial videos, skincare recommendation quizzes and routine guidance based on every possible customer need. Both initiatives help to create a strong community of engaged customers, driving brand advocacy and customer lifetime value. 
BFCM is an important period that many eCommerce brands will rely on to reach core business goals, however with soaring online competition a more considered approach is needed. Whilst discounting certainly has its place this BFCM, there are some key differentiating factors that can help set your brand apart: 
Offer alternative, non discount-led incentives to build positive sentiment and trust with new customers and ensure you're adding value to existing customers. 
Think outside the box with Black Friday Paid Social creative to stop the scroll and build out engaging hybrid landing pages to send customers and complete the sale once they've clicked through your ad. 
Don't neglect customers once you've made that BFCM sale. Ensure your post-purchase journey is set up to nurture those new customers to repeat purchases and educate them further about your brand. 
By considering the three key points above you should be able to identify the gaps in your BFCM strategy and take the necessary steps in ensuring that you're mastering each stage of the customer journey this holiday season!  
If you're looking for support in developing a winning digital strategy for peak trading season, come and chat to our Reload experts here!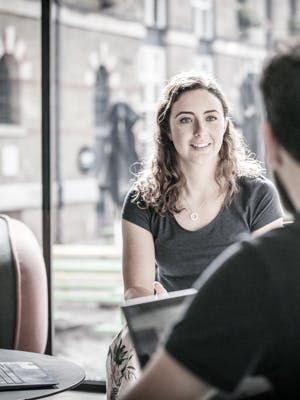 Optimising your Google Shopping Feed
Get the most out of your Shopping Campaigns with our helpful hints & tips on how to optimise your Google Product Feed & Facebook Catalogue. Learn more.