•  Words by Sophie Pease-Watkin - Paid Specialist
Rising advertising costs - How to make your budget work smarter and remain competitive
With advertising costs rising across Facebook & Google, Reload explores exactly what this means for advertisers and how to make your budget work smarter in 2021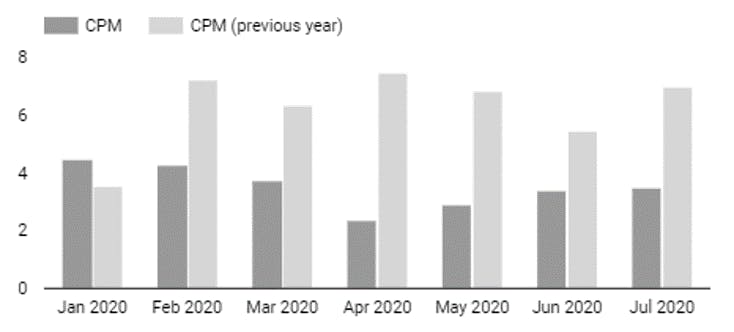 Hair Care Brand CPM 2020 vs. 2019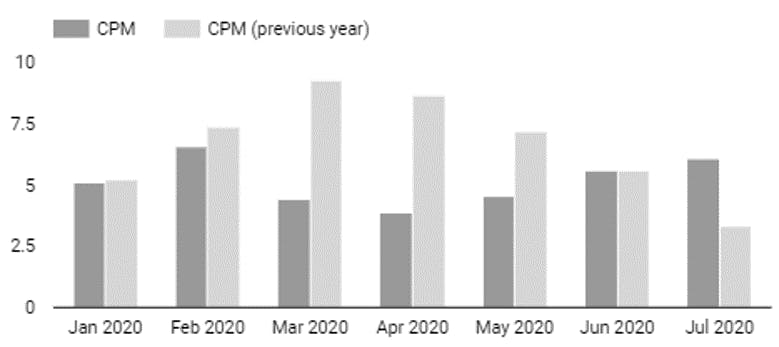 Skincare Brand CPM 2020 vs. 2019
Now, with almost all restrictions set to end on July 19th and a return to normal life seemingly just around the corner, what does this mean for the cost of advertising online?
 Likely not the news you are hoping for…
Costs look set to continue to rise with an increasingly crowded marketplace. In January 2021 online accounted for 35.2% of all retail sales, beating even the height of lockdown with May 2020 at 34.1%. Further, previously huge high street brands (Debenham's, Arcadia Group & most recently Gap UK) have turned to online only and many others are now realising the attraction of online. As a result, Dentsu predicts digital will account for half of all advertising spend for the first time in 2021.
To understand the extent of the increase, we did our own research. For Facebook, whereas last year we saw CPMs as low as £3, since March this year (as we began to compare with Covid in 2020), they have more than doubled, increasing an average of +130% YoY for the beauty industry. Whilst fashion & lifestyle seemed to have fared slightly better, the increase still averages +106%. As a result, whereas a £5K budget may previously generate 1.6M impressions, in 2021 you may only be reaching 660K.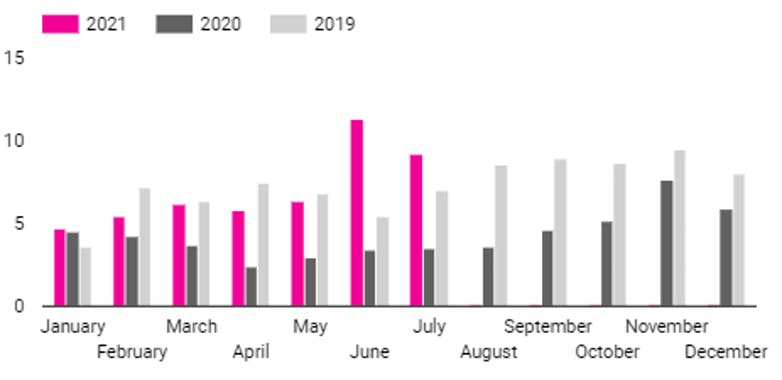 Hair Care Brand CPM 2021 vs. 2020 vs. 2019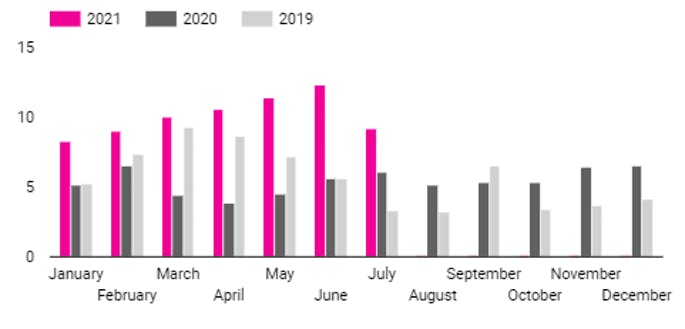 Skincare Brand CPM 2021 vs. 2020 vs. 2019
Increased competition does not only impact CPMs but CTRs as well as it becomes increasingly difficult for brands to cut through and capture the attention of their audiences. Further, this trend isn't limited to social with Google also seeing significant increases in CPCs YoY.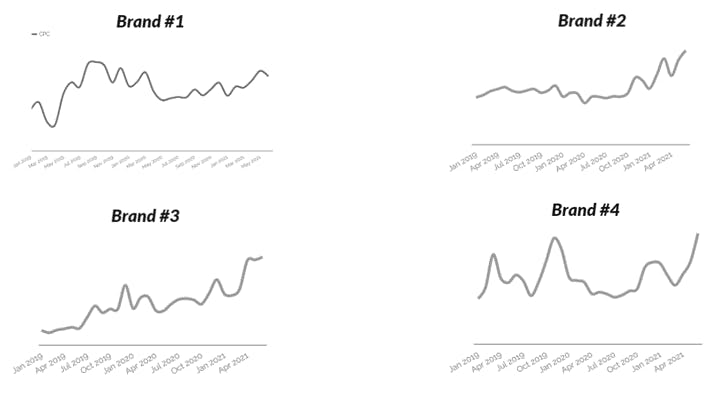 These stats don't paint a favourable picture on paper & many brands may be asking – are these channels worth the expense?
Indeed, these increases in cost are coinciding with a time when it is becoming more and more difficult to navigate the digital space with iOS14.5 and the future death of the cookie negatively impacting data collection & ad personalisation. Already on Facebook this impact is being felt with the role out of modelled conversions leading to discrepancies in reporting and brands questioning how to measure success.
Nevertheless, brands can't hide from the fact these changes are now the new normal, and if brands want to have a voice – they need to be present. We recommend the following to ensure your brand remains competitive in this everchanging landscape, making your budget work smarter so as to drive the same level of impact.
#1 Consolidate your campaign structure on social to minimise the impact of rising costs
Whilst CPMs are heavily dictated by competition, engaging with best practice on the platform and leaning into Facebook's machine learning with your campaign structure can help reduce the rate of increase. To do this:
 1. Use Broad Audiences
 It is no surprise that narrow, highly targeted audiences see significantly higher CPMs as reach is smaller, audiences become exhausted & frequency rises more quickly. As a result, to maximise the reach for your budget, where possible use broad audiences that allow Facebook's machine learning more control in finding your most valuable audiences.
This means using Prospecting DPAs, grouping interests & lookalikes and using alternate sources for remarketing. Not relying purely on website visitors which will shrink with iOS14.5, but looking to use more first-party data such as video views, social engagers and most importantly, your email database.
 2. Avoid Audience Overlap
 Audience overlap can lead to poor delivery of your ad sets as they compete against one another in the same auction, triggering Facebook to prioritise the ad set with the best performance history and limiting the reach of the other. This can drive up costs and lead to inefficient use of your budget.
 As a result, make sure to always exclude audiences from your ad sets, minimising overlap and use Facebook's audience overlap tool to understand if two audiences are likely to encounter problems in delivery.
# 2 Creative that drives click-through
In an increasingly competitive landscape, having creative ads that effectively 'stop the scroll' is vital. Increasing CTR will account for higher CPMs and enable traffic volumes to stay level. 
 To do this, follow best practice for creative assets with the hook, benefit & solution structure.
 1. Hook – Capturing attention with a strong statement
 2. Benefit – Communicate product benefits & the brand's unique selling points
 3. Solution – Remind the customer's that your brand is the solution & drive action with CTA's
 Take this example by Rose Skin Co. below.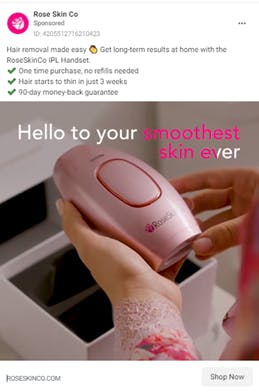 The Hook – 'your smoothest skin ever'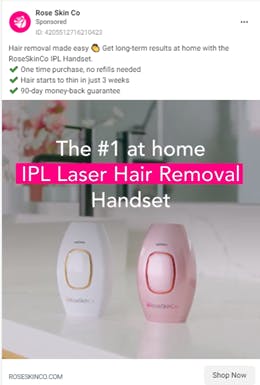 The Benefit - the no.1 product for hair removal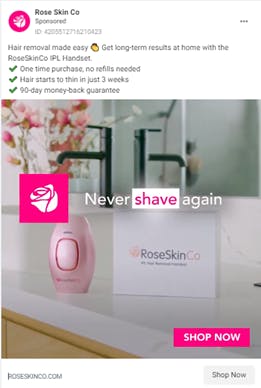 The Solution – never shave again with Rose Skin co.
#3 Re-assess success metrics
With the loss of data from iOS14.5 steadily impacting Facebook attributed transactions & revenue, understanding the true value of social in a brand's growth is becoming increasingly difficult. Transactions and revenue as attributed by Facebook can no longer be trusted as a true representation of performance and how we understand success from social needs to change.
The first part of this comes with placing greater weight to Google Analytics reporting. Using UTM tracking as a way of understanding the quality of traffic driven from social. Indeed, as a predominantly prospecting channel, for the majority of brands we do not expect social to drive direct transactions as attributed by GA, instead, we expect users to come back and convert through other channels such as organic and direct. As a result, understanding traffic quality needs to be of prime importance, with the aim to see progressive growth in quality metrics such as product detail views, adds to cart and time on site.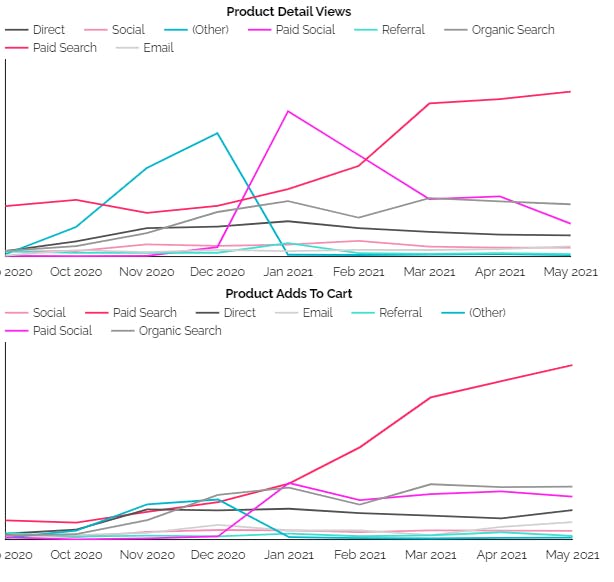 There's also a need to have an accurately defined CPA target to meet; one that considers your CLV and profit margins. This will then allow you to confidently scale spend based on true performance in this competitive environment.
#4 Drive cheaper CPCs across Google with integrated search
To combat the rising cost of PPC, we recommend employing an integrated search strategy, Optimising ad destinations through traditional SEO and on-site optimisation techniques to improve quality scores and as a result, drive performance in the ad auction helping to lower costs. In fact, those clients using an integrated search strategy have seen average CPCs drop 36% as a result.
The typical optimisations we'd look at would be on-site content optimisations, ensuring category and product descriptions are rich with keywords that users are searching for, along with the usual meta-data and header tag optimisations.
Whilst these changes represent a new learning phase and challenge for the entire digital industry, we believe in the long run they will only improve our understanding of what drives a brand's growth. We see this change as enabling more strategic decisions such as where click-spend should be invested and allowing brands to take a closer look into the impact and benefit of each channel.
If you'd like to learn more about how your brand can compete with rising costs and stay ahead of the competition, get in touch with Reload Digital for a free consultation here.
Sophie Pease-Watkin - Paid Specialist
Creating a unique Retention & Lifecycle strategy
With acquisition costs on the rise, Reload Digital shares tips eCommerce brands can implement to improve efficiencies and drive long-term growth using a robust retention & lifecycle strategy. This article explores how using loyalty schemes, referral programs & SMS you can create a layered retention program that keeps users repurchasing.
A Peak Planning Model for the BFCM retail and ecommerce season
As peak retail season approaches, Reload Digital shares tips eCommerce brands can implement to maximise performance over the biggest trading months of the year. This article explores how November is just the tip of the iceberg, and brands need to look at their strategy from September through to January to keep driving year-on-year growth.