•  Words by Laura Barr - Content Manager
Creating 'magnetic' eCommerce landing pages ready for Black Friday
With Black Friday competition increasing year on year, Reload explores exactly how you can maximise your on-site landing pages to do the hard work for you
The eCommerce landscape is getting increasingly competitive from year to year, and at no time is that more evident than during the peak sales period of Black Friday and Christmas.
During this period, we typically see an increase of 45% in new users for brands operating in our core industries of fashion, beauty and homeware. To turn these new users into loyal customers, it is therefore critical for your brand to stand out, be memorable and engaging at every touchpoint.
The purpose of this article is to help you prepare your on-site experience ahead of BFCM, creating landing pages that are simultaneously informative and action-driving. We will walk you through the ideal inclusions of an engaging eCom landing page and the specifics of what landing pages we recommend for your Black Friday sales.
This article is the second part of our two-part Black Friday Brand series, created by our Content Manager Laura Barr and Paid Social Specialist Sophie Pease-Watkin.  Read Sophie's article on how to make your Black Friday campaigns on Paid Social work harder to drive new traffic to your site.
What makes a good eCom landing page?
The perfect eCommerce landing page strikes a balance between:
Providing helpful, informative and engaging copy/visuals to advise your prospective customers on how to shop. 
Incorporating eye-catching and compelling calls to action, product features and USPs to convince users to go on to purchase - or at least to complete a 'soft conversion' such as adding to wishlist or signing up to your newsletter.
 

Such a landing page doesn't necessarily fall into one specific format. It may be that a PLP, PDP or even a blog page/gift guide suits this purpose best for your campaign.
We are increasingly collaborating with our clients on what we call 'hybrid landing pages', combining the informative nature of a blog article with the action-driving capabilities of a PLP to really tick the boxes of the ideal eCom landing pages.
Types of ECom Landing Page: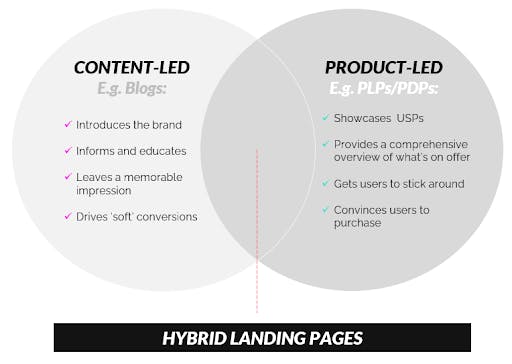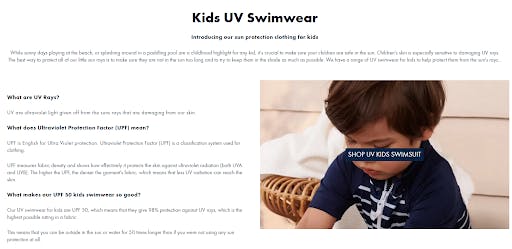 Thanks to combining the best of both worlds with this landing page, it was able to achieve:
A direct e-commerce conversion rate that was 26% higher than their average blog
10 times more unbranded organic impressions than the equivalent UV Swimwear PLP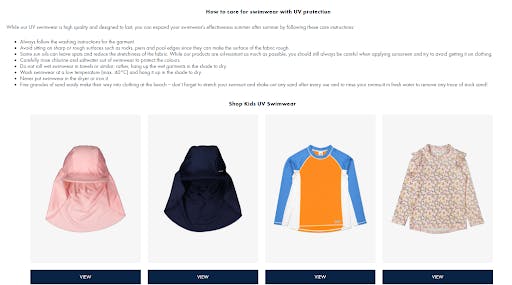 5 Key Inclusions of an Impactful Landing Page
There is no set blueprint for a successful eCom landing page, however, there are some common inclusions that, in our experience, contribute to a page that will engage and encourage action.
1. Copy that adds value - Offer genuinely useful and insightful shopping/styling/care advice for your customers. Provide them with value outside of what they'd get if they just bought the product.
For example, This enhanced PDP for This Works' Power Nap Spray does not only incorporate content that showcases their product and its benefits but wider informational 'Top Tips' about getting better sleep.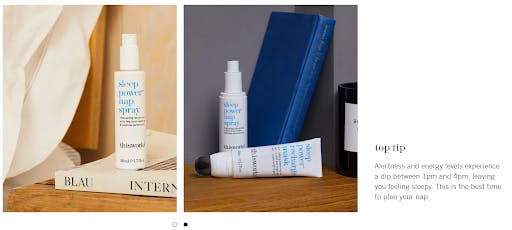 2. Shoppable products - To blur the line between a blog and a PLP, embedding product listings in your page makes it super functional and shoppable. Reduce the steps from first entry to checkout as much as you can.
For example, Astrid & Miyu's 6 Ways To Wear Chunky Chains hero content piece combines styling tips and inspiration with clear shoppable links to featured products.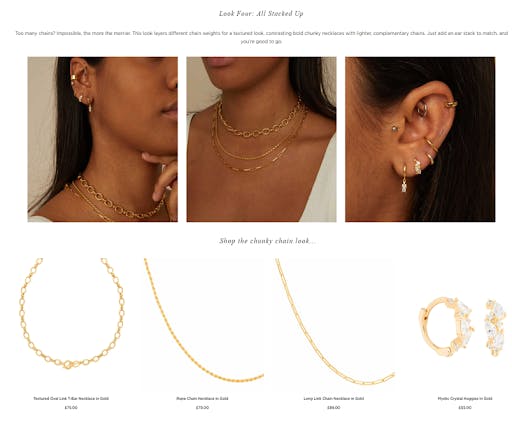 3. A mixture of visuals - 68% of users prefer to watch a video than read a paragraph. So make your landing page eye-catching and illustrative, with a combination of images, videos, GIFs, infographics, etc. 
For example, Alessi created a custom-format landing page to showcase their iconic Plissé collection on their Shopify store, featuring fascinating motion animations of the anatomy and functionality of their products.

4. Related content recommendations - A truly magnetic landing page keeps users on the site, even when they're not yet ready to purchase. Eye-catching links through to related content offer an easy route for them to continue their journey.
For example, Finisterre enhances their Shopify PLPs by incorporating prominent tile links through to informative and helpful shoppers guides, such as their Guide To Waterproof Jackets.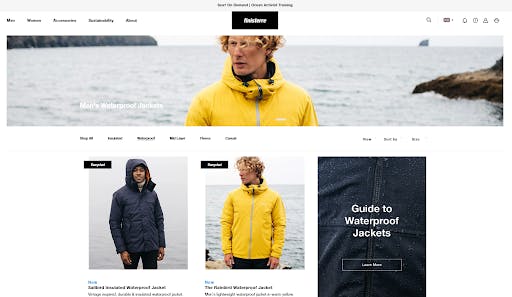 5. The voice of your customer - The most trustworthy voice that can be used to sell your products is that of your existing customers. UGC, reviews, testimonials, etc. are always must-haves for an impactful Landing Page.
For example, Manta Sleep Mask's extensive product highlight pages include numerous reviews and quotes, as well as video testimonials from users who love their product.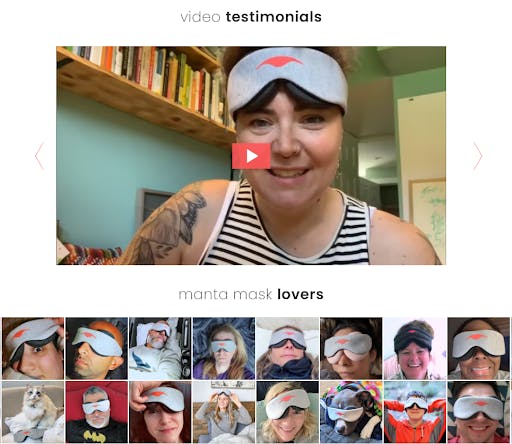 Perfecting your Black Friday Landing Page
For the majority of eCom brands, your Black Friday campaigns will likely point to a mixture of different types of landing pages; some of which are specially designed for the season and others that are your always-on product categories.
Having this combination is ideal. It offers users the option to shop by specific product type or browse for inspiration when looking at a more general Black Friday discount page. It also allows you to leverage the boost in momentum generated by Black Friday to drive traffic and engagement to year-round pages, a benefit you will continue to reap long after the sale has ended.
Quick Black Friday Landing Page Tips
For your Black Friday-specific page, remember to:
Keep the same Black Friday URL every year, so you don't have to start from scratch but can continue the momentum from the previous year.


Update the metadata/copy with the year & discount on offer.


Do not totally deactivate the page throughout the rest of the year - keep it live, but disconnected from the main navigation.


Think outside the box. Users will be encountering a LOT of Black Friday messaging, so think about what you can do to offer something different and memorable. 


Use countdown timers and make it clear when deals end to stimulate a sense of urgency.


Some of the best Black Friday landing pages we've seen...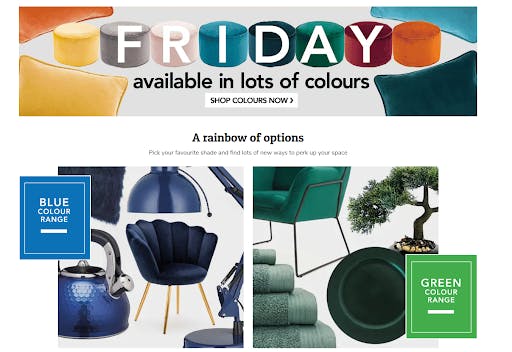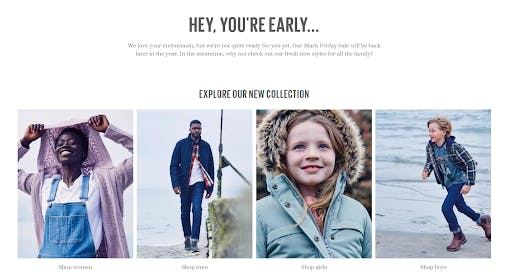 Philip Kingsley's 'How To Shop this Black Friday' Guide - Philip Kingsley are also getting ahead of the game with their BFCM landing page, with tips on how to get the best deals and an on-page interactive quiz to help users pre-decide what products they're likely to want when the sales launch.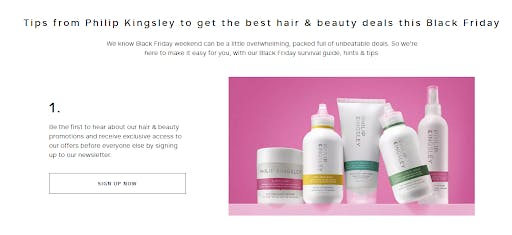 If you are interested in discussing your Black Friday strategy or Landing Page experience with our team of seasoned experts, make sure to get in touch here.
For further reading, check out our article on retaining new customers post-Black Friday, written by Strategic Lead Emily Power.
Laura Barr - Content Manager
Creating a unique Retention & Lifecycle strategy
With acquisition costs on the rise, Reload Digital shares tips eCommerce brands can implement to improve efficiencies and drive long-term growth using a robust retention & lifecycle strategy. This article explores how using loyalty schemes, referral programs & SMS you can create a layered retention program that keeps users repurchasing.
A Peak Planning Model for the BFCM retail and ecommerce season
As peak retail season approaches, Reload Digital shares tips eCommerce brands can implement to maximise performance over the biggest trading months of the year. This article explores how November is just the tip of the iceberg, and brands need to look at their strategy from September through to January to keep driving year-on-year growth.