The eCommerce Guide to Black Friday 2021: How to increase customer retention post-Black Friday
Top 5 tips to drive repeat sales post Black Friday in 2021.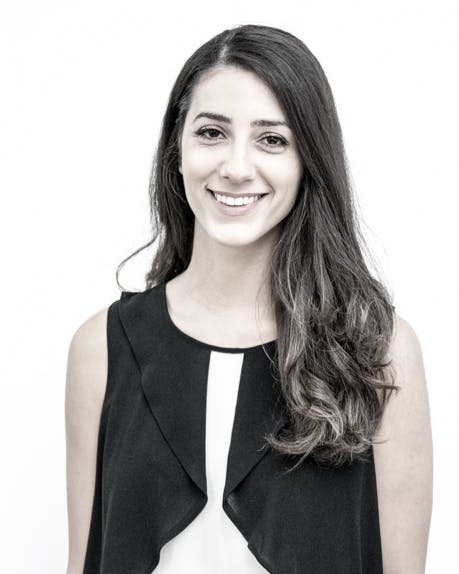 Words by Kathryn Stavropoulos - Strategic Lead
If you're reading this, hopefully you've tirelessly prepped your Black Friday strategy and are ready to smash your new customer acquisition targets. Once you've earned yourself a whole raft of new customers through Black Friday promotions, how can you ensure these first-time customers aren't one hit wonders and turn into repeat purchasers?
We all know the stat: "it's 7x more expensive to acquire a new customer, than it is to keep an existing one". This shows no signs of turning any time soon, with customer acquisition costs rising by 50% in the last 5 years. So, with all that money spent on Black Friday acquisition, it's essential for scalable and profitable growth to put in place a strategy to create loyal customers, drive Christmas sales and hook people into your brand for the long haul.
We've pulled together our top 5 tips for a post-Black Friday customer experience that will drive repeat sales and help increase customer lifetime value.
1.     Make the first experience count
First things first. The experience the customer has with your brand during their first purchase is going to make or break whether they purchase from you again. Customer loyalty starts before they even receive the product.
Tips to make the first experience pop:
-       Be clear on delivery timeframes during your post-sales process. Confirm in your post-purchase email how long shipping will take and if there are expected delays. Managing expectations early will avoid unhappy customers and potentially save you some stars on your Google reviews.
-       Packaging is part of the experience. It should also reflect your brand personality and values. One way to use the packaging experience to incentivise a second purchase is to include a card with a discount to be used within a specified timeframe. E.g. aligned with your Christmas release.
 -       Crank up your customer service – when new customers have questions, their patience can be thin because trust with the brand has not yet been built. Direct people to FAQs if you must, but better to prep your customer service team for the busy period or employ solution like Gorgias that not only helps customers get answers quicker but can even drive sales.
Your customer has received the product, it's made their day, maybe even their week. Before they forget who you are, how do we encourage that second purchase and beyond?
2.     Create email automation flows based on product lifecycle & customer journey
During Black Friday and Cyber Monday prep, you should already have started to segment your database, so that all those new customers can be filtered based on purchase behaviour, interests or demographics.
Then, you can do the following:
-       Set up a post-purchase flow – A post purchase flow is designed to encourage reviews and repeat purchase. Generally this is sent 2-4 weeks post-purchase to ask customers how their experience has been and often include a survey. You can also use this email flow to encourage social media follows and showcase any up-sell promotions.
-       Create lapsed customer campaigns based on product lifecycle and typical purchase frequency. If your haircare product has a lifecycle of two months, send the customer an email reminder, discount or bundle offer to purchase the next product just as their first is about to run out.
-       Use predictive analytics – Klaviyo's predictive AI takes away the guesswork and analyses typical purchase patterns to predict what products a customer segment is going to respond well to. If you don't have AI to hand, asses what your typical entry products, second purchase products or complementary products are within a collection and go from there.
-       Take the customer on a tailored journey. Baby Mori is a great example of delivering a tailored experience based on whether you're a parent or a gifter. After signing up as a "gifter", the customer is sent down a gifting branch of their welcome automation tailoring copy, CTA's and product recommendations to the gifting audience. They use this opportunity to present gifting USP's such as personalisation and gift-wrapping services.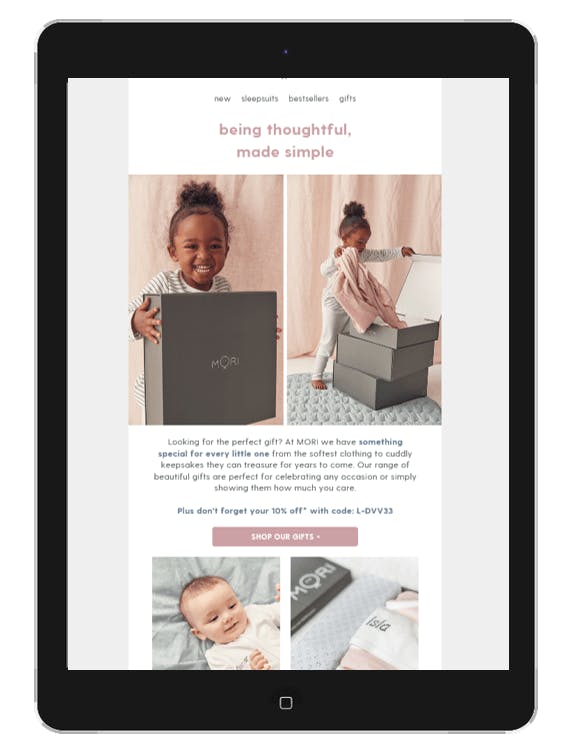 3.     Use segments captured in Black Friday to remarket your Christmas collection
A no brainer. Anyone who purchased during Black Friday should be primed for Christmas purchases! But for the love of marketers everywhere, do not retarget every person who purchased any product during black Friday with your entire product range.
The temptation can be to hit every new customer with dynamic product ads of your entire product feed, but intelligently segmenting and serving relevant ads is the key to driving repeat sales with cost efficiency. Whether you have 100 products or 20,000, segmentation is key. I'm going to say "segment" a lot in this segment.
Tips to execute this on paid social:
-       Push your database segments to Facebook for remarketing. If you've done your segmentation right, you should have a list of audiences ready to go. Using customer marketing platforms like Klaviyo or Ometria, you can sync segments to Facebook Ads Manager with the click of a button. This means, you know you'll be reaching people of a certain purchase behaviour, interest or demographic.
-       Segmenting your product feed to show relevant dynamic product ads. You've sorted your audiences, now you need to ensure that the product ads are relevant. Using tools like Shoptimised, you can apply rules that allow you to tag product features (like pottery, glassware, personalised) and serve ads with only these product features. Meaning that you can serve dynamic product ads on Facebook & Instagram based on which collections those specific people engaged with, or those you predict they would be interested in based on their first purchase behaviour.
-       Use Christmas frames to keep your creative relevant at scale – dynamic product ads are perfect for scalability and converting people at the bottom of the funnel. However, keeping dynamic product ads relevant and on-brand can be tricky. A tip is to implement a custom frame in Facebook to encourage better engagement with festive features!
4.     Create Christmas gift guides & promote them on email & paid social
Black Friday is often a "treat yo-self" holiday, whilst Christmas shopping is largely for gift-givers.
-       Create Christmas gift guides that cross-sell. Here we want to showcase which products might be suitable for a friend, partner, child, parent or colleague. Target your customer segments on email and paid social with whichever guide best fits the information you have about the customer.
-       Switch your messaging to appeal to gift-givers. Your website, ad copy, email communications all need to reflect the gifting nature during this period.
-       Offer gift cards for those last-minute shoppers. Target your Black Friday customers right up until the last days before Christmas with gift cards. Since there's no need to worry about shipping timeframes, for all those who usually say "it's on the way" your brand might give them a quick save.
5.     Loyalty & Referral Solutions
When it comes to client retention, loyalty and referral solutions that incorporate incentives like refer a friend, competitions or points systems are a must do.  Particularly when research from LoyaltyLion shows that 52% of consumers will prioritise shopping with brands where they have points and rewards waiting in their account this peak period. 
Ellys Childs, Partner Manager at Yotpo, explains just how important these programmes can be in driving sales.
"In a survey we did last month, 70% of shoppers reported that they could be incentivised to buy directly from a brand with bonuses like coupons or loyalty points. Black Friday is the perfect time to sign people up to your Loyalty program with the promise of these perks! 
The exact method you use will depend greatly on your industry and market - some of our clients love to offer coupons and discounts, while others see great success with things like VIP tiers. Any way you do it, you'll want to use Black Friday as the opportunity to get people to sign up for loyalty to get access to these benefits"
That wraps up our top tips for customer retention post-Black Friday. We'd love to hear how these work for you, or any additional tips! Please get in touch if you'd like any further tips on your retention strategy post-Black Friday.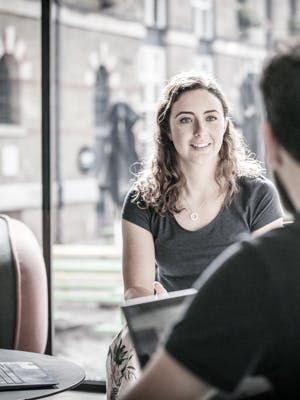 Optimising your Google Shopping Feed
Get the most out of your Shopping Campaigns with our helpful hints & tips on how to optimise your Google Product Feed & Facebook Catalogue. Learn more.