The eCommerce Guide to Black Friday 2020: How To Build Brand Awareness In The Lead Up
Tips on how to build brand awareness for Black Friday in 2020 post COVID-19.
Words by Sophie Pease-Watkin - Paid Advertising Specialist
Tips to build brand awareness in the lead up to Black Friday 2020...
Why awareness matters now..
During the holiday season, advertising costs and competition for reach and keywords inevitably increases. Black Friday is no longer a one day (or even a weekend) event but instead referred to as Black November, meaning these spikes in competition tend to increase from as early as October with Google noting a 40% increase in searches for Black Friday in the four weeks preceding the event. Considering 80.4% of brands cited rising ad spend as their top concern for holiday ecommerce, thinking about how you can take advantage of cheaper clicks and reach to buy traffic now, and build your Black Friday customer database early, is vital. Investing in advertising now may at first negatively impact your return on ad spend due to the focus on awareness, however starting earlier can lift conversion rates and maximise your paid traffic profitability for Black Friday.
Equally, even if you're not thinking of the holiday season yet, you can bet some of your customers are with an estimated 1 in 10 consumers starting their holiday shopping before summer. As such, think about your consumers, is it likely a proportion of your customers are already thinking about buying for the holiday season? Can you harness this behaviour by delivering relevant content such as gift guides whilst creating an early buzz for Black Friday offers? Added to this, considering the likes of Target and Kohl's in America have announced they will be closing their stores for Thanksgiving Day, and in Europe the threat of a second-wave has led to many restrictions being put back in place, this year it looks like consumers will be forced to turn online, leading to potentially unprecedented levels of digital activity this Black Friday and brands need to be ready.
On a practical note, in the run up to the holiday season channels like Facebook tend to see slower review times and delays in customer support meaning it can take longer for ads to go live. To avoid this, run your awareness campaigns early and start building your audiences now so that you are ready for the big event.
To help, we've put together our top awareness tips so that you can start planning your top of funnel activity now.
Start with the audience..
As always, start with your target market. With awareness campaigns and Black Friday it is a delicate balance between creating excitement for the event, versus risking 'shopper exhaustion' with consumers being overloaded with early promotions, leading to a slump on the actual day itself. When considering a lot of brands have increased their number of promotions during Covid, this risk is perhaps higher than previous years.
With this in mind, think about how you can use the sales and promotions you are running now, to segment your data and create remarketing audiences of those 'bargain hunters'. Through targeting those who have visited sale-specific pages on your site, or investing in a third party customer data platform like Ometria, you can easily reach the audiences who are likely to be more receptive to Black Friday and sale messaging, without alienating or exhausting your wider audience. Expand this reach with lookalike audiences, to create sophisticated and highly targeted prospecting campaigns. We asked Ometria's Chief Experience Officer for their top 5 tips Black Friday segments and while core segments differ from brand to brand, the following are a good starting point: 
Loyalists who might benefit from sneak preview 
Those who engaged and shopped with you last year 
Those who did not 
Those who are new to BF with your brand, 
Sale shoppers (i.e. those who primarily shop using discount codes) vs non-sale shoppers
To give your awareness campaigns the extra edge, segment these 'bargain hunters' even further by considering the messaging that will resonate with them most - will they be buying the product for themselves or are they giving it as a gift? Traditionally, men are more likely to treat themselves with 77% shopping for themselves whilst women are more gift-led, with 71% intending to buy for their family and friends. This assumption may work for brands with a wide audience, however if you are, for example, a beauty brand with a traditionally female customer base, look at your historic data. If there are spikes in visits and purchases from men around Black Friday/Cyber Monday, now is the time to invest in marketing to this audience to build brand awareness. Equally, if you have a specific 'gift' section on your website, create remarketing audiences from these page visits to run campaigns with copy that is gift-led and resonates with the end user. Remember, if you are unsure what messaging to go with you can always split test copy to see what works for your target audience.
How to run effective awareness campaigns for Black Friday..
Once you've found your audience, what awareness campaigns should you actually target them with to expand this reach? Some advice may be to start promotions early, however, as mentioned this could lead to shopper exhaustion or even worse, your consumers simply expecting promotions all year round impacting revenue for other, quieter months. Equally, early promotions are unlikely to start much before the beginning of November which is when competition is already ramping up, and frankly, may be too late.
Ultimately the goal of your awareness campaigns should be to build your audience lists so that you have solid foundations and quality remarketing audiences ready to be used for Black Friday and Cyber Monday. A key part of this is your customer database with email found to be the highest converting channel for Black Friday promotions, with a 4.29% conversion rate. Consider a strategy like the one taken by Steve Madden or Prose, who ran lead generation campaigns encouraging sign ups for early access to their Black Friday deals. Not only does this use exclusivity as an approach, allowing the customer to feel like a VIP with early access to the brand's offers, by collecting their email addresses these brands were able to build their database for the whole year, meaning they could continue to capitalise on this campaign long after it ended.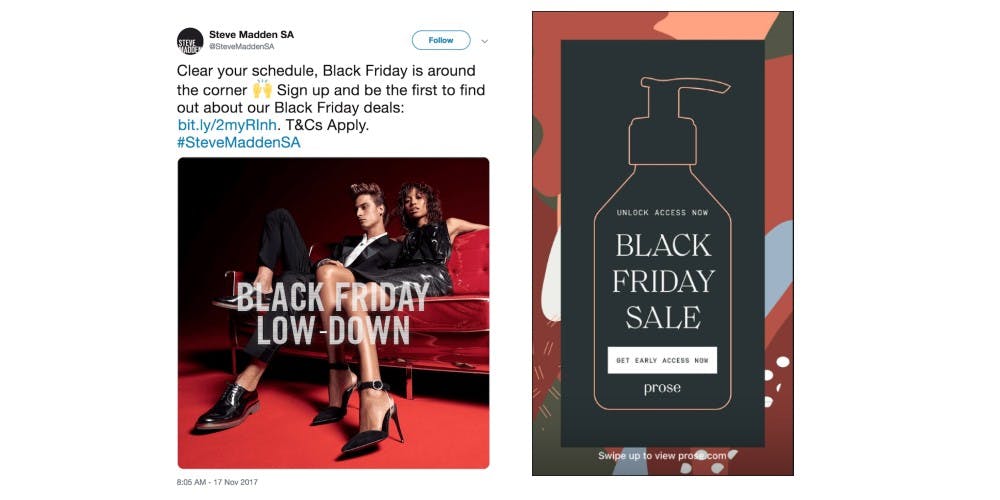 Considering on Facebook, creative has a huge impact on results and explains up to 50% of ad results variance, be clever with your messaging. Play on consumer psychologies similar to the likes of Parachute with 'we wouldn't want you to miss anything' or 'one week to sign up for early access', creating a sense of urgency to these campaigns.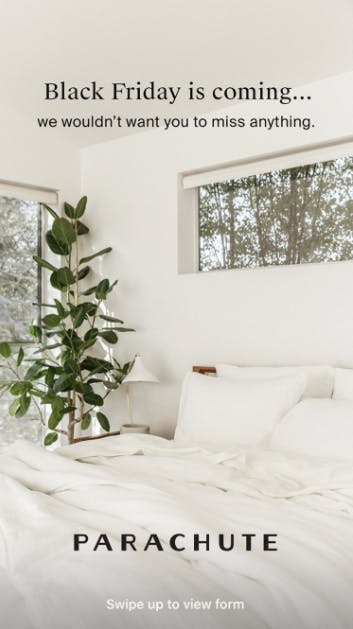 If early access isn't something you can offer, consider encouraging sign ups with other incentives. Indeed, 'people want to buy and they want to be decisive' so use lead generation campaigns to help them make these decisions. Offer early access to gift guides so that consumers can plan what they are going to buy before Black Friday, minimising the stress of the day itself whilst still building your database (searches for 'gifts for him/her' see a +173% increase in November).

Equally, although email is important, your customer database does not have to be your only remarketing source for Black Friday. You can keep it simple and simply work to increase your social engagement in the run up to the event by publishing and promoting posts, videos and UCG content, including the products that will be discounted on the day. You don't even need to mention Black Friday necessarily, simply by gaining likes, comments or video views you will be able to re-target those that have expressed specific interest in the products. For example, in the run up to Black Friday Kopari utilised influencers, sharing their gift lists that mentioned the specific products that were running as part of their Black Friday offers, whilst Gym Shark ran their attention grabbing 'Blackout' video content and accompanying 'Everything you need to know about Blackout 2019' web page, garnering video views & relevant website traffic. Utilising influencers or UCG content gives users an incentive to purchase these 'must-have' products and acts a social proof, giving authenticity to the brand and product. With gifting having been incredibly important this year, it is likely you already have some valuable UCG content that you can use.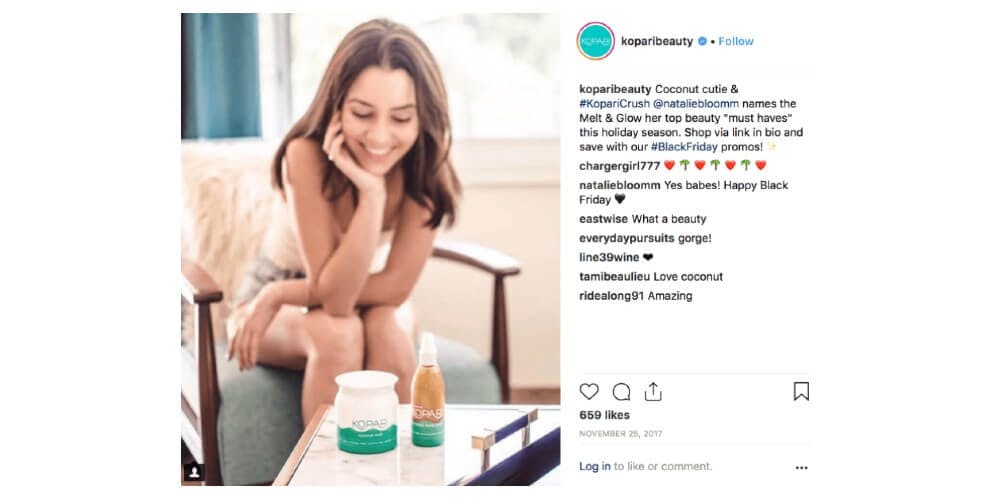 Think about the channels you use…
Lastly, think about the channels you use. Whilst Facebook and Google are often what brands think of first, to really excel this Black Friday consider how you can step apart from the crowd. Consumer shopping journeys are anything but linear with 85% of holiday shoppers using multiple channels to research gifts and as such, brands need to reflect this in their advertising. For example, it has been found that 'roughly half of all product searches now start on Amazon'. The site has become the starting point for holiday shopping meaning having visibility on Amazon needs to be a strong consideration for any brand. Although brands are often hesitant, feeling fearful that the eCommerce giant could eventually take away some of their authority, a solution is to only stock and advertise one or two products on the site. This works to increase brand awareness by ensuring your brands' name appears in searches, whilst the limited products will encourage traffic to your site and entice repeat purchase of the whole collection. You could utilise best sellers as entry products to the brand or, if stocking products that come in different sizes, promote smaller sample sizes on Amazon to then encourage traffic to your site to buy the larger, more cost-effective items.
Further, if increased ad spend is a concern during the holiday season, consider going to other potentially cheaper channels such as Pinterest. With lower CPCs on average (one Reload client saw an average CPC of £0.065 for their UK campaigns compared to £0.10 on Google), Pinterest offers a cheaper alternative for driving prospecting traffic to your site. Further, as Pinterest is a channel where users go to be inspired, showcasing your brand as the ideal gift can quickly raise your brand awareness as noted by the sharp increase in 'gifts' search terms from October.

Finally, with 88% of online video users researching gifts on YouTube during the holiday season and 92% of consumers trusting content creators more than advertisements or traditional celebrity endorsements, consider the possibilities of raising awareness through powerful video content to maximise your digital presence. Use YouTube's video ad sequencing tool to create memorable stories that first tease your audience's interest before engaging them with longer, more detailed content to increase brand lift and consideration. Although this type of strategy may require a larger budget, ad sequencing tends to drive higher quality to the site with one client seeing the highest click-through-rate of any campaign. These users can then be remarketed to through other channels to encourage conversion.
With Black Friday looming closer and closer, the time for driving an effective awareness strategy that can build your audience lists and prepare you for the big day is quickly running out. Despite this, awareness campaigns do not have to be overly complicated. Any content or ads that you are promoting now will be helping to build your audiences for the holiday season. As such, to give your business the best possible chance for a successful Black Friday, remember to think about the audiences you are targeting, the objectives you are choosing and the channels you are utilising. By doing this, you will ensure that you are not only increasing your reach in the run up to Black Friday, but that you are creating a high quality remarketing audience who will be receptive to your messaging on the day itself. If you have any questions about this article or would like to discuss your Black Friday digital marketing strategy, let's talk.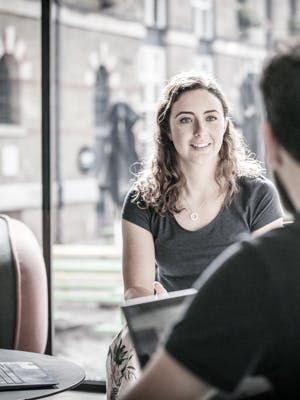 Optimising your Google Shopping Feed
Get the most out of your Shopping Campaigns with our helpful hints & tips on how to optimise your Google Product Feed & Facebook Catalogue. Learn more.