•  Words by Adam Clarke - Managing Director
The Ecom Edit - Reduced retail spend, the growth of luxury resale & CPMs hit a 12-month low
Trends and learnings from the eCommerce & retail space.
Inflation continues to be the buzzword of the business and consumer world, with the UK government finding it tough to shake off the feeling the UK economy remains a 'work in progress' in 2023.
It's against this backdrop that brands are looking further afield for growth opportunities. The UAE and Saudi Arabia present credible options for brands that have the ability to scale fulfilment and a viable product, with beauty as the leading category among consumers.
Since the 'cost of living' crisis became a hot topic in October 2022, it's been clear that value-buying and discounts were key to keeping ecommerce conversion rates high. Whilst this will always work in the short term to drive immediate sales activation, the risk is eroding brand equity as customers become wise to your tactics.
It's fashion where the shift has been most noticeable with over two-thirds of consumers holding off for a discount before making a purchase. It's clear that marketers need to think very carefully before descending into a race to the bottom, instead striving to balance short-term sales-driving activity with long-term brand building.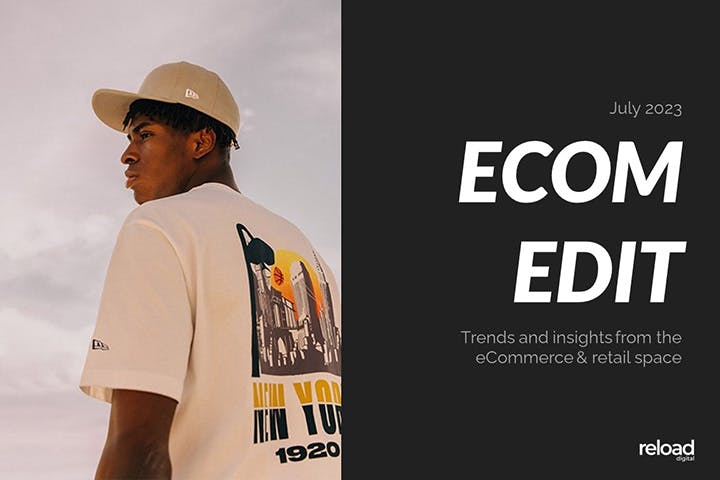 The fashion category continues to evolve in other ways, with research highlighting that the second-hand, consumer-conscious market has well and truly taken off. Before Zappos revolutionised the industry in the 1990s there was a feeling "you couldn't sell shoes online".
Vinted and Depop have helped achieve a similar moment among millennials and Gen Z with resale clothing. With media budgets hitting £100m in 2022, these two resale giants have educated consumers that buying preloved items is not only a cheaper alternative but also allows you to be a 'conscious shopper' champion and support our ever-to-precarious environment.
The final major story doing the rounds this quarter is how marketers are choosing to tackle AI and machine learning. It's already clear Chat GPT and the rest will begin to force in-house teams and agencies to rethink their approach to copywriting and market research.
The same goes for in-platform machine learning which is now a key part of many brands' advertising strategy. As part of Reload Measure, our global paid team have dug into the impact of Google Performance Max since its launch last year with our clients benchmarking at 40% of their revenue now coming from Performance Max (up from 22% last year).
Undoubtedly now is the time to lean into new technologies which are not only allowing markets to create efficiencies in their work but also driving improved marketing results at the same time.
If you want to speak to a Reloader about any of the trends we've discussed or want advice on how to pivot your brand's digital marketing strategy, get in touch.
Adam Clarke - Managing Director
Creating a unique Retention & Lifecycle strategy
With acquisition costs on the rise, Reload Digital shares tips eCommerce brands can implement to improve efficiencies and drive long-term growth using a robust retention & lifecycle strategy. This article explores how using loyalty schemes, referral programs & SMS you can create a layered retention program that keeps users repurchasing.
A Peak Planning Model for the BFCM retail and ecommerce season
As peak retail season approaches, Reload Digital shares tips eCommerce brands can implement to maximise performance over the biggest trading months of the year. This article explores how November is just the tip of the iceberg, and brands need to look at their strategy from September through to January to keep driving year-on-year growth.