COVID-19 eCommerce industry comparison across: Luxury, Beauty, Fashion.
Weekly commentary & insights on how to battle COVID-19.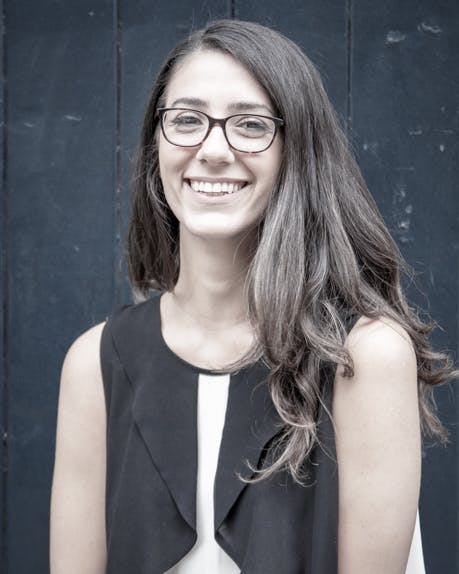 Words by Kathryn Stavropoulos - Strategic Lead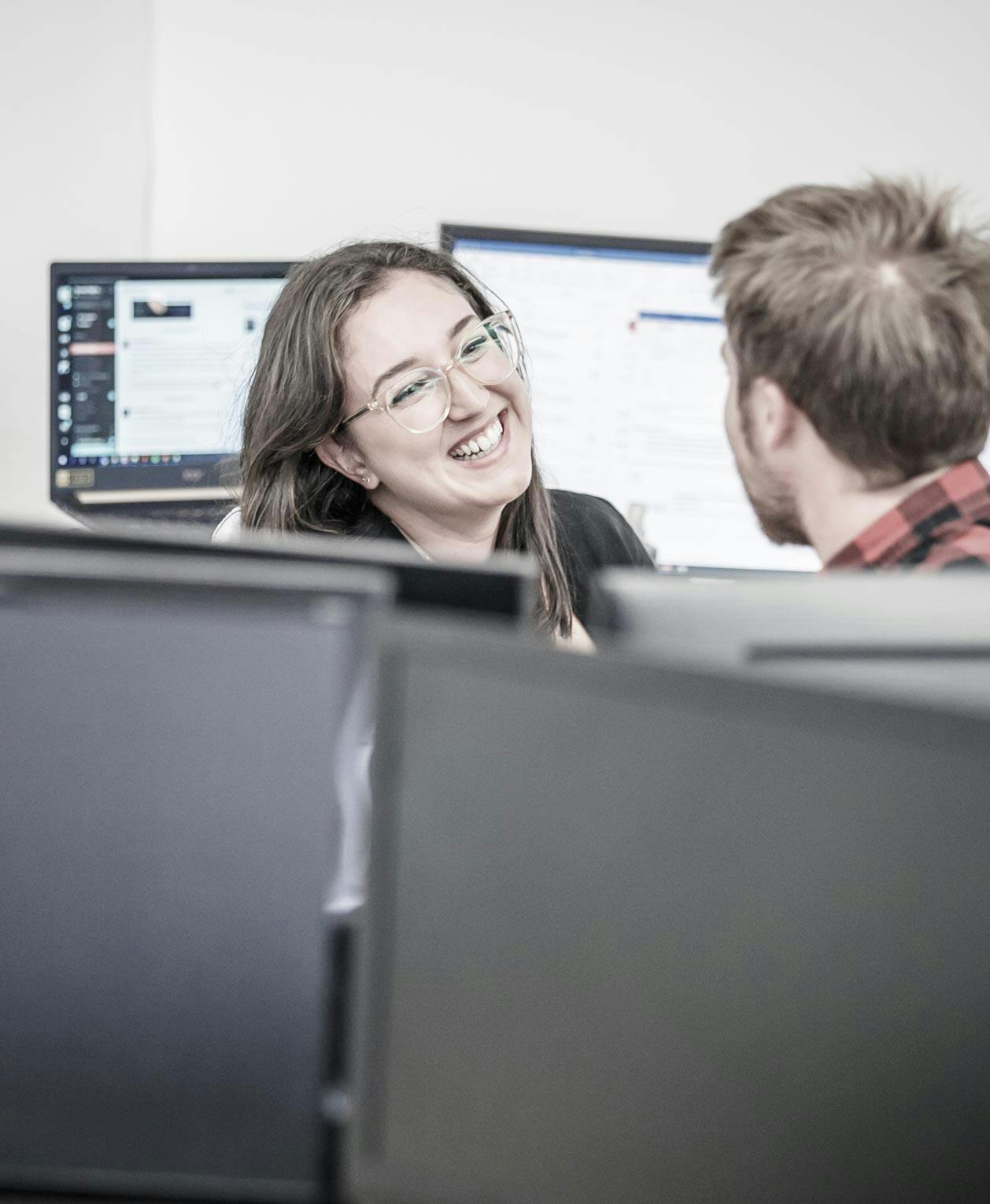 Every week we'll be providing commentary & insights on how to battle COVID-19, rounding up what we're hearing from our partners, clients and industry friends and allowing our experts to give their take on how brands and businesses should adapt. Last week we looked at Digital Transformation post-COVID-19 & preparing for the new normal. This week Reload's Strategic Lead Kathryn gives her take on an eCommerce industry comparison across three key industries & sectors: Luxury, Beauty, Fashion. If you want to chat through any points of this article get in touch.
We're more than a few weeks into seeing the impact of COVID-19 on business. We've felt the initial impact, found opportunities to pivot, understand consumer confidence measures to prepare for bounce back and started to navigate the new normal.
But what does this mean for the long term, and how can businesses better prepare in the event of the next downturn?
In this fast-moving environment, there are a number of ways the global economy could play out over the next year as a result of COVID-19. Whilst analysts can still only predict, it's worth taking into account how some of the potential outcomes will impact industries and sectors, also taking into account the latest consumer behaviour trends we've seen cross industry to date, and take any learnings from previous downturns.
Through our understanding of key trends across industries and sectors, we've compiled insights across three key eCommerce sectors - luxury, fashion and beauty.
Looking not only at the impact experienced to date, but what marketers should take into consideration when planning for the year ahead.
Big expectations, even bigger change
The impact on the luxury goods market
Luxury is a global game, with 20-30% of industry revenue generated by consumers making luxury purchases outside their home countries. Coupled with airports as the second-fastest growing luxury retail channel after e-commerce, unsurprisingly, retail and travel restrictions have shaken the luxury sector.
Pauline Brown, former LVMH exec says "The amount of non-essential travel that's being curtailed is going to severely affect the sales" of luxury across the globe. She goes on to explain that "It's totally discretionary, it's no need base" which means a V-Shaped bounce back from the short-term decline is not a given.
So, what does this mean for luxury brands and luxury eCommerce in the year ahead?
With reliance on global spending and travel likely to be restricted in the coming year, brands are being forced to accelerate their digital transformation and prioritise eCommerce for sales.
This shift is not only likely to result in an increase in eCommerce sales due to lack of other purchase options but will push luxury brands to tackle the age-old digital challenge of meeting luxury customer expectations online.
Consumers expect brands to replicate the luxury offline experience online
Matter of Form's report The State of the Industry in 2020 and Beyond suggested that immersive retail concepts, exclusive collaborations, seamless digital experiences, human-centric storytelling and honest brand values are key to connect with luxury buyers.
While the relevancy of showrooms was already at risk due to the rise of social media platforms like Instagram, Pinterest and Facebook, what showrooms naturally offer above and beyond the traditional "brochure" website is the ability to evoke the consumer confidence, trust, connection and experience on a personal level, which is integral to the luxury purchase journey.
Research from GlobalWebIndex found that consumers in the top income bracket are nearly twice as likely as middle and low-income earners to prefer human interaction for customer service, which suggests that marketers looking to forge a sustainable path for luxury eCommerce in the year ahead need to consider more customised, humanised experiences. Brands like Beulah London have pivoted quickly to offer video call fittings and walk-throughs of the store, to ensure customers get as close to the human experience as possible.
The rise of Augmented Reality (AR) in luxury customer experience
Both large and smaller scale luxury brands are paving the way with AR, giving customers the ability to try on, style and visualise products in their space, before being able to purchase online.
Gucci let customers "try on" Ace sneakers through its app and brands like Ray Bans allow customers to try on glasses in a mirror view via Eyerim's webcam try on function.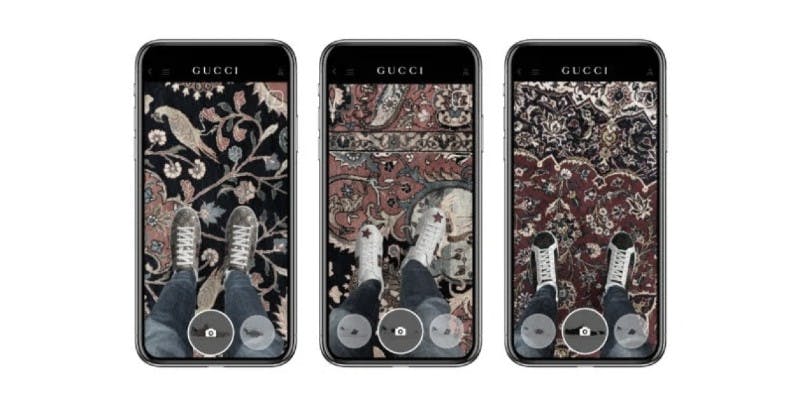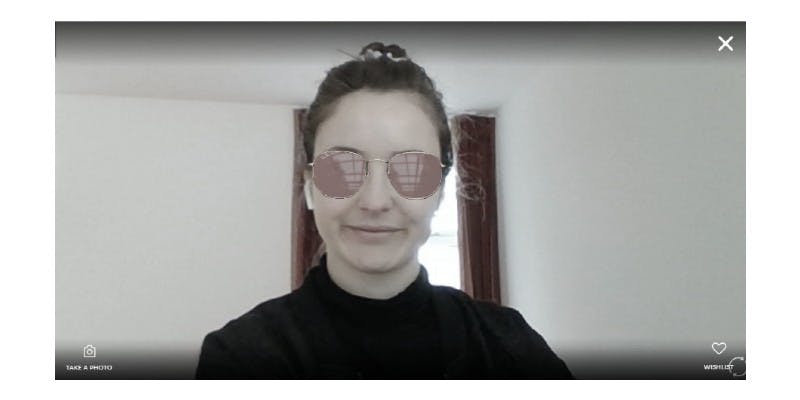 Bedding brand The Sheet Society launched an interactive bed builder, to enable customers to design a bed that is uniquely theirs, all within one product page. Giving the customer trust in the product bundle they select, encouraging multiple product purchases and establishing a customer-brand connection from being the designer of the overall look.
Over the next year with in-store shopping expected to decrease long after the initial COVID-19 hit, luxury brands will need to intelligently and emotively shape their online experience to allow customers to view, understand and experience the product as close to real life as possible.
Audience is engaged, so keep it that way!  
Beauty products are going gangbusters, as sales for home beauty methods like "hair treatments" and "face masks" are through the roof. While product focus may pivot as we're allowed back to the outside world, beauty is not likely to slow down.
Nielsen suggests that media consumption has increased 60% due to COVID-19 and home confinement. With increased screen time, comes more opportunity for brands to advertise and an increased requirement for creative content, to ensure the opportunity isn't wasted by hammering audiences with repetitive ads at huge frequency.
With marketers unable to shoot professional campaigns due to social distancing measures, and while consumers are being saturated with content and constantly expecting fresh content, how can marketers keep up?
The return of user generated content
Digiday expects crowdsourced content to make a return, explaining "Not only are crowdsourced campaigns inexpensive to produce, but they're also a crutch for those companies that want to continue marketing in a way that's not perceived as callous or ignorant. After all, it's harder for people to criticize a campaign built on human stories."
We've already seen the interest rise in User Generated Content on Google Trends since the end of March.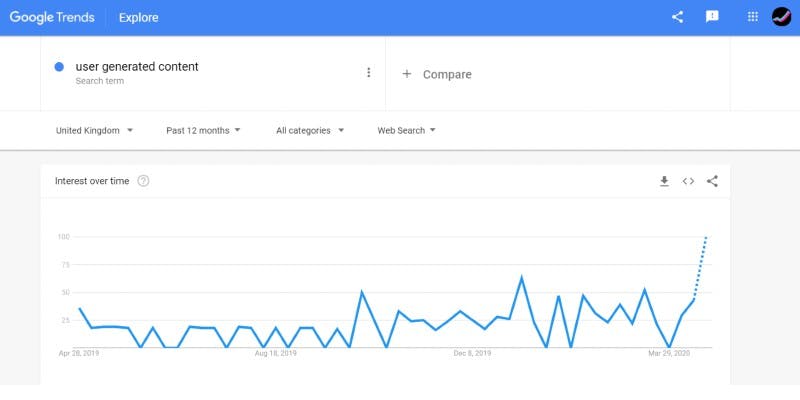 Brands like Sand & Sky are a perfect example of user generated customer and influencer content.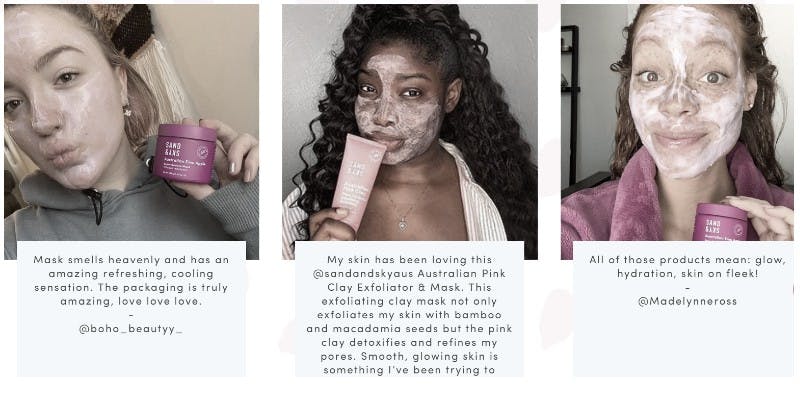 Ellys Childs, Partner Manager at Yotpo comments 'Customer photos are highly influential, with 77% of shoppers preferring customer photos to professional ones, so now more than ever, it is really important for beauty brands to tap into this. That being said, there's no guarantee that customers will get your aesthetic right when uploading their own photos, so in order to gather visual UGC that they can actually use, brands should offer guidelines when asking customers to submit photos — such as photographing the products against a plain background, outside at golden hour, with a specific filter, etc, whatever matches the usual look and feel of the brand. The brand will get a tonne of content they can actually use and their customers will love the challenge of taking the perfect on-brand photo'
The concept of real, raw content is not new or by any means ground-breaking, but it could be essential to reintroduce into your marketing mix to keep up with demand and interest.
Avoiding the domino effect
How has fashion been impacted?
With retail stores shut and consumers isolating at home, the fashion industry has shifted into liquidation mode, discounting spring and summer collections that were only just reaching stores as the initial impact of COVID-19 hit.
Since the initial hit of online consumers prioritising essentials, people have settled into the new normal where people are back to purchasing non-essential goods, like fashion, online. In fact, fashion purchases across EU have soared in recent weeks, despite people unable to immediately wear their wares.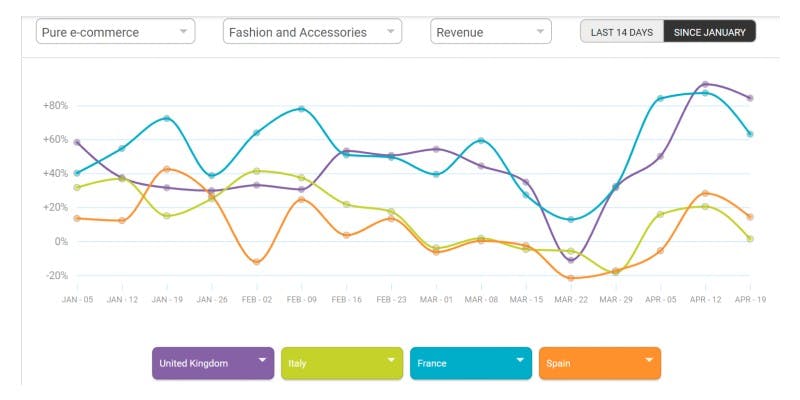 The trends being seen in CCInsight data, shows growth orders even higher than growth revenue, due to lower AOVs as consumers take advantage of sales.
Promotion-based marketing and advertising appears to be taking priority to drive short term sales and likely to get rid of excess retail stock. Brands like Karen Millen, All Saints, Lululemon have heavily promoted discounts or refer a friend schemes.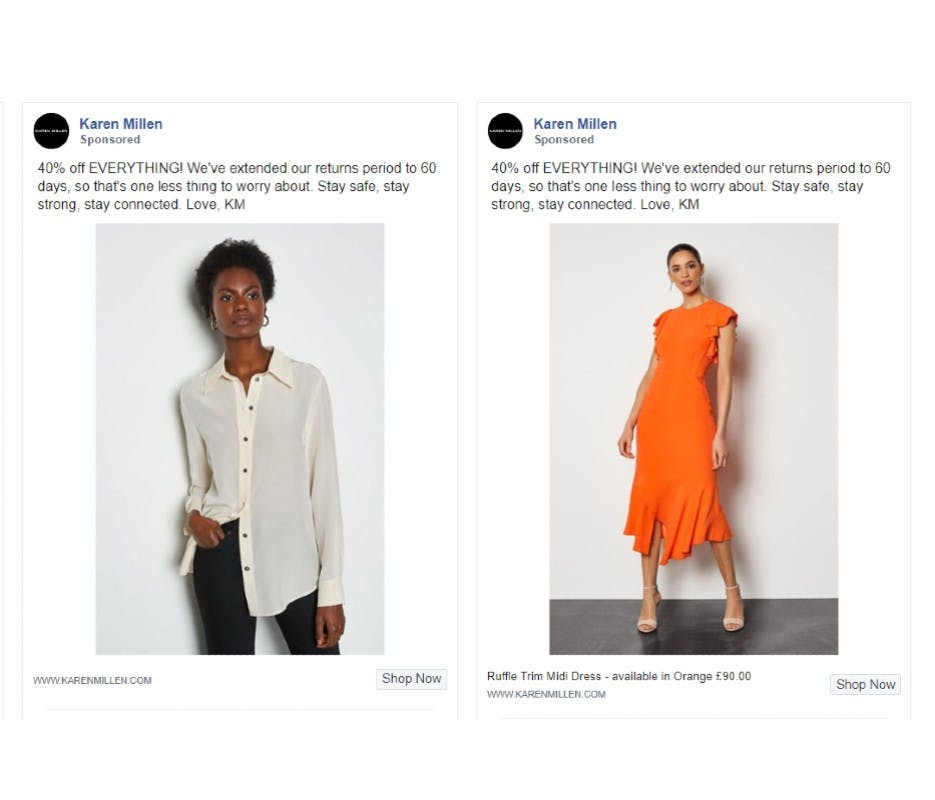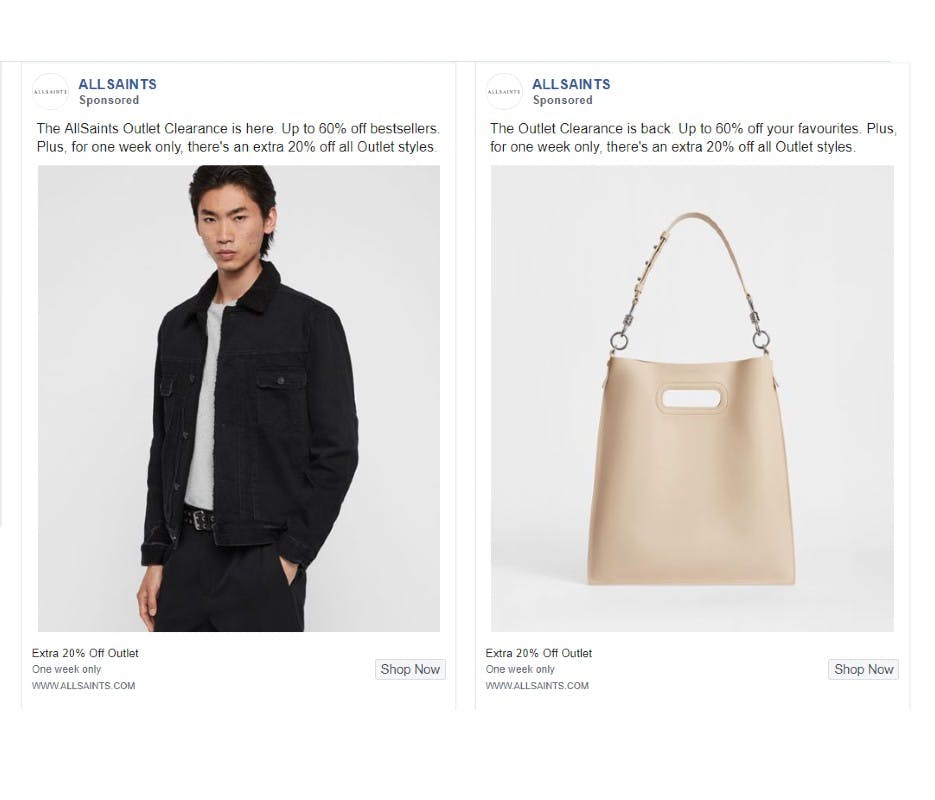 Purely eCommerce fashion brands should prepare to be up against high street brands who have slashed prices. Your brand may be eCommerce only and don't have excess stock to slash, but you compete for the same consumer who is seeing brands cut prices out of necessity.
What brands can expect, or attempt to avoid in the long term, is prepared to engage in a domino effect of a longer-term price battle, which risks profits.
Off the back of the 2008 financial crisis, the ensuing discounting led to a domino effect season after season, having trained customers to expect heavy discounts. "Customers learned to feel foolish if they paid full price for an item".
What can marketers do to position themselves for the next downturn?
Make the most of the data you're collecting now to prepare for the year ahead
Translating this into the long term, luxury, beauty and fashion marketers have an opportunity to utilise the data that they're collecting, to create meaningful omnichannel customer engagement into the future.
Ensuring your data is connected will be crucial to uncover new and insightful opportunities, pivot product pushes and connect your online and offline marketing, once retail stores are open and for the year ahead.
If you want to chat through any points of this article get in touch!