Preparing for the "new normal"
Weekly commentary & insights on how to battle COVID-19.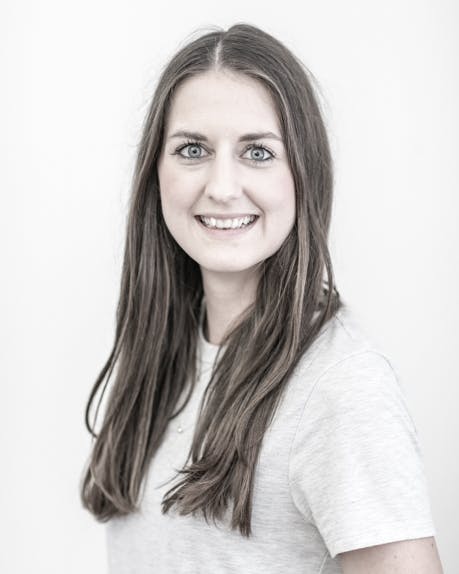 Words by Katy Ray - Head of Growth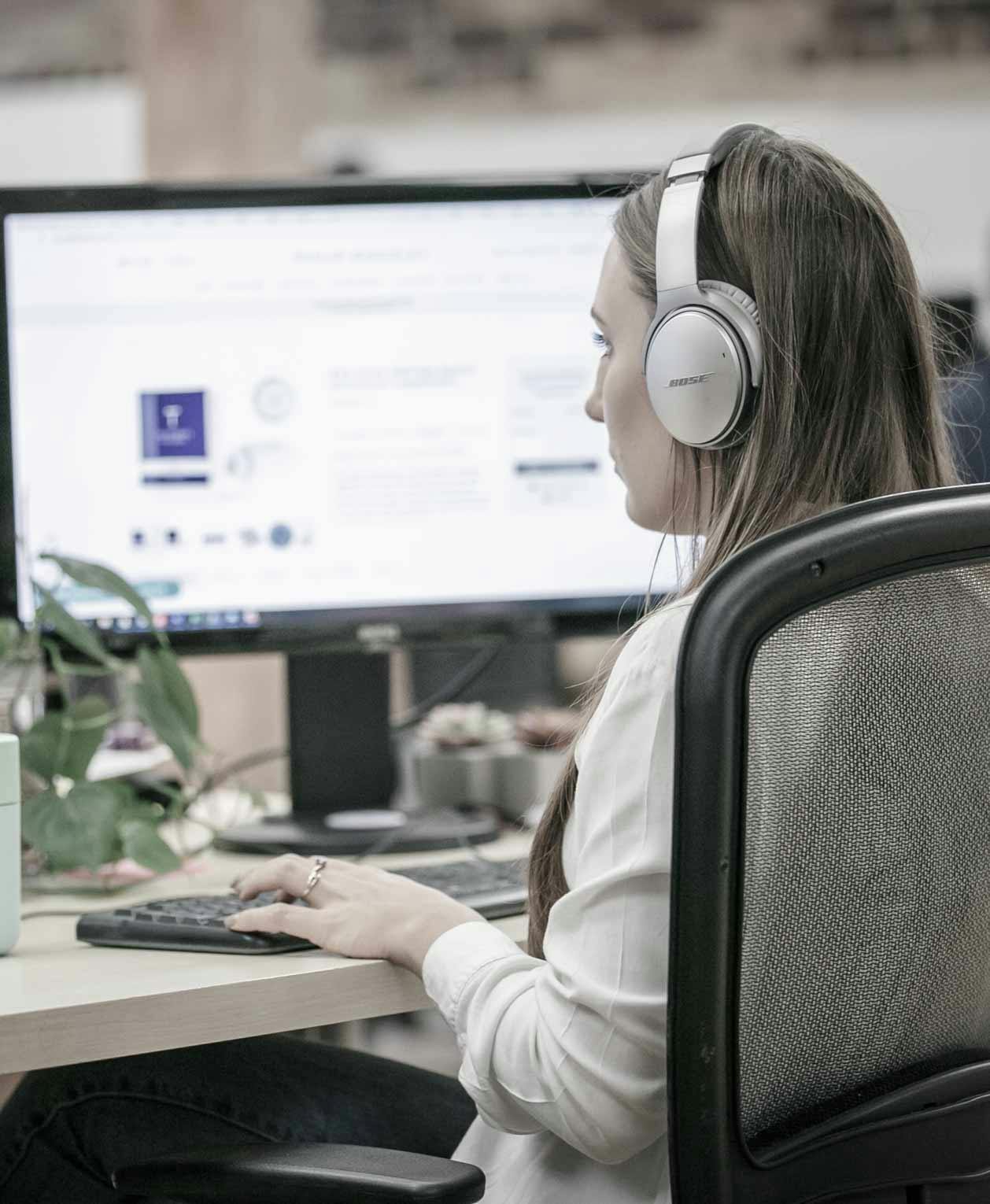 Every week we'll be providing commentary & insights on how to battle COVID-19, rounding up what we're hearing from our partners, clients and industry friends and allowing our experts to give their take on how brands and businesses should adapt. Last week we looked at Gaining market share with paid ads when competitors are pausing. This week Reload's Head of Growth Katy Ray gives her take on:  Preparing for the "new normal". If you want to chat through any points of this article, do get in touch!
In the past few weeks, innovation and new technologies have been forced upon us. Whether that's the HouseParty app and inventive Zoom calls to keep our social lives in order; or Joe Wicks running global P.E. lessons from his living room to keep children active; or music artists from around the world recording songs from their homes to take part in an International charity music concert. We've had to adapt, and we've adapted pretty quickly.
This week we're starting to see some hopeful news from around the world, with Germany starting to reopen some smaller non-essential shops and New Zealand announcing they're reducing their lockdown laws to level 3 which will see the return of non-essential eCommerce sales from 27th April. But there's a lot of speculation around what life will be like when restrictions are removed. According to Sky News, only 9% of us Brits actually want life to return to "normal" once the lockdown is lifted. Therefore, enter the "new normal".
McKinsey summarised five pillars that apply to all businesses when looking ahead to "reimagine and reform" for what's next:
1. Supply Chain - Will supply chain models shift with the increasing focus on resiliency and digitisation? How can we better prepare for next time?
2. Government/Regulation - How could health and the overall economic regulations be impacted?
3. Organisational - How will workforce norms and operating models adapt?
4. Corporate Valuation - How will valuations shift given corporates need to invest in resilience capability?
5. Consumer - What will change for consumers and shoppers? We'll take a closer look at this below.
New habits are affecting our online behaviours
We're already starting to see new habits, behaviours and traditions form. Every Thursday at 8pm we're hanging out of our windows with pots and pans clapping for the carers for example. Just Eat posted their traffic levels at 8pm on 26th March on LinkedIn, and it's astonishing to see what an impact one initiative is having on our online behaviours.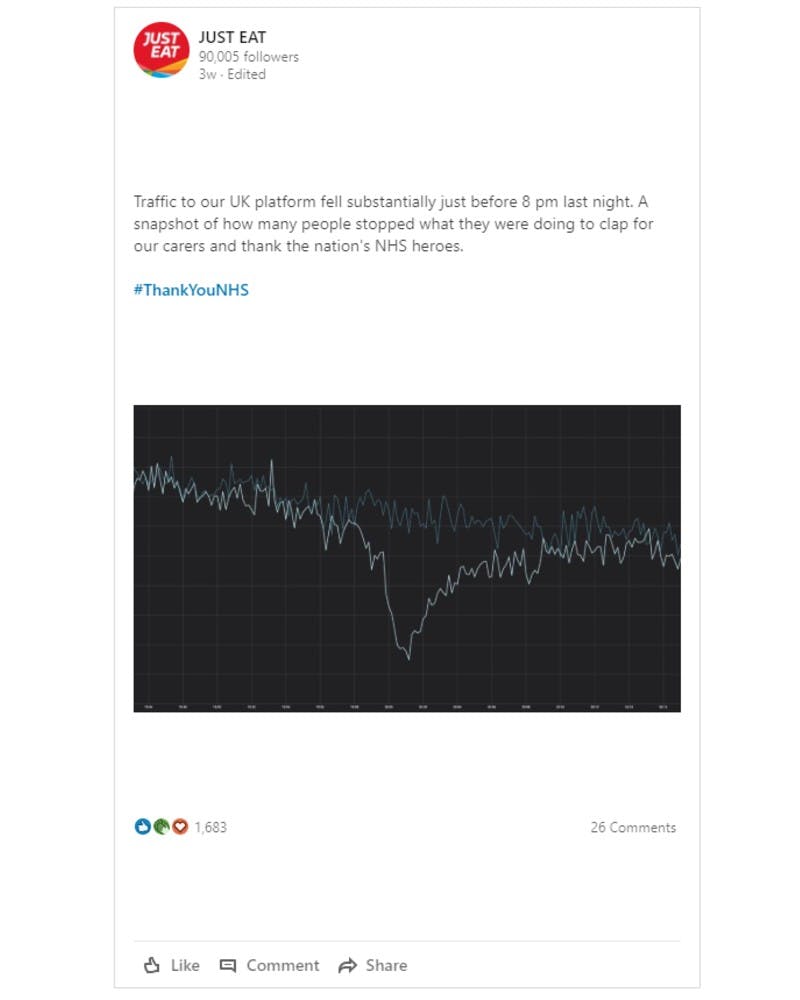 On the whole though, it's no surprise that we're all online more hours of the day than usual. My screen time report has gone through the roof lately, and I know I'm not the only one. We're consuming more media now than ever, whether that's watching videos and TV or reading press, we're active online. And this is across all generations. 76% of Baby Boomers said they were consuming more media post-COVID19, whereas 90% of Gen Z admitted they were (Visual Capitalist).
And with spending more time online, we're becoming more and more comfortable with shopping online because there are no alternatives. Whilst some industries are still affected for multiple reasons, we are increasingly seeing consumers starting to treat themselves to the smaller luxuries - which is known as the lipstick effect. We saw it after the GFC in 2008, and history seems to be repeating itself. Online beauty sales have increased by 111% since the start of the COVID-19 crisis in March according to Contentsquare. And Shopify Plus agency, Statement, found that sales for their luxury fashion clients were up 74% year-on-year throughout March.
The brands that are able to facilitate a seamless online experience well, are the leaders of the packs right now. Simple initiatives like free shipping and increased returns policies are having huge impacts on our clients' sales right now. But there's creative ways to go the extra mile too.
For example, Astrid & Miyu, a London-based jewellery brand, are offering digital appointments with stylists so they can talk you through the perfect "ear-stack" - transferring the help you'd get in-store to an online format.
Other brands are increasingly offering their gifting services, with care packages to send to the vulnerable or NHS workers. And in response to this we've seen Instagram rolling out Story Stickers to help the promotion of gift cards which wasn't previously available.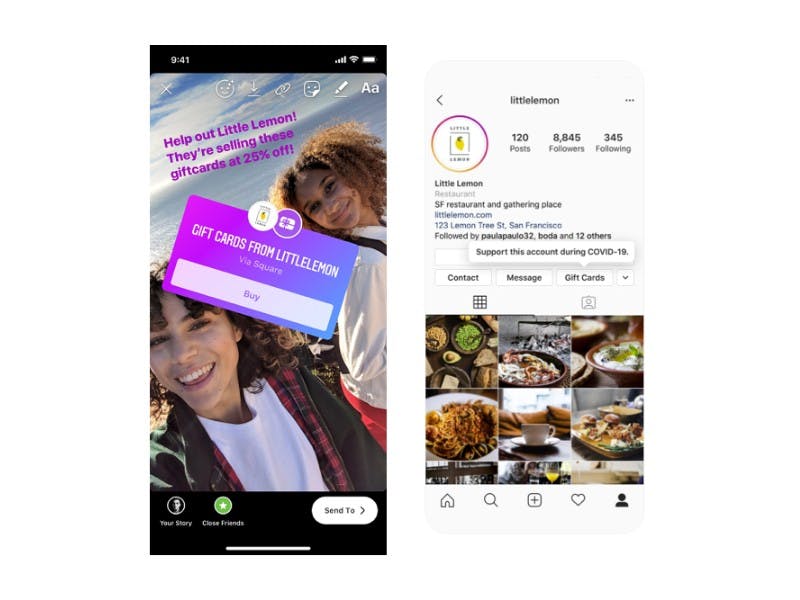 Digital transformation was always on the horizon
COVID-19 aside, the world was always heading towards a more digital outlook. At the end of Q4 2019, online sales were 20% of total retail sales and it's been gradually increasing year on year (ONS). Digital transformation was always on the horizon for a lot of brands but now it needs to be in full view. We're being pushed to react a little more quickly now.
For example, only a few weeks ago did Lindt open their first ecommerce store on Shopify Plus and they did it in just five days to ensure they were live for one of the busiest periods in their calendar - Easter.
So what should brands be considering right now to ensure they are prepared for the increased levels of online consumption which is likely to come from our "new normal".
1. Ensure your customers have a slick digital experience from start to finish
Catering to your customers online needs to be considered from the moment they hear about your brand right through to them receiving that order to their home. The more seamless and enjoyable you can make that process, the better. There's the obvious things - eye-catching advertising, beautiful website design, seamless transactions, and speedy delivery. But it's the cherries on top here that make all the difference.
How can you emulate that same experience that someone may get in store? Can you create a virtual experience that is tailored to your audience? The home furnishings industry is one that's thriving right now, but it can still be difficult for customers to be completely comfortable with kitting out their living room completely online. US D2C brand, Burrows, recognised this and after having to shut their recently opened showrooms they turned around a digital appointment system in 48 hours, to ensure customers could get the "in-store experience" that helped conversion rates before. They built "House at Home" so that customers could book digital appointments with their customer services team to talk through their interior design ideas and get advice virtually.
Ease of purchase is another important factor here. Contributing to this are things like free shipping costs or lower thresholds, payment options like Klarna or opting to use a subscription model. Subscription businesses have been growing by more than 100pc every year since 2011, according to McKinsey. It's a huge market and customers are responding. Back in 2018, more than one in four of us had a subscription box service (Finder) - and with the likes of food subscription box company, Gousto, at capacity and unable to fulfill new customers right now, we can only assume these figures are even higher now. Making it easy for customers to keep buying is important for many different industries.
When that package arrives, it's so important to keep that conversation going. Pushing reviews at this stage, and entering the customer into a post-purchase email flow to hear how they are getting on with their order. This feedback loop will help you continue building on this experience overtime.
2. Utilise all the data that's available to push your online performance forwards
It's no secret that us marketers love some data. And when you're digital first you can have an abundance of it at your fingertips. In our previous article on measuring the return of consumer confidence, we touched on how important it is to monitor things like product performance and search behaviours to anticipate and inform your marketing plans.
Having a single-customer view in which you can access browsing and buying behaviour can push this a step further. Understanding the frequency and recency of purchases of your customers on an individual basis can really help to shape personalised experiences across a number of different channels.
But utilising this data can also help to bring new customers through the door too. Mining the data to find what your customers are searching for on-site can help inform your search strategies. Ensuring your database is linked to your social advertising channels can help build Lookalike audiences of your most valuable customers. And taking a deeper look at what your customers are buying right now can help inform what products you show in advertising or across Google Shopping.
According to McKinsey research, through intensive usage of customer analytics, brands are 23 times more likely to clearly outperform their competitors in terms of new customer acquisition, and 9 times more likely to beat them in customer loyalty. If that doesn't persuade you to use your data more intelligently, I don't know what will!
3. Communicate with customers on a personal level and build meaningful relationships online
It's never been more important to be helpful, and to nurture those customers closest to you. Brands have been putting out more content than ever before, offering personalised promotions and ensuring they are having a meaningful connection with their customers.
We asked Fiona, Head of Marketing at LoyaltyLion to give her take on this:
"Data that compares pre-COVID19 with insight collected throughout March has shown that loyalty program sign-ups steadily increased as the virus started to impact ecommerce. In fact, the last week of March saw 26% more members sign up than the last week of February. This shows that shoppers are just as likely to strike up new brand relationships at this point, so it's a great time to start building communities.
Past consumer research from LoyaltyLion has also shown that 68% of consumers say their loyalty is motivated by the knowledge that a brand shares their values. Some brands are doing a fantastic job of demonstrating this alignment to their customer communities in the current environment.
For example underwear brand, Lively are passionate about providing the right support to women so they are offering their loyalty program members personalized virtual styling sessions via video so that they can still discuss sizing and fit.
Baked goods provider, Beauty Bakerie, knew that some of their customers may be feeling isolated, so they created a virtual baking party for their members to join. With 5 days of 'stay at home glam recipes' they created a daily activity that customers could engage with and look forward to. They also offered members daily discounts on the ingredients required."
Assess your technology stack to get you on your way to becoming "digital-first"
A lot of digital transformation comes down to the technology stack you have in place to create a seamless online experience for your customers. But when you're choosing your technology stack, the main question you need to ask is: "is this suitable for my most valuable customers?". Building a strategy around your customers is rule number one in marketing, so don't forget that when you're on your way to becoming digital first. 
If you want to chat through your technology stack get in touch!