Measuring the return of consumer confidence in COVID-19.
Weekly commentary & insights on how to battle COVID-19.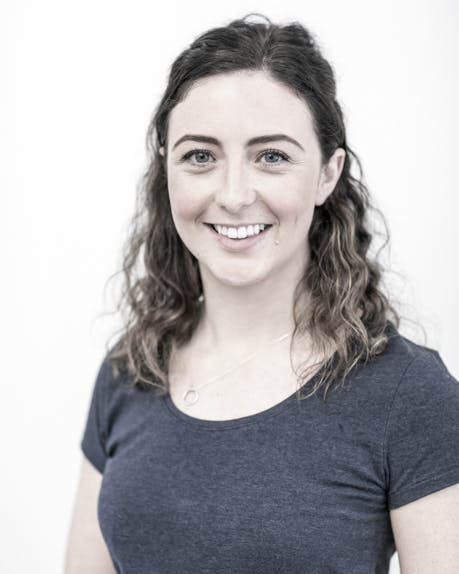 Words by Emily Power - Strategic Lead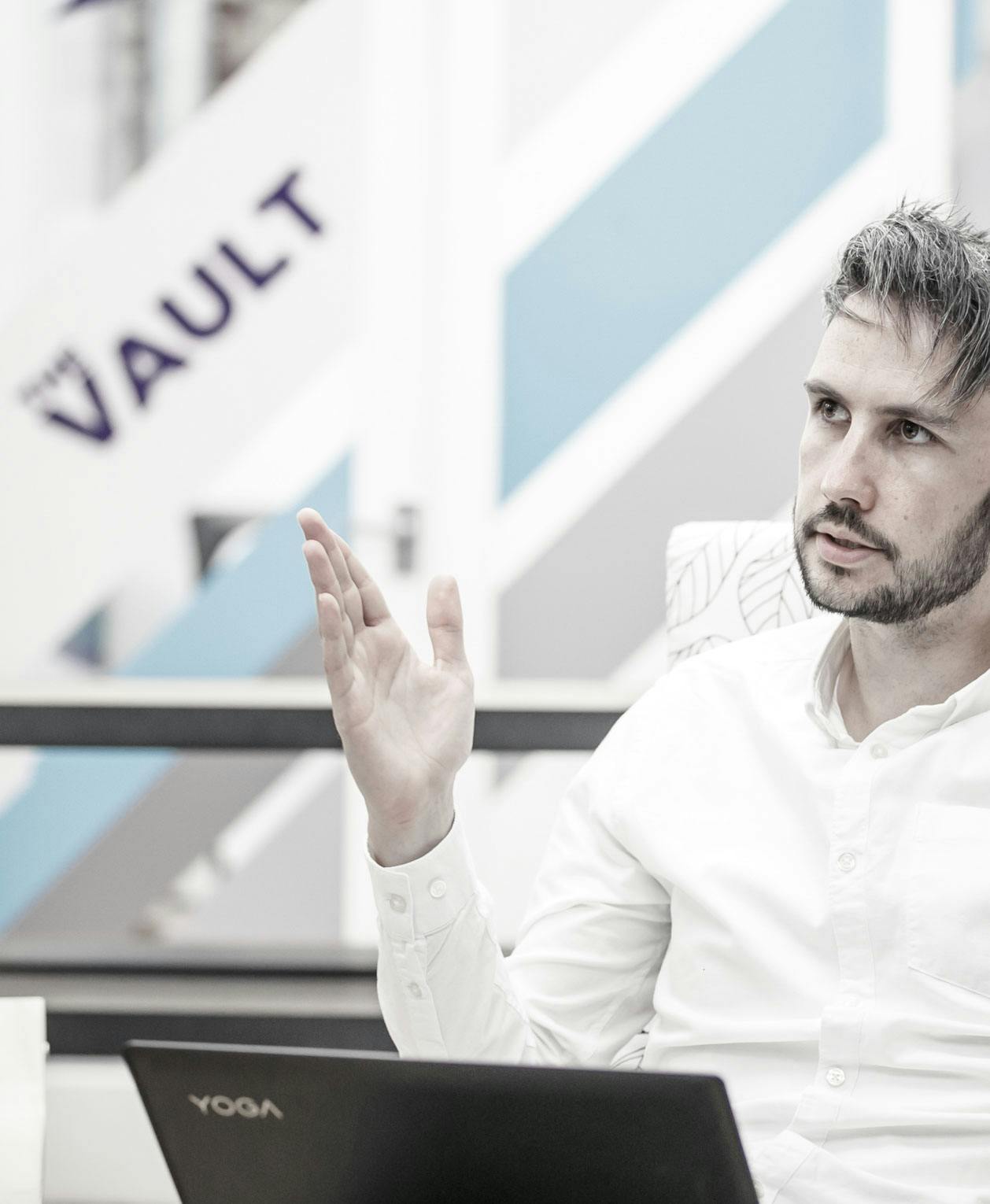 Every week we'll be providing commentary & insights on how to battle COVID-19, rounding up what we're hearing from our partners, clients and industry friends and allowing our experts to give their take on how brands and businesses should adapt. Last week we looked at what we've learnt so far during COVID-19 & how brands can Be agile in the short-term and gearing up for the "bounce back". This week Reload's Strategic Lead Emily Power gives her take on:  Measuring the return of consumer confidence.
To describe the current state of the eCommerce industry as going through a turbulent time is somewhat of an understatement.  With previous "typical" consumer behaviour being completely shaken up by the outbreak of Covid-19 and the efforts to control it, it's more appropriate to label this as a major industry disruption.
.Brands are forced to deal with varying degrees of change practically overnight, from significant demand reduction, to others being presented new, and previously inaccessible revenue streams. Klaviyo reports that 46% of respondents from their daily consumer poll state that sales are going up. Some beauty & online consumer goods brands are riding the wave, experiencing their biggest months ever, whilst fashion brands are suffering unprecedented losses, particularly those who's retail presence normally contributes a large portion of revenue.
Regardless of the industry you're operating within, we all must be hyper-aware that overall consumer confidence is down.  Kantar's Covid-19 study shows that 70% of UK consumers report that their household income has or will be affected by coronavirus, and brands are reacting, with a study by Marketing Week & Econsultancy reporting 60% of marketers have delayed or are reviewing their budgets. 
With consumer confidence down, and questioned marketing budgets, it's now more important than ever to be scrutinizing online search behaviour and current brand demand.  By doing this, and being agile with your marketing, you can leverage the trends your consumers care about, and aim to not just survive this turbulent period, but ultimately thrive.
1) Monitoring Changes in Search Behaviour
As we move away from the initial pandemic panic buying, and people become used to a new sense of "normal", we will start to see new trends emerging in online purchasing behaviour.  Before people open their wallets again, they will of course firstly start to browse.  By being across browsing behaviours, we can better predict, encourage and respond to subsequent purchasing behaviour. 
Using Google Search Trends, we can monitor various keywords to help stay across changes in not just your own brand & product demand, but also others in the wider industry.  By looking beyond your own brand, you can gain indicators for wider demand uplift before your own, that provide you with the reassurance to ramp up your marketing efforts.
If you're a jeans brand for example, it's worth following trends for "Topshop" and other big names in the industry, as well as searches for competitor terms and the general product offering.  As you can see below, Topshop searches continue to trend down, providing the initial indicator that general fashion consumption & consumer confidence is down, however looking further, Levi's search trends show some initial increase, as do searches for "jeans online", that you may wish to begin leveraging.
Similar Product Offerings: Topshop



USING GOOGLE ANALYTICS SEARCH DATA – SEARCH CONSOLE, PPC SEARCH QUERIES & SITE SEARCH
Outside of wider industry search trends, it's important to make use of your brand's owned browsing data.  By monitoring how search queries are changing over time from your Organic & PPC traffic, and across your site's search bar, you can gain a good sense of what products your customers currently do and don't care about.  This can ultimately help direct your marketing focuses, responding to the core needs that customers are seeking to fulfil, and encourage subsequent purchase.
When looking at leading hair care brand, and our client, Philip Kingsley's search data in Google Analytics over the last two weeks in comparison to the previous, we can see that "hair mask" and "coarse hair" have driven significantly increased organic traffic to the site.  Similarly, when analysing site searches, we're able to see what products people are actively seeking, with "re-moisturise" and "shampoo" also showing significant increases.  This could very well be a reflection of people having more time at home to be using more time-intensive products, and therefore presents an opportunity to actively address these needs through marketing content.
Search Console Search Queries (Behaviour > Site Search > Search Terms)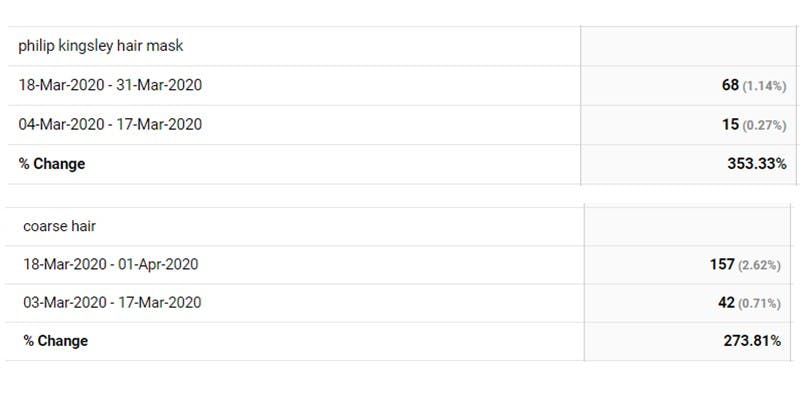 Site Search (Behaviour > Site Search > Search Terms)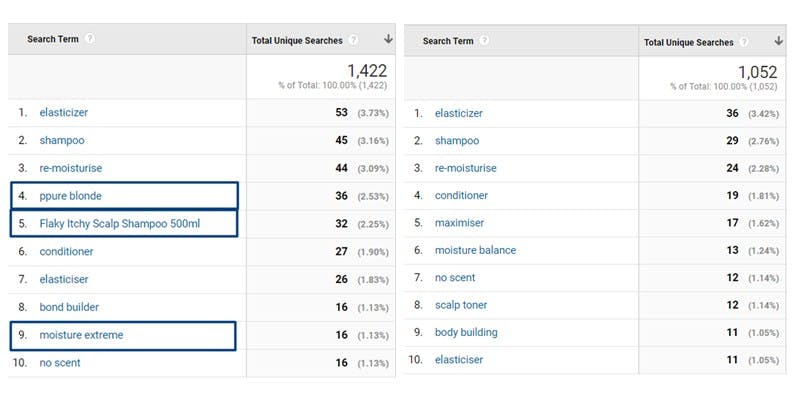 Ikram Hoque, Technical Account Manager from AI-powered smart search tool, Klevu comments "Some industries are absolutely thriving in this time. Across our furniture and DIY clients, we've seen a surge in traffic over the past two weeks with an uplift of 30% compared to the previous period. This also means more consumers are using the Search feature on the site, but we are seeing a significant increase in search conversion rate as people are buying more items. However AOV has dropped, with people buying smaller ticket items as they are being careful on how much they are spending.
Across the industry we've seen huge increases on particular product search terms, such as a 100% uplift for "table" for one furniture client and a 400% increase for "dumbbell" for another Klevu client. This is likely due to consumers kitting out their new home office, whilst also trying to stay healthy with stay-at-home exercise routines. This just goes to show that brands need to keep on top of these trends and optimise their search strategies according to the demand changes"
2) Scrutinizing Existing Customer Demand
While consumer search behaviours help us to predict upcoming demand, it is critical to know the inside-outs of actual purchasing behaviour and how this is changing over time.  Overall revenue decreases are disheartening, but you may find certain products and product categories are in fact experiencing revenue highs, which you could be pushing further.  If you're operating on a reduced marketing budget, you need to be focusing on the products that people care about!
CONDUCT FREQUENT PRODUCT PERFORMANCE DEEP-DIVES!
By setting up custom dashboards in Google Data Studio (the Reload team can help you with this!), you're able to monitor daily changes in performance of product categories & individual products, and leverage trends as soon as they begin happening.  Outside of the obvious monitoring of revenue & conversion rate trends, it's worth analysing metrics such as Add to Carts, Buy-to-Detail Rate & Cart Abandonment, as these can sometimes provide early indicators of increased demand, before actual purchases and revenue are notable.
You may find that a particular product has a high buy-to-detail rate but lower product detail views, and so you should make this more prominent on the site, and actively promote across social.  Similarly, you might find that a particular product's product detail views has had a sudden spike, showing increased demand that should be pushed further.
Monitoring Individual Product Performance (Custom Data Studio Report)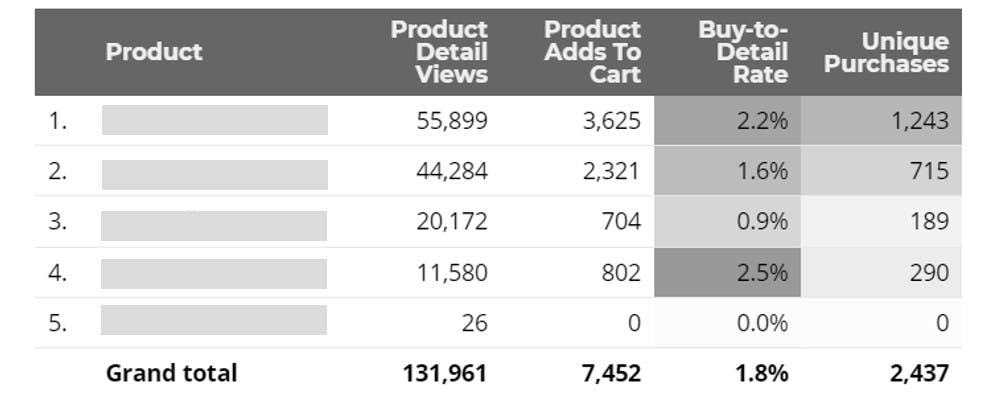 Monitoring Trends in Individual Product Performance (Custom Data Studio Report)
Product details over time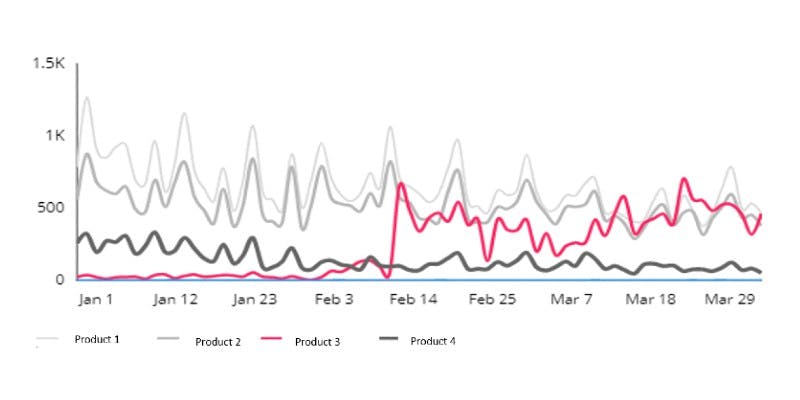 PLAY CLOSE ATTENTION TO PURCHASING TIMES
Just as you can be maximising marketing budgets by focusing on high performing products, you can also do this by focusing on key purchasing periods, and allocating spend there.  While this is a recommended activity even when consumer confidence isn't questioned, it's more important now to monitor this closely, as it's changing rapidly. 
With a large portion of the UK population now working from home and not commuting, media consumption and online browsing has been completely mixed up.  Again, through our custom Data Studio report set-up (or simply using Google Analytics!), we can monitor how key purchase periods are changing.  Looking at the below, we can see Conversion Rate for this particular brand is now peaking across multiple days Tuesdays, Fridays & Saturdays, in contrast to previously Saturday being the clear peak day.  Similarly, looking at hour of day, is now peaking peaked at 2pm & 6PM, in contrast to previous 11am & 8pm, and so we should be adapting advertising budgets and timings accordingly.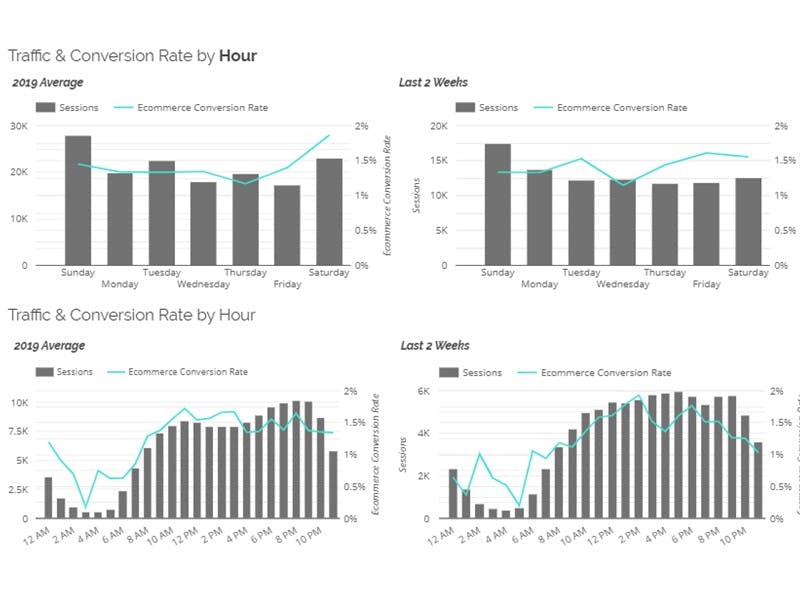 Hannah Samano, Head of Client Services at We Make Websites says "It's now more important than ever for brands to understand the changes in their customers' behaviour and customer confidence. Benchmarking the best and worst performing products, top search terms and the performance of each marketing channel (PPC, direct, search etc.) against periods 'pre-corona' can help to give an indication of what brands should be promoting through this uncertain time.
The trends we're seeing across the industry are varied by client. Brands who ordinarily have a brick and mortar offering are seeing increased activity online, as shoppers are seeking alternative routes. There is also an increased purchase of bundled items, as we expect customers are wanting to receive increased supply and all at the same time. With the level of uncertainty at the moment, we are also seeing an increase in cart abandonment and an increase in wishlist usage as consumers may not be ready to purchase just yet."
And to end this piece, summarising the key tips to making the most of your marketing spend during a period of reduced consumer confidence…
1.       Monitor changes in search behaviour to predict increased demand before it happens! This will give you the confidence to invest marketing budget and encourage sales when the demand is there, instead of waiting for the sales to come to you!
2.       Be aware of what's already working and leverage that through marketing – Focus on your brand's owned data, scrutinize search trends, product performance & browsing times to push further, and ensure your marketing budget is focused on maximising the already high performing areas.
At Reload we're helping navigate marketers through this period by paying close attention to consumer trends, performance data and what we're hearing from our clients and partners. It's a challenging time but we are here to meet it head on!
Any insights you'd like to share from your business or industry, please say hello through our website!