How brands can be agile throughout COVID-19 and be ready for the "bounce back".
Weekly commentary & insights on how to battle COVID-19.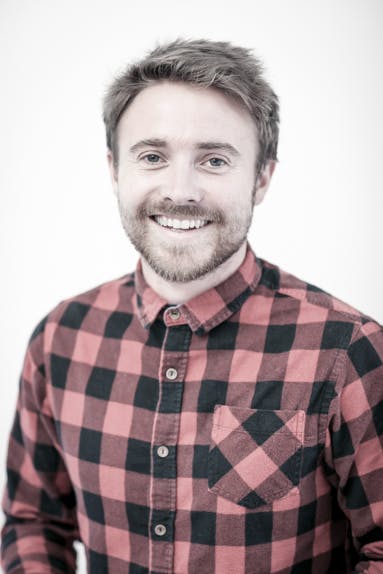 Words by Adam Clarke - General Manager
Every week we'll be providing commentary & insights on how to battle COVID-19, rounding up what we're hearing from our partners, clients and industry friends and allowing our experts to give their take on how brands and businesses should adapt. This week Reload's General Manager Adam Clarke gives his take on:  Being agile in the short-term and gearing up for the "bounce back".
COVID-19 is an event like no other. Effectively it's a "life diet" in which consumer behaviour has been changed beyond all recognition.
And yet, the tactics that marketers will use to navigate through these choppy waters, are the same tactics that smart businesses have been using in simpler times, on calmer seas.
Understanding your customer's experience expectations, creating a purposeful brand which holds a two-way conversation, and being nimble in how you react to data, are all practices that smart brands have been using for decades.
Here I run through the latest consumer trends we're seeing and how brands should best use the above techniques to respond to developments, both for short-term and long-term gain.
1) There are lots of opportunities to attract new customers if you can be agile
While every geographical region and business vertical has been impacted differently, across the ecommerce space there are early signs that consumer confidence is beginning to return with 25% of brands experiencing sales increases last week, according to a Klaviyo survey.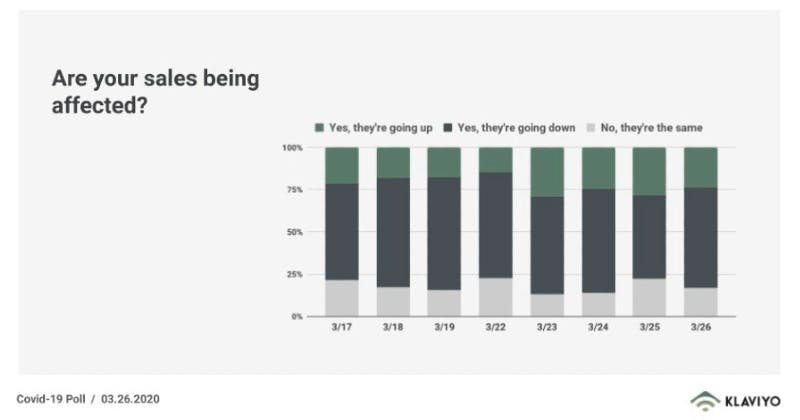 With many brands suffering from supply chain issues, and big corporates like Amazon relinquishing control of their monopolies, there's an opportunity for smaller businesses to bring in new customers. Whilst the UK government is maintaining that "online retail is open and encouraged", this gives small businesses the opportunity to keep their own companies afloat, their employees paid and their customers happy #supportsmallbusinesses.
Coupled with this, the long-standing tradition of consumers preferring to buy from brands or retailers they trust is being subverted by scarcity, with 41% of consumers open to buying from a new brand according to a Yotpo survey. This represents an opportunity to get in front of new audiences who may have not bought from you before.
Nimble brands will capitalise on these uncharacteristic peaks in consumer behaviour. Google searches for the home entertainment market have hit record highs, with a simple search for "Keyboards" seeing spikes not even seen during the peak Christmas retail period.

Or what we're seeing in other verticals, with a 41% increase in beauty and personal care searches reported by Wordstream, and a 14% sales increase for home furnishings. How can you gear up your marketing to be ready to jump on a trend in your industry?
Nothing is certain these days. With baby boomers just as likely to be calling friends on House Party as their Gen Y kids, brands should stay agile and react to the behaviour of consumers, whether that's existing or new customers.
2) Keep the conversation going and be ready for the "bounce back"
The best brands have always understood their customer's current sentiment, pain points and motivations. So simply turning a blind eye or avoiding the "C word" won't adhere brands to the people they want to appeal to.
Whether it's Time Out becoming Time In, Ikea's I Stay Home campaign or Tesco's creative tagline rehash those brands who are battling COVID-19 head-on, are benefiting from the positive brand sentiment.

This isn't just big brands either.
The health & fitness industry are leading the charge here with countless fitness studios, from Digme to 1Rebel, having to put their immediate income worries to the back of their mind and think longer-term. By broadcasting workouts for free on Instagram Live, they're receiving three times more engagement than pre-recorded videos and creating a sense of community which will last way beyond isolation.
Although counter-intuitive when the knee-jerk reaction is to pump the breaks, brands who are thinking long-term will reap the benefit. Even for businesses in the travel sector, who's immediate viability is redundant, knowing that 32% of people are browsing more online since the shift to isolation, demonstrates the importance of continuing to engage the same customers who will help you make up for lost income in future months. Rick, Reload's very own Global Head of SEO, echoed this last week arguing that there's an opportunity to get first mover advantage for brands who are able and brave enough to invest.
It's not all eCommerce, with B2B companies also relooking at ways to re-invest un-used event budgets, 42% of businesses are shifting focus to content creation & other digital channels based on a survey by MarketingCharts.
Even if financial implications limit the ability to spend on short-term channels such as paid advertising, building your online audiences through social media activity or cultivating customers for the long-term with a content-led email strategy will pay dividends when consumer confidence returns in your sector.
3) "Digital First" is no longer a nice buzzword, it's essential
Global events have funny ways of accelerating the tipping points towards behavioural change and 2020 will be the year that brands fast-track their digital transformation as a result of COVID-19.
Before this year, the luxury fashion industry was already undergoing fundamental change, with "companies faced mounting pressure to become more customer-centric, digital, agile and sustainable" according to research by consultancy firm Bain.
Looking towards China, as they begin to re-start their economy in the pandemic aftermath, we're already seeing major platforms such as Alibaba and JD.com rolling out initiatives to help bricks & mortar businesses to move their operations further online, according to the Drum.
Although it's far from "sexy" and often way down a marketers shopping list, we'll see further investments in digital infrastructure, from improved website user experience to more sophisticated CRMs, which place digital at the heart of their customer experience. And smart brands who are fortunate to have the financial stability to do so, will be carrying out these types of forward-thinking projects now, ready to capitalise during the "Post-Peak" stage of the consumer behaviour.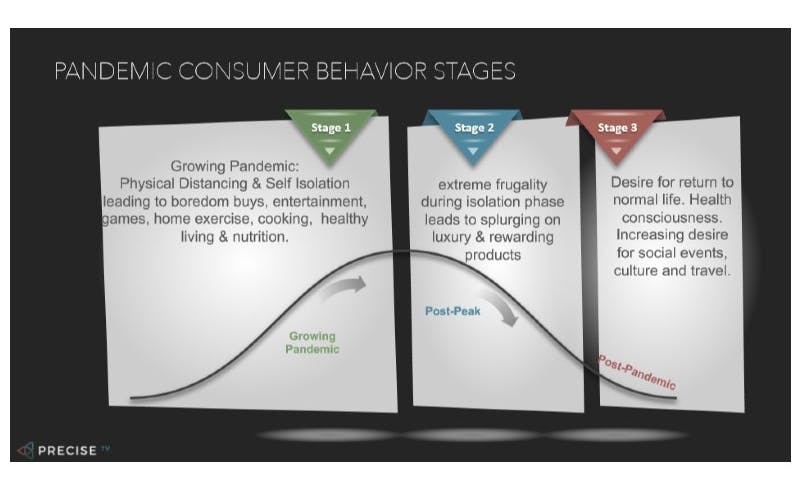 4) If budget's lacking, get creative with your marketing tactics
Even if immediate budgets have been slashed, it's time to roll our sleeves up and make do with the platforms and resources you have available. Here's a handful of ideas to get you started:
Replace in-person customer experiences with online touchpoints – make sure your Google My Business is up-to-date, add LiveChat to your website, allow for online consultations, create 360 product walk-throughs & more video content, or at the very least, provide simple and effective communication on your website as to how you're operating through COVID-19 such as employee safeguard measures or updated delivery & return policies etc...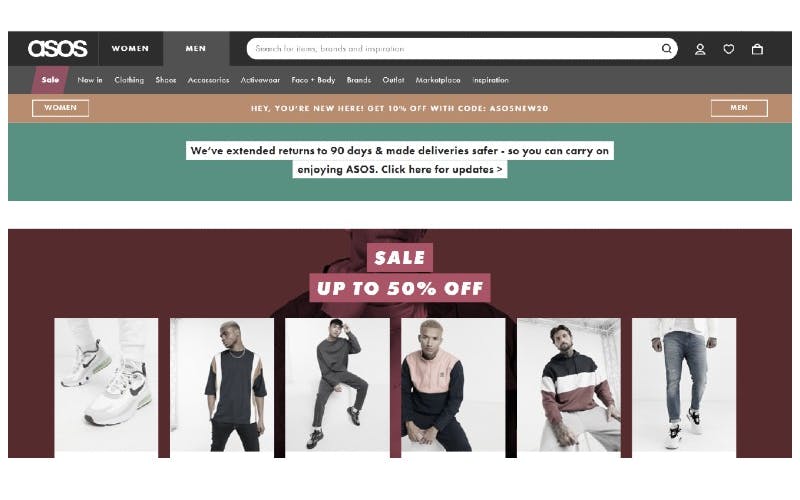 Rethink your customer communication strategy – look to create more user-generated content via social media, launch customer surveys to ask how people are coping through COVID-19, create informational email marketing campaigns, add new media into the mix such as podcasts, live streams or webinars and increasing your accessibility to customers with Messenger, Whatsapp or SMS.
Expand your digital customer journey by making the most of your CRM – if there's been a sudden freeze on spend, where better to look for improved marketing performance than your current tech stack? No doubt you're like 99% of marketers who have a host of exciting CRM features which are currently being under-utilised and gathering dust. Make use of your CRM's capabilities to push people along their path to purchase or enquiry, through more automation, more omni-channel marketing and more data-driven decision making.
At Reload we're helping navigate marketers through this period by paying close attention to consumer trends, performance data and what we're hearing from our clients and partners. It's a challenging time but we are here to meet it head on! Any insights you'd like to share from your business or industry, please say hello through our website or reach out personally on LinkedIn!