•  Words by Rick Eliason, Head of Global SEO & Michelle Allen, Marketing Manager
Debunking Marketing Misconceptions: SEO is Dead
Should brands still be investing resource into building an SEO strategy?
Over the last 2 years brands have been seeing organic search channels deliver less "last click" revenue as Google seeks to increasingly monetise the search results. This is leading some marketers to question the viability of SEO as an effective component in digital strategies - and on the face of it, rightly so.
But SEO plays a much bigger role than simply capturing purchase-ready customers. 
Savvy marketing strategists are integrating SEO to their wider channel mix. Whether that's using SEO as a "handshake" channel to connect brands with potential customers earlier in the purchase journey, before remarketing to them. Or utilising SEO to drive cost-efficiencies across Paid Search. Or focusing on the UX side of SEO to create conversion-friendly landing pages for Email or Direct. 
However, organic can still continue to be a highly profitable revenue channel. There's just the need for honing in on the right focuses and using an approach that is suitable for 2022 and beyond.
As of the end of January 2022, Google processes over 3.5 billion searches a day - that's a whopping 1.2 trillion searches a year. 
And if we consider that almost 50% of consumers start their search for a product on Google, there's a lot of activity to leave on the table by not promoting your organic presence!
So why are brands increasingly reluctant to invest in SEO? 
Often, an effective SEO strategy is not a simple one-time event, it requires constant analysis and refinement to develop and deliver the desired results. This means results are far from instant, and brands under pressure to deliver results get frustrated and reinvest in other short-term tactics like PPC.
Additionally, as a platform, Google is continually developing and becoming smarter. Google makes approximately nine algorithm changes a day and whilst we haven't yet got the numbers for 2021, Google made 4500 changes to its algorithm in 2020.
Keeping up with these changes can sometimes feel like you're fighting fires and diagnosing performance changes rather than proactively growing a brand.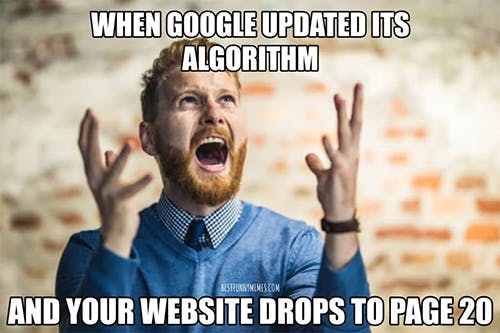 SEO is slow and turbulent at the best of times. But for exactly that reason it can be a competitive advantage too. 
Competitors that ignore SEO in favour of "quick return" tactics like PPC mean they're not investing in the long term and will not only have to continue paying for clicks indefinitely but are at the mercy of rising ad costs.
By investing in SEO with a competent agency or in-house team as part of a multi-channel digital strategy you're future-proofing your brand. 
So let's work through some common misconceptions.


Let's clear this up. As we mentioned, SEO is a continual process, but that doesn't mean it takes months to see any nudges in performance. In fact, these days results can be seen within a matter of weeks, if not days. 
Ultimately it isn't quite as quick as PPC, but long-term you'll be paying less for sustainable levels of traffic.
What determines how quickly you see those results? Well that depends on how often Google crawls your website for updates, the competition you're up against and the optimisations you implement. Once they've been indexed you'll start to see tangible changes.
How does Google know when and how often to crawl? That depends on several factors, such as:
The rate of change happening on your website
The amount of traffic you receive (and perceived website importance)
The number of times a website is referenced or linked to
If you signal a crawl via Search Console



But what you've got to remember is that Google indexes sites based on a number of ranking factors. And whilst traditionally this came down to credible backlinks and strong keywords, the goal posts have changed.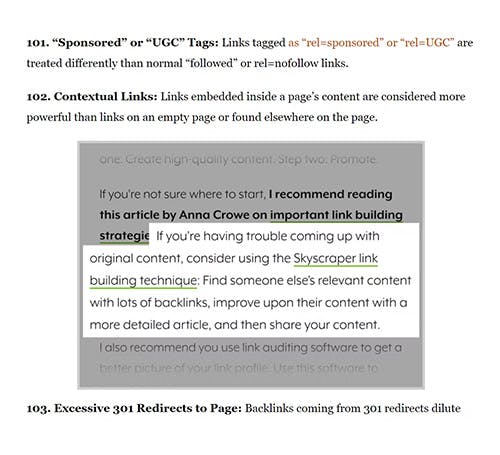 Let's look at the example of keywords - one of the more commonly approached, but often misunderstood criteria. 
When used correctly, keywords are an effective tool for search engine domination. But to do so brands must strike the right balance between meta tag spamming and sculpting strong LSI title and description tags.
So what should eCommerce brands be considering?


Google will display different results for transaction searches.
Generally these keywords will have a lower search volume but higher conversion rate as customers will be sitting towards the end of their purchasing journey.
Certain keywords will trigger Top Stories results.
Brands need to research customer pain points and incorporate this into their headlines, content and title tags. AnswerThePublic provides you with instant insights into the minds of your consumers whilst pulling data on searches related to your chosen keyword.
Branded keywords.
This is an opportunity for brands to differentiate themselves from competitors. Working in conjunction with other keywords and phrases of the marketing funnel for searches often carried out close to customer conversion as a means to make a decision or comparison.
SEO is all about ranking #1-3...
67% of all clicks will go to the top five search results, with 75% of people not clicking beyond the first page, so aiming for above-the-fold positions is the primary long term goal of SEO. 
But there are also hundreds if not thousands of other websites competing for those places and depending on the competitiveness of the marketplace it can take years to earn those top-spots …and then the real work starts to maintain them!
Let's not neglect the other potential objectives that should be considered in a well-rounded SEO strategy.
All too often brands are tied to the belief that SEO is solely reserved for achieving top ranking spots on Google, but they couldn't be further from the truth.
We aren't saying that your ranking doesn't play some part in a successful SEO strategy. The obvious being that your brand has far higher visibility and perceived credibility by sitting at the top of page one.
The internet is saturated with information, in fact there are now more search results than there are queries. So getting your brand seen is difficult. It's time to think beyond standard searches.
Brands should be considering how they can boost their presence through alternative channels such as Google Image placements or by winning Feature Snippets/People Also Ask For. 

Google Feature Snippet example.
But to be a contender brands must optimise their site beyond standard searches. Now, how Google presents search results depends on the type of query. Let's start with People Also Ask (PAA). What was once a search engine, is now becoming a knowledge engine.
Google's aim is to solve a query in as few clicks as possible by generating related questions based on search patterns. Type in a question and you'll likely see a PAA crop up (approximately 86% of the time).
Google chooses what content is displayed in these sections using its EAT criteria. 
Expertise - this analyses many people are consuming and engaging with content, determining its relevance and credibility.
Authority - where is the content being referenced? This is where you want to build credible backlinks.
Trustworthiness; where else is the author referenced on the internet.
So, what should you do with this information? It's time to hijack the attention. 
Seek out what your competitors are answering and formulate a stronger response that will appeal to Google. Keep your extract succinct, well articulated and relevant so it can be directly lifted from your website.
The best part of PAA? Unlike Feature Snippets, it doesn't cannibalise you appearing in the top search results, meaning the possibility of double exposure. Half of consumers are more likely to visit a brand which appears multiple times in search results.
Take our client Astrid & Miyu, for example, who are an authority figure in the jewellery landscape. 
When conducting keyword research we always pay close attention to what PAA questions are coming up, and then plan content in the landing pages that will directly answer those questions. The result? An over 200% increase in Community Content revenue in the first three quarters of 2021 YoY.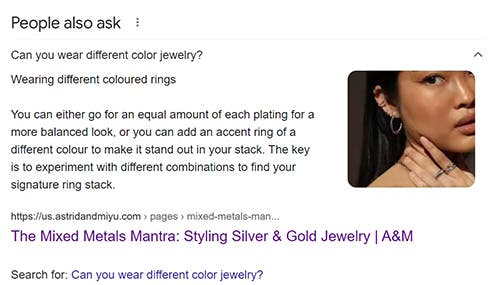 Client example: Astrid & Miyu appearing in Google's People Also Ask for pairing different coloured jewellery.
The way in which people are searching is changing, but so is how they want to view search results. Over the last 90 days images have accounted for almost one third of Google search results.
Not only that, the rise in mobile devices and social media channels (such as Pinterest) means that more consumers are performing searches based on aesthetics. 62% of Millennials and Gen Z consumers want visual searches more than any other technology.
Okay, so what does that mean? It means it's time for brands to capitalise on Google Image results. 
Let's look at household name and Reload client Emma Bridgewater. Knowing that the products are very aesthetically pleasing and homeware shoppers utilise image platforms, we optimised 1000 images and the project paid for itself inside three months.

Client example: Emma Bridgewater in Google Image search results.
This increased exposure saw impressions of Emma Bridgewater's images in search increase by 10% overall, with clicks up 23%. This is now responsible for a good percentage of their organic traffic.
The benefits? Increased CTR and a reduction in the reliance on paid ads. That's not to say you should forget about PPC altogether, and here's why…
Google Ads are the enemy of SEO…
When looked at in silo, yes there can be cannibalisation between paid ads and SEO as quite often both channels are striving for the same goals. But when effectively aligned, paid ads can be an effective enabler of SEO (and vice versa). At Reload, we call this Integrated Search.
Google Ads can feed valuable data back to inform SEO strategies. It allows for SEO to support PPC in finding cost efficiencies, through the optimisation of on-page content to boost quality scores and relevancy of ads for particular keywords.  
Combining this with an integrated strategy ensures high-priced keywords are prioritised from an organic perspective. So brands can be far less reliant on paid advertising.
On the flip side PPC helps SEO with real-time insights that feed into long-term objectives. Marketing messages for ad copy can be fed into meta-data optimisations, whilst landing page optimisations can be pressure-tested through PPC campaigns.
So what does that look like in action? Take our client ERDEM, who wanted to drive new customer acquisition cost-effectively in a crowded search space. Through a holistic approach to SEO and Paid Search ERDEM saw revenue growth of 70%.
How? We conducted a two prong approach which looked at creating a single source of truth keywords analysis whilst focussing on niche commercial terms, as well as enhancing their on site content.
Let's think of integrated search through the lens of the marketing funnel. Sitting at the top of the funnel we have SEO. We know that SEO works effectively as a brand building tool, it can help you attract anyone at any given time when there's intent.
Whereas PPC sits towards the lower end of the funnel and can be used as a retargeting tool based on previous clicks from your SEO. And with over a quarter of people being more likely to click an ad of a familiar brand, well, the proof is in the pudding.
Time to invest in your SEO strategy
So, we can safely say that SEO is far from dead in 2022. But what brands must do is go into the process of building an SEO strategy with their eyes wide open. As we mentioned, it's a long game - big results aren't going to be seen overnight.
It's time to invest efforts into thinking beyond just ranking in the top three results, and really capitalise on Google's other features - remember those Feature Snippets and PAAs?
And (arguably) most importantly, brands must evaluate how SEO can fully integrate into their growth mix as a strategic lever to effectively build brand presence.
 If you'd like to find out more about how we can help you maximise your SEO strategy, get in touch with the team.
Rick Eliason, Head of Global SEO & Michelle Allen, Marketing Manager
Creating a unique Retention & Lifecycle strategy
With acquisition costs on the rise, Reload Digital shares tips eCommerce brands can implement to improve efficiencies and drive long-term growth using a robust retention & lifecycle strategy. This article explores how using loyalty schemes, referral programs & SMS you can create a layered retention program that keeps users repurchasing.
A Peak Planning Model for the BFCM retail and ecommerce season
As peak retail season approaches, Reload Digital shares tips eCommerce brands can implement to maximise performance over the biggest trading months of the year. This article explores how November is just the tip of the iceberg, and brands need to look at their strategy from September through to January to keep driving year-on-year growth.