•  Words by Christy Galloway - Head of Client Delivery & Planning
A Peak Planning Model for the BFCM retail and ecommerce season
How implementing the Grow, Engage, Convert & Retain model can maximise your peak performance.
As we near the beginning of September, eCommerce brands around the world will be in the throes of preparing for the biggest trading months of the year. While we're all keenly aware that brands in the UK are currently operating in an uncertain economic climate, every research piece out there indicates that consumers will once again be holding out for the best Black Friday deals where most brands will inevitably capitalise on the biggest shopping event of the year.
The proof is in the pudding with Amazon recording its single largest sales day in company history during its most recent July Prime Day event, up 6% up last years' Prime Day. Homewares & Beauty were among the biggest categories during the event, revealing that consumers are very much inclined to purchase discretionary items when discounts are offered.
The Black Friday and Cyber Monday frenzy means that many brands make the mistake of thinking that the magic happens in one weekend in November alone. However, that's just the tip of the iceberg, with the months of September through to January all having an equally important part to play. It means that the proactive hard work needs to start now to ensure that brands don't fall behind their competitors. 
Following the success of our recent Ecom Leaders event in partnership with Superco, our Head of Client Delivery & Planning, Christy, has combined the key takeaways with her vast experience helping prepare retailers for the all important peak season. She's here to walk through her tried and tested approach, of how brands can prepare their overarching marketing strategy and approach for Black Friday and beyond.
Reload's strategic approach to eCommerce's Peak Season
Like any marketing decision, it's important to start with a clear topline strategy & objective of what you want to achieve over the next few months. This should form the basis of your peak season marketing calendar, and from there, the different tactics & focuses that fall within this. To help shape those tactics, we recommend framing the next few months around the four step customer journey model of: Grow, Engage, Convert, Retain.

Peak season is not only an opportunity for brands to drive short-term revenue and acquire new customers, but also to grow and nurture their database for long-term business growth and improved customer lifetime value. Let's unpack how this works in practice and how digital marketers (like you) can apply this model to their 2023 peak season planning.
GROW - Your brand awareness & customer database
Historically we've seen that September, and particularly October, are typically lower revenue generating months as consumers await the onslaught of promotions in November. Do not let this deter you from your key objective of growth!

These months serve as the perfect opportunity to start scaling prospecting channels and budgets to attract, inspire and engage new and existing customers which will pay off in dividends come November. By doing this, you're allowing yourself to reach one of three buckets of people who you can then convert during the BFCM period:
The Browser: Looking for the perfect deal or bargain. They are happy to browse and research to find the best possible deal. A LoyaltyLion study report cites that 74% of people will shop around for the lowest price.
The Product Hunter: These consumers have a specific product in mind that they want to purchase, and are waiting for it to go on sale. The same study found that 68% of people are holding out to make a certain purchase during BFCM.
The Brand Seeker: These consumers have a favourite brand and are waiting to see what deals they offer during BFCM, with around 65% of consumers saying they'll prioritise shopping with brands they know and trust. So get in front of people now and build that trust early!
Budgets pending, you ideally want to be scaling your prospecting and lead generation budgets by up to 30% for around 4-6 weeks prior to the BFCM period to capitalise on new channels, audiences, typically lower advertising costs, and therefore much higher reach. Your marketing calendar tactics should also be focused on prospecting promos, offers & brand messaging to engage these users.
Last year, the Reload team did exactly this for a luxury fashion client. Across October, Meta Prospecting budgets increased by +40%, which ultimately led to a +156% YoY increase in the clients Branded Paid Search impressions, demonstrating the impact this had on brand demand levels. Moreover, this activity generated a 1,081% YoY uplift in email subscribers from Paid Social, which were then later targeted during a very successful BFCM.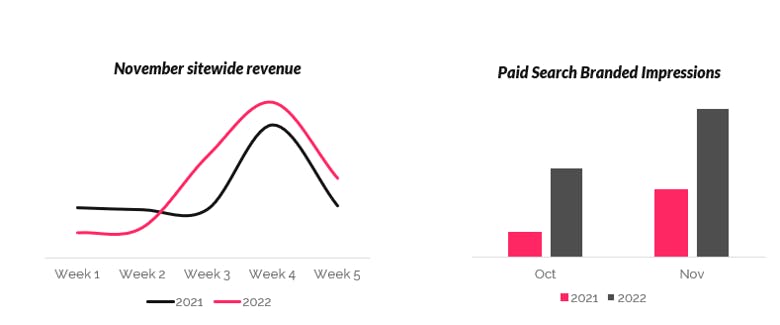 Looking outside of Reload's client base, JD Sports is a perfect example of where BFCM is a marathon, not a sprint. From October last year, JD had one goal — capturing a higher % impression share than its competitors. Likely having larger budgets, they could afford to invest in marketing efforts to stay front of mind all the way through to the BFCM weekend.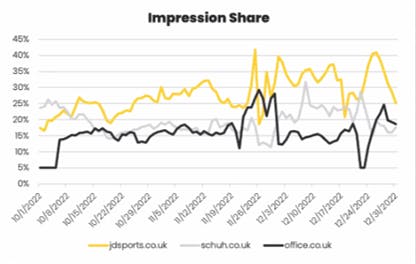 ENGAGE - Your new & existing prospects with brand messaging
The middle of October through to the start of November sees a strategic switch, where the focus becomes more about engaging & educating these  new prospects you've captured in the lead up to the sale period.
Custom email flows and middle-of-funnel remarketing campaigns are two examples of how you can nurture new database subscribers and "warm" audience pools in the lead up to peak. The content within these campaigns should ideally showcase your brand, key USPs and those "hero" products that will later be included within your BFCM sale. The aim of this is to scale your brand recall, particularly amongst those "Product Hunter" & "Brand Seeker" customers that you want to aim to convert during BFCM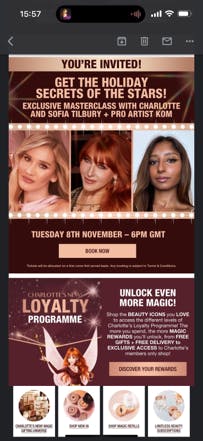 (Above) An email sent by Charlotte Tilbury in October 2022 reinforces the brands expertise in the cosmetics space, and calls out key USPs like its loyalty programme to encourage purchases direct through the site during BFCM.
CONVERT - Your prospects & customers to maximise revenue
It goes without saying that November is all about reaping the benefits of all the hard work you've put in the last few months. Prior to this point, a lot of your time would have been spent planning and deciding on your Price, Product & Promotion strategy for the big Black Friday & Cyber Monday event.
However, planning out the entire month of November is key to ensuring that your budgets go into the right channel at the right time in order to maximise revenue during the BFCM period. The Reload team typically starts by forecasting channel targets for the whole peak period. To pace this, we look back on cost and revenue distribution in previous BFCM periods to best align our daily budgets to when demand is likely to peak & fall.
For example, we might find that 20% of our spend went into Pre BF Sale but this only generated 12% of revenue for the peak period, thus limiting budgets in higher revenue contributing days. We analyse this and better align this year's spend to last year's revenue distribution to maximise return.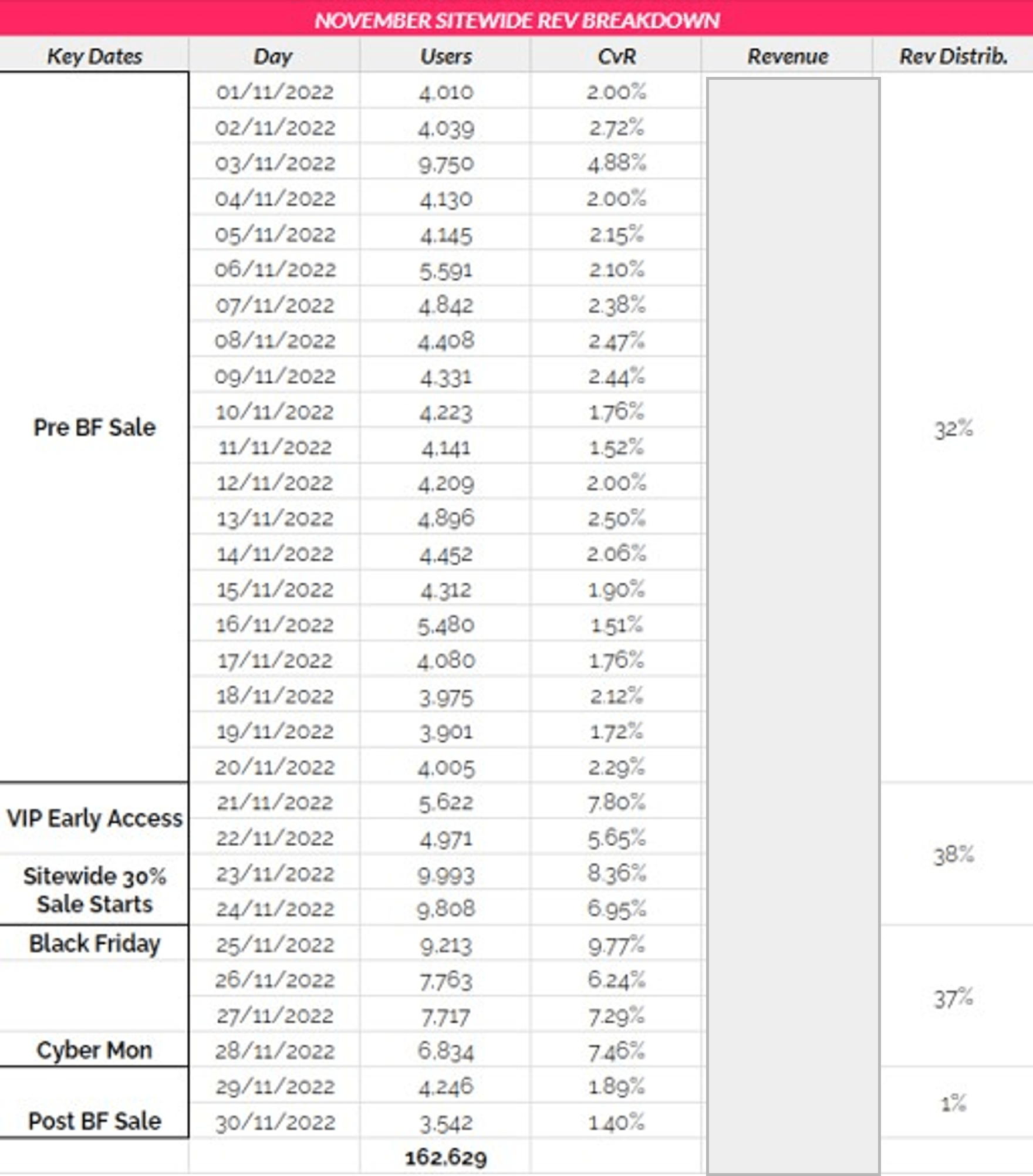 (Above) - An example of where Reload has analysed historical November performance to understand revenue distribution to then plan budget pacing & phasing across the month. 
Like anything in ecommerce, the BFCM period itself is about being reactive to the site results throughout the period. Taking the budget phasing plan, you can then create a dynamic report that automatically updates spend and revenue figures comparative to target to know where further channel optimisations are needed in order to hit the overall goal.
Eager for further reading on some specific Price, Promotion & Product tactics for BFCM? Check out our Planning for a Killer Black Friday article here, which also includes a downloadable BFCM Cheat Sheet packed with practical tips and tactics to help accelerate your November results
RETAIN - New prospects and grow your new customer lifetime value
It's already been an incredibly busy end to the calendar year, but the last thing you want to do is drop the ball now and neglect the key months of December and January.
Not every one of your prospects would have converted across November or even in December - so don't let your hard work from the last few months go to waste. Instead, this is the time maximise the next few months where brands typically pull back on spend after BFCM by focusing on:
Engaging any non-purchasers by keeping budgets high and increased remarketing efforts.
Turning new customers acquired during peak into repeat customers.
Coming back to the prior example where JD sports scaled budgets throughout peak last year, on the flip side to this is Schuh's strategy. You can see in the graph below that Schuh played the waiting game and capitalised on a more cost effective January sales marketing strategy. Schuh's impression share fell comparative to competitors during October, and continued to plummet on BFCM weekend when Office scaled budgets. However, Schuh were more competitive up until New Year, and extended their deals knowing audiences were still in a purchase mindset post-BFCM.
Similarly, a fashion client of Reload's purposefully kept budgets high after the 2022 BFCM period to remain competitive and keep brand presence high. You can see in the graph below that this client capitalised on -21% lower CPCs compared to that of November, which inevitably saw revenue in December 2022 exceed November's!
(below) Reload Client - December revenue exceeded November's revenue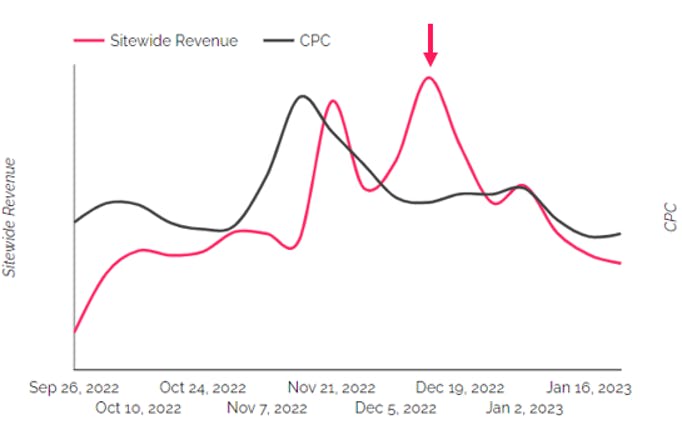 For those customers that were acquired during peak season - don't let their first interaction with you feel like a one-off fling! In an age where marketing costs aren't necessarily getting cheaper, brands need to spend more time and budget nurturing and retaining existing customers, particularly when it's 5 - 7x more expensive to acquire a new customer than retain them. 
Reload's Email & Retention team recommend setting up a specific "Peak Season" segment within your database, which will then enable you to set up either a "Post-Purchase" flow to re-engage customers and ensure they come back and purchase with you again and again into the months of January & February. 
In conclusion...
A successful Peak Season & BFCM strategy isn't just about short-term gains; it's about creating a foundation for continued growth and customer loyalty into the future months. In order to maximise the next few months, we recommend:
Decide on your top-level objective across September - January using the Grow, Engage, Convert, Retain to guide you, and align your marketing calendar tactics to this.
Grow your customer prospects & database by scaling Prospecting budgets across the September / October period.
Engage these new prospects with clear brand & USP messaging across tactics like Email or Meta.
Convert these customers by planning the entire month of November's revenue & budget phasing to help maximise BFCM. 
Retain these prospects by capitalising on lower than average CPCs and keeping brand presence high, and creating new post-purchase flows to retain new customers into the months of Jan/Feb.


If you have any questions about this article or would like to discuss your Peak Season marketing strategy, let's talk!
Christy Galloway - Head of Client Delivery & Planning
Creating a unique Retention & Lifecycle strategy
With acquisition costs on the rise, Reload Digital shares tips eCommerce brands can implement to improve efficiencies and drive long-term growth using a robust retention & lifecycle strategy. This article explores how using loyalty schemes, referral programs & SMS you can create a layered retention program that keeps users repurchasing.
'Getting peak right': Planning for a killer Black Friday
Black Friday is a big revenue driver for brands, but with a difficult economic environment, how can they expect this to influence this year's peak trading? We're sharing our predictions for the busy period and advice on where brands should focus their digital marketing strategy to 'get peak right'.