•  Words by Emily Power - Head of eCommerce
BFCM 2022: Earlier promos, US taking the lead & lower CPMs YoY
Find out what we saw in BFCM 2022.
And just like that, another BFCM has been and gone. Despite current economic conditions making retailers understandably wary in the lead-up to this year's event, Shopify reported a record-breaking BFCM weekend with global sales of $7.5 billion (+19% on 2021!).
While not all brands experienced such a strong YoY uplift, there were plenty of learnings to be taken. In this article, we break down the key performance trends and tactics observed across eCommerce brands throughout this peak trading period broken down by strategy, markets, paid social, paid search, email and SEO.
STRATEGY: Promotions started early, and consumers were saturated with them
As many expected, the Black Friday sales kicked off early again this year. IMRG noted a 78% uplift in live campaigns during the first two weeks of November, so competition was fierce for awareness and acquisition. But retention played it's part too, as Klaviyo reported +41% in emails and SMS messages sent during this period. An indication of just how increasingly difficult it is for brands to cut through the noise and capture audience's attention.
eTailers were particularly fierce, with the likes of LookFantastic and ASOS dominating Shopping results and making it difficult for D2C brands to compete.
STRATEGY: Brands had to be creative with their promotional strategy to stand out
With years of Black Friday experience, consumers have become accustomed and even expectant of brands' promotions. They increasingly pull back on purchasing at the end of October and early November as they wait for the discounts to begin. It's therefore so important for brands to strategically plan their promotions to maximise performance, rather than just discounting for the sake of it. 
Columbia Sportswear were clever in their approach. Rather than following most brands' method of giving VIPs or email sign-ups early access to sale, they gave the public initial access to their sale on the Wednesday. Then made the Thursday – Sunday sale exclusive to VIP's, pushing customers to sign-up in order to shop the sale. This likely drove an increase in email sign-ups, whilst the larger discount on past season gear meant that Columbia were incentivising movement of old stock over new.

Columbia opened their main Black Friday offer to VIPs only.
STRATEGY: Some brands made a stance with the anti-Black Friday movement instead
Year after year we see more and more brands taking a stance against Black Friday. This year, The Ordinary advertised a month-long discount in an effort to discourage impulse purchasing, whilst brands like Finisterre and Colourful Standard used the BFCM period to promote their brand values. Finisterre donated 100% of sales to an aligned charity, whilst the Colourful Standard spoke about mindful consumption.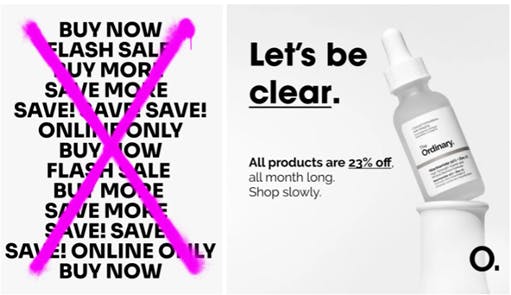 The Ordinary offered 23% off for the whole of November.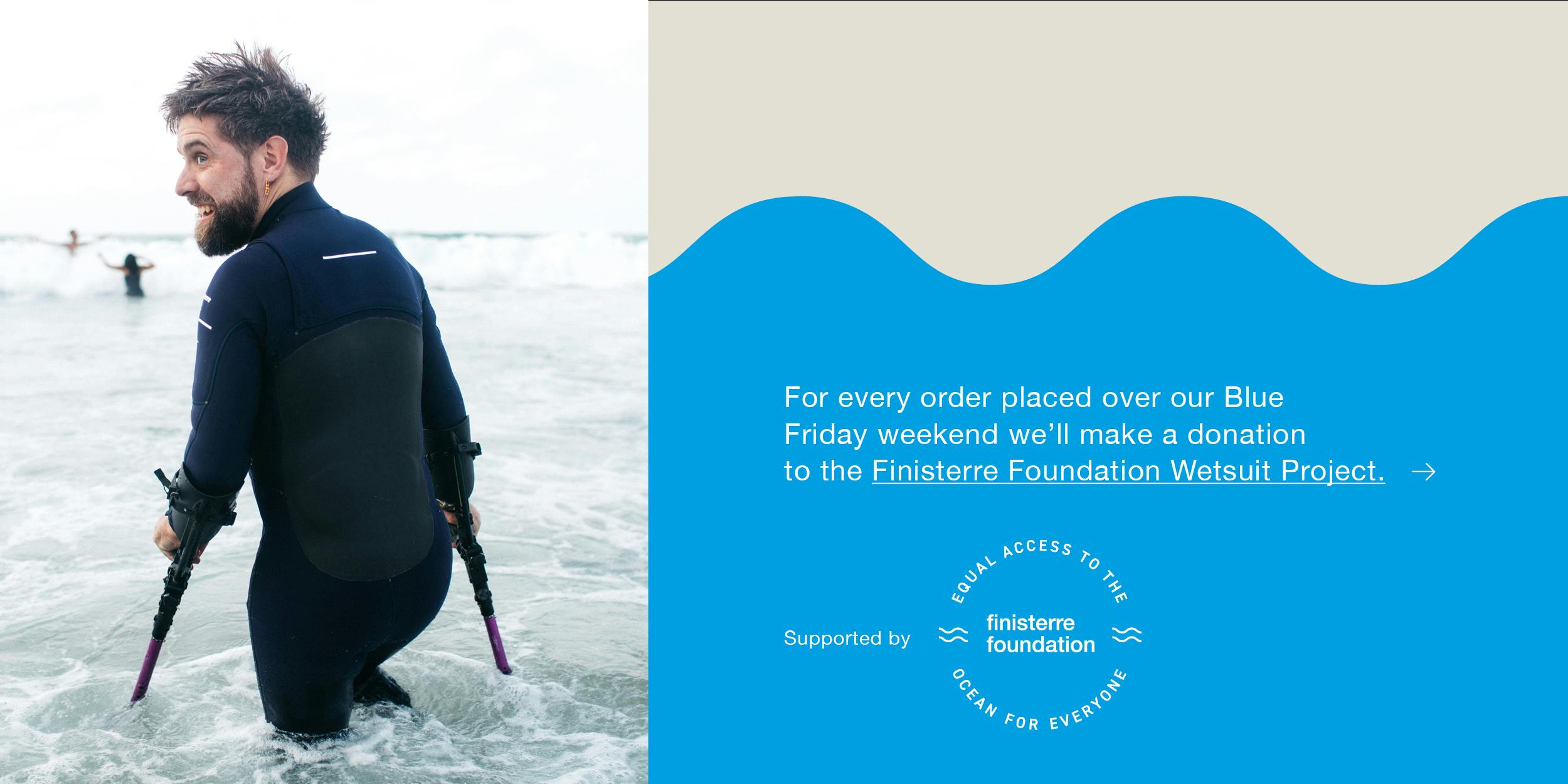 Finisterre made donations to the Wetsuit Project for each order placed.
MARKETS: The US saw the strongest YoY sales uplift, whilst the UK saw the largest increase in conversion rate
Across Reload's portfolio of brands, the US was the clear market performer driving higher revenue increases in contrast to the UK. This was also reflected in Nosto's BFCM wrap-up, reporting North America as generating a 15% uplift on sales thanks to both traffic and AOV increases, while the UK's 11% increase was driven by a strong conversion rate increase.
It's expected that the UK's economic conditions led consumers to hold back on spending in the lead-up to BFCM, meaning that when they did shop, they were extremely purchase-ready. For brands operating across multiple markets, these results should be considered in the months to come – leveraging the UK during discount periods, while considering the US and other strong markets, when it comes to prospecting during full-priced periods.

YoY performance across US, UK & EU markets.
PAID SOCIAL: Fashion & Homeware brands saw CPM's increase, but to a lesser degree than 2021
2021 BFCM period saw an aggressive climb in advertising costs of around 30-40% YoY. This year however, 40% of Reload brands actually experienced a decrease in CPMs YoY with Beauty brands' costs actually remaining stable (-2%). Whilst Fashion & Homeware brands did increase (+18% and +14% respectively), this was much less than in 2021. 
Across all verticals, brands with smaller budgets saw the highest CPMs. It's expected that the smaller budgets and therefore lower campaign reach, generates fewer results to fuel Meta's machine learning which can help drive lower costs. It's therefore important for brands with smaller budgets to optimise campaigns for the most 'achievable' event and avoid the 'learning limited'. For example, we'd recommend switching from 'Purchase' to 'View Content', utilising cheaper 'Traffic' objectives, consolidating Prospecting and Remarketing campaigns, or considering 'cheaper' channels like Pinterest and/or TikTok.
PAID SOCIAL: DPA's were the ad type to drive the most revenue
Across the majority of Reload brands, DPAs drove the highest intent traffic. Some brands generated up to 60-80% of revenue from DPA's.
A crucial element of DPAs (or any Paid Social ad!) is the creative that pulls through. CTR can suffer when the dull white background of product feeds fails to compete against more creative content as a user is scrolling.
Brands that executed the DPA creative well (avoiding the dreaded dull white background), included: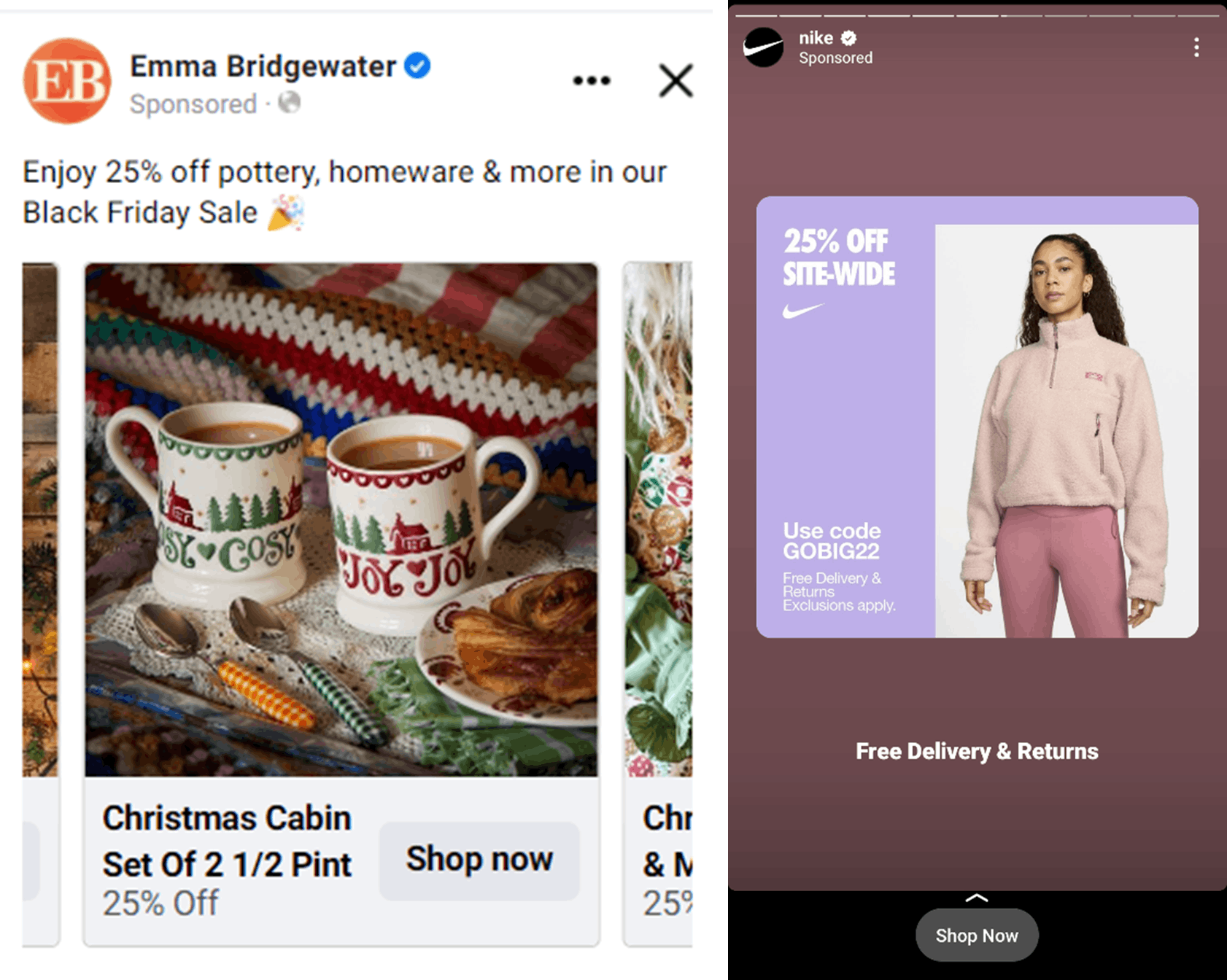 Emma Bridgewater
As a Reload client, we implemented a rule in the product feed to pull through the lifestyle image first to ensure we captured attention.
Nike
Using creative automation platforms like Smartly.io to optimise the DPA creative with custom boarders to make the product imagery pop.
PAID SEARCH: This year we saw Performance Max generating 36% of PPC revenue
In Nov 2021, we found Reload brands' Smart Shopping (which has now been replaced by Performance Max) and DSA campaigns contributed 23% of all Paid Search revenue. However this year, Performance Max and DSA stepped it up contributing 37% of Paid Search revenue.
We also noted that during BFCM, the likes of Lookfantastic were hardly present in Search this year but absolutely dominating Shopping results, indicating that they funneled most of their budget into PMax.
This is a clear indication of the rise of Shopping-based clicks and why it's more important than ever for brands to be optimising their Shopping set-up, such as through the likes of a multiple CSS strategy and in-depth product feed optimisations. 
EMAIL: Contributed approx. 37% of revenue when breaking down channel performance
Klaviyo's post-BFCM wrap-up report highlighted brands attributing up to 37% of revenue to email and SMS during BFCM. This result represents brands placing more focus on owned channels, maximising past customers and database subscribers to save on advertising costs.
We typically see brands having around 20% of revenue being contributed by email. If this figure is lower, this is a sign that there is likely an over-reliance on other channels, such as Paid Search and an opportunity to optimise Email to drive more.
SEO: Early optimisations were key to capitalising on early search behaviour
With "Black Friday" and "sale" related searches up 13% YoY even in October, it was important for brands to be ready to capture this early traffic and interest.   
Across Reload clients, we optimised landing page copy in the lead-up to Black Friday, in an effort to capture interested customer email addresses. During BFCM week, it was then about updating meta data to highlight discounts across PLP's, PDP's and homepages, in an effort to mirror Paid Search campaigns. Post BFCM, it was then important to have a holding page that points people to "always on" outlet/offer pages.

Emma Bridgewater's landing page optimised for Black Friday.
In summary, it was the brands that increased Prospecting activity in the lead-up to BFCM that saw strongest performance.
A number of brands pulled right back on advertising spend in recent months, focusing spend on ROAS-driving campaigns. Whilst this helped increase profitability, it was at the sacrifice of engaging potential new customers in the lead-up to peak trading period. 
Comparatively, it was the brands that increased Prospecting efforts in September and October, that saw an increase in PPC Brand, Direct and Email revenue. 
Take one of our fashion clients below…

We increased Paid Social spend 128% YoY from mid-October, and then saw a 111% increase in Branded Search impressions.   
While no BFCM period is the same, this year proved that brands are having to be more strategic with their promotional strategy than ever before. Whether it's BFCM, or other promotional periods, brands should utilise promotions with purpose, rather than discounting for the sake of it. 
If you'd like support in planning promotions throughout 2023, drop us a message and one of our Reloaders would be happy to jump on a call.
Emily Power - Head of eCommerce
Creating a unique Retention & Lifecycle strategy
With acquisition costs on the rise, Reload Digital shares tips eCommerce brands can implement to improve efficiencies and drive long-term growth using a robust retention & lifecycle strategy. This article explores how using loyalty schemes, referral programs & SMS you can create a layered retention program that keeps users repurchasing.
A Peak Planning Model for the BFCM retail and ecommerce season
As peak retail season approaches, Reload Digital shares tips eCommerce brands can implement to maximise performance over the biggest trading months of the year. This article explores how November is just the tip of the iceberg, and brands need to look at their strategy from September through to January to keep driving year-on-year growth.