•  Words by Bryony Bancroft - Paid Ads Specialist
Is your brand ready for Google Performance Max?
With the imminent switch of Smart Shopping to Performance Max, Reload shares some early insights and explores how brands can learn from these to adapt their digital marketing strategies and create high performing ads.
If you're an eCommerce brand, chances are you're using Google Shopping ads, and with these ads performing far better than text ads – driving 82% of retail search ad spend and winning almost 88% of all clicks – it's clear to see why. In 2019, Shopping spend grew by 41%, whilst text ads declined by 12% – something that was only exacerbated by the pandemic.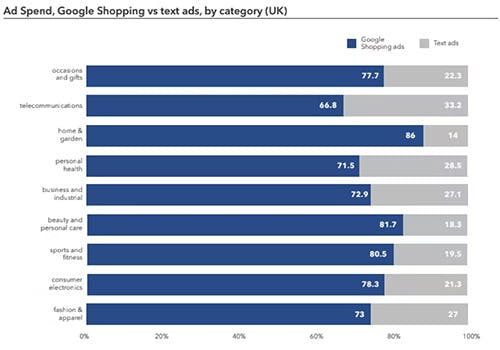 But when it comes to Google Shopping, we're pretty used to new innovations shaping the marketplace. In fact, since its launch back in 2002 we've been introduced to the likes of Google Product Search, a shift to paid platforms (hello Google Shopping) and of course developments such as Google Showcase Shopping and Google Smart Shopping.

Timeline of the development of Google Shopping since its launch in 2002.
And whilst some of these innovations have been more successful than others, it's understandable that some brands are at a bit of a crossroads with how to proceed at the thought of Google Performance Max. 
But with the July takeover looming, brands haven't got long to get their heads around what this means for their current and soon to be extinct Smart Shopping activity, and how they can benefit from Performance Max.
So, we caught up with Bryony, our Paid Ads Specialist, to pick her brain on everything we know about Google's Performance Max campaigns so far, what this means for clients and of course any early performance results.
Tell us a bit about Google Performance Max.
Performance Max is a new campaign type which is completely automated. Basically, it utilises machine learning to not only decide when to enter an auction and what product to serve, but also which ad format and on what channel/placement. This enables brands to serve each user dependent on what stage they are at within their search.
It combines display, shopping, video and text all in one campaign and will rotate through these to serve the right ad, to the right user, at the right time, using the right placement. All this is based upon the information provided by brands (budget, assets and first-party data) and should ultimately help them execute their specific conversion goals more successfully.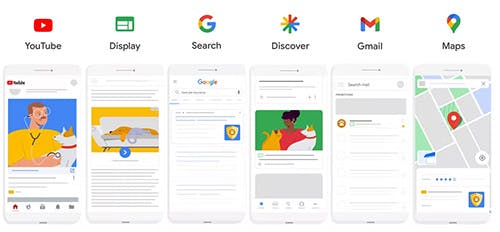 Not only that, Performance Max campaigns have a broad reach across the entirety of Google's Network. So we're talking:
Search
Display
Maps
Discover Feed
YouTube
Gmail
It all sounds pretty exciting if you ask us and brands won't need to wait long to try it out. According to Google, Smart Shopping campaigns can already be upgraded to Performance Max with a one-click tool in Google Ads. 
For those slightly more hesitant, be prepared for your existing Smart Shopping campaigns to automatically upgrade in July. Just remember, the earlier you make the switch the sooner you will start to learn what works for your brand. Early adoption provides time for a risk mitigation strategy rather than having to go all in all at once.
What should brands be aware of and what are the benefits they can expect to see?
Results will dip during the learning process:
According to Google, there's a lot to be excited about with Performance Max! There are a range of brands across Europe and the Middle East who have already begun testing the campaign type and are reporting a 13% increase in incremental conversions at a similar CPA (pretty good, right?) 
Not only that, it is anticipated that brands will see a 12% revenue uplift with a stable ROAS when compared to Smart Shopping campaigns. But, brands need to bear in mind that during the learning period they'll likely see an immediate fall across Smart Shopping and a gradual fall across DSA, after which it's likely Performance Max will be the higher performing of the two and will cannibalise.
It's focused on performance-based goals:
What brands also need to be aware of is that Performance Max focuses on performance-based goals (the clue is in the name).
So what that means is that it will find users who are likely to convert/deliver high conversion value based on the selected bidding strategy. Since there is no focus on brand, reach, impression share etc., we'd suggest that advertisers continue to run existing brand campaigns on Search, Display, Video and other channels to ensure they are capturing all brand demand.
Greater control over your creatives:
You provide the creatives, then let Performance Max do the rest. How? As a brand it is your responsibility to provide those stand-out creatives that resonate with your audience. What Performance Max will do is implement machine learning and cost optimisation to swap out your low performing creatives for new ones – finding which works best based on your chosen goal.
By sharing your audience knowledge, Google's algorithm can serve your ads to highly relevant customers, be those existing or new, allowing you to connect with them more authentically through a wide variety of assets. With 64% of consumers more likely to take action from an ad where they feel represented, this could really help to increase conversion.
Performance Max's ability to select high performing creatives provides you with insight into how well different assets perform, which can be drilled into further through the enhanced insights and GA4's combinations reports. Pretty helpful, right?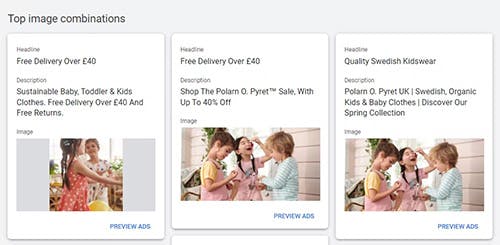 Example of Google Performance Max's top image combinations.
As these campaigns are automated, do brands still have the ability to optimise them?
Of course! For us, it's all about those asset groups (effectively, your ads) and how granular you choose to go. Regardless of the number of products in your feed, Google advocates for leaving products consolidated in one asset group and letting its AI take the wheel on whichever combinations it pleases. 
If you're anything like our specialists, that idea probably doesn't fill you with confidence. So, here's the three ways we've been testing Performance Max across our clients:
1. SKU segmentation - because you know your sale items will sell like hotcakes.
Say you're running a sale, but the SKUs you've decided to discount don't typically receive many clicks in your Shopping campaigns. With the sale only live for a limited time, you'll want to ensure your discounted products receive enough visibility on the Shopping network to get your brand and your great offer in front of potential customers quickly and efficiently. 
Building an asset group around this product set allows you to tailor all creative and copy around your sale, communicating what the offer is, how long it'll last and the discount codes users may need. Not only does this accelerate your sale items' visibility across Google's networks, it does so without disrupting your killer Smart Shopping campaigns. Win win.
For a popular clothing brand, we launched a Performance Max asset group housing all products included in their mid-season sale. Transferring these products from Catch All Smart Shopping to Performance Max drove a 19% revenue uplift PoP for the Shopping segment, with efficiency scaling simultaneously (+29% increase in ROAS). Performance Max CPCs were also a whole £0.07 lower than in Smart Shopping, allowing us to drive more users to their sale product pages than we would have been able to with Smart Shopping.
2. Performance segmentation - to test product capabilities.
Have you ever delved into how many products are seeing a sufficient portion of your Shopping budget in a given day, week or month? Brands are often left scratching their heads when they have a killer product, which is priced competitively and well optimised, but receiving next to no impressions. 
Segmenting asset groups using performance rules is probably as low risk as you can get when it comes to testing Performance Max. By creating a custom rule in your Shopping feed, brands can identify those products which either haven't converted or haven't received a single click in a set timeframe, before selecting this custom label in your Performance Max asset group. 
For a luxury fashion brand, we built a Performance Max asset group containing non-converting products. Off the back of this, we saw a slightly below average CPC of £0.62 (£0.65 avg. for shopping) and a 20% rise in cost per conversion. However, we would expect this due to the fact that we are pushing non-converting products in comparison to products that generally have a high conversion rate and ROI.
3. Product category segmentation - because you know your customers better than anyone.
Do you have a certain product range that you know sells great among a certain affinity audience? If so, pulling these products out into an asset group where you select this affinity audience in your audience signals could accelerate Google's learnings and level up your game.
For a home accessories brand, we wanted to increase visibility for Easter products to capitalise on the seasonality, after noticing they weren't getting much spend in the standard campaigns they were housed in. We therefore segmented out these seasonal products into a Performance Max asset group. In the past 30 days, we saw average CPCs at £0.20 (vs avg. of £0.30 for all Shopping campaigns), a 1.1% CTR (vs 1% avg for all Shopping campaigns) and a 3.9% CVR (vs 3% avg for all shopping campaigns). In this case, Performance Max successfully improved both visibility and profitability of Easter products, whilst increasing their competitiveness in this theme across Google's networks.
Each Performance Max campaign can house multiple asset groups, but within each one, it's important to upload a set of assets that are all related to a single theme or audience. 
As usual, best practice is to give Google as much as possible to work with in its testing, so upload as many images, videos, headlines and descriptions as you've got. Google will then rate each asset from best to poor, so you can keep replacing those low performers with new assets to keep testing your creative library.
What brands need to remember when setting up their asset groups is to enter audience signals to show Google what a high quality prospect may look like – else your test data isn't going to reflect the true capability of your Performance Max campaigns.
What's your take on Performance Max and how do you see it fitting in with strategies moving forwards?
We can't say we were completely sold when we first heard the announcement of Performance Max, but after delving deeper into its capabilities we've certainly come round to it.
Whilst it's going to take a bit of getting used to, we're pretty excited for the new capabilities of Performance Max. There's still a lot to learn as the campaign type continues to evolve and new features are introduced, but from our testing so far we are starting to see the benefits for the majority of our clients.
There are still some nuances needed to be ironed out by Google, but Performance Max's ability to provide more substantial data insights and use of real time data to help brands discover new audiences is pretty special. 
It opens up a whole new level of customer acquisition which has become so saturated over the past few years – so we are keen to see how this plays out and what impact that has on CPA.
Whilst there are no plans to do so at the moment, should Performance Max be a success across the board, we wouldn't be at all surprised if it overtakes all campaign types in the future.
To summarise, what are three key takeaways brands should focus on in the roll out?
1. Focus on your creatives and this includes video. If you don't upload your own video Google will create a slideshow for you based on your images – and nobody wants that! So, if you want to avoid Google taking creative control then it's vital you design your own.
2. Adapt how you report on your campaigns. We suggest looking at overall account uplift rather than individual Shopping campaign performance as it provides a more informative view.
3. Get started now! Change is coming soon so it's important that brands start to build up a bank of data early so they know what works and aren't left on the back foot when Google fully migrates over. Early adoption will allow you to prepare a risk mitigation strategy.
We'd love to hear your thoughts on Performance Max and how your brand is preparing for the switch off of Smart Shopping & Local.
If you've got any burning questions about Performance Max or want to know how it can work for your brand, get in touch with a member of our Paid Ads team who can share some early insights.
Bryony Bancroft - Paid Ads Specialist
Creating a unique Retention & Lifecycle strategy
With acquisition costs on the rise, Reload Digital shares tips eCommerce brands can implement to improve efficiencies and drive long-term growth using a robust retention & lifecycle strategy. This article explores how using loyalty schemes, referral programs & SMS you can create a layered retention program that keeps users repurchasing.
A Peak Planning Model for the BFCM retail and ecommerce season
As peak retail season approaches, Reload Digital shares tips eCommerce brands can implement to maximise performance over the biggest trading months of the year. This article explores how November is just the tip of the iceberg, and brands need to look at their strategy from September through to January to keep driving year-on-year growth.