•  Words by Emily Power - Head of eCommerce
'Getting peak right': Planning for a killer Black Friday
From tightened purse strings to rising ad costs - everything eCommerce brands need to know when planning their digital marketing strategies as we head the biggest revenue period. (Don't miss our BFCM Cheat Sheet!)
We're fast approaching the biggest 3 months in retail. There's no doubt that November to January sees consumer demand peaking due to a period of increased gifting and heavy discounting, with some brands generating up to 40% of their annual revenue.  
As a result, there's a huge amount of pressure to "get peak right", making it bigger and better than previous years, but as we edge closer towards Black Friday and Cyber Monday (BFCM) within a declining economic environment, there's a lot of question marks as to how purchasing behaviour may shift.
So, what can we expect to see as we edge towards peak trading?
1. Current economic conditions will breed two types of shopper
Whilst it's certainly been a year of slowed growth in comparison to 2020/21 (unsurprising really), we're still expecting to see Black Friday and Cyber Weekend remain big. But it's likely to be a tale of two halves in terms of shopper behaviour.
Spreading the cost
According to recent research conducted by Emarsys, the average UK consumer is expected to spend 25% more across BFCM with an estimated expenditure of £283. 
Conversely, that same report also estimates that around 20% of consumers are likely to be more conservative with their spending, with a key motivator being rising inflation. It's likely these are the spenders who will be more liable to spreading the cost of their spending and look for those early deals through extensive planning.
So, although customers are predicted to spend more, it's expected they will do so in a more conservative way leaning onto Buy Now, Pay Later providers to spread the cost of higher ticket items.
Discount driven
With the cost of living on the up, we're expecting to see an influx of consumers holding back on non-essential spending in the month before Black Friday as they await November's discounts to maximise their spending power. 
This means that it's highly likely brands will see a decrease in conversion rates across September and October as consumers hold back, but then when November and December come around, they could be bigger than ever.
2. Advertising prices will be at an all time high
Customer acquisition costs have risen by 60% over the past couple of years, with advertising costs across the most popular platforms absolutely skyrocketing in 2021 around the BFCM period. In fact, across our client data we saw:
Paid social CPMs
WoW +22.8%
YoY +82.5%
PPC CPCs
WoW +37.7%
YoY +88.9
If we look at average ad costs across different verticals YoY, it's not a pretty picture and we're expecting these to continue to rise as we head into peak.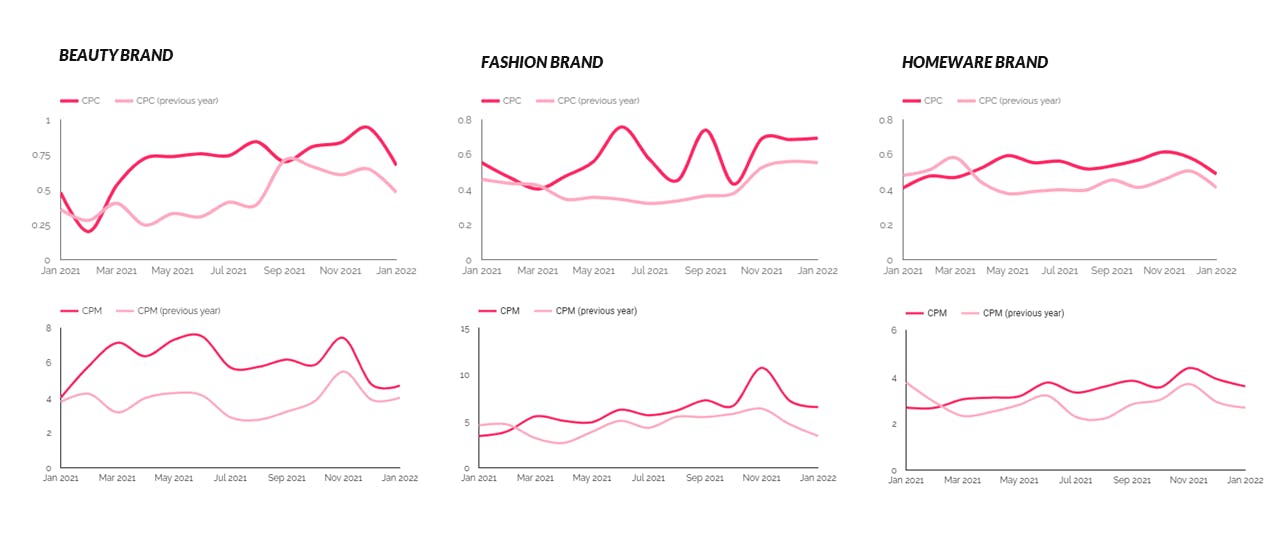 CPC & CPM trends across fashion, beauty and homeware brands in 2021.
3. Search demand will start earlier than ever before
The question here is, how soon is too soon? Looking at the search trends for 2021, there was a steep uplift in queries for "Christmas Gifts" from the end of September. In fact, it was this early surge in Christmas based searches which led John Lewis to unveil its infamous ad a whole week earlier (basically starting the shopping countdown).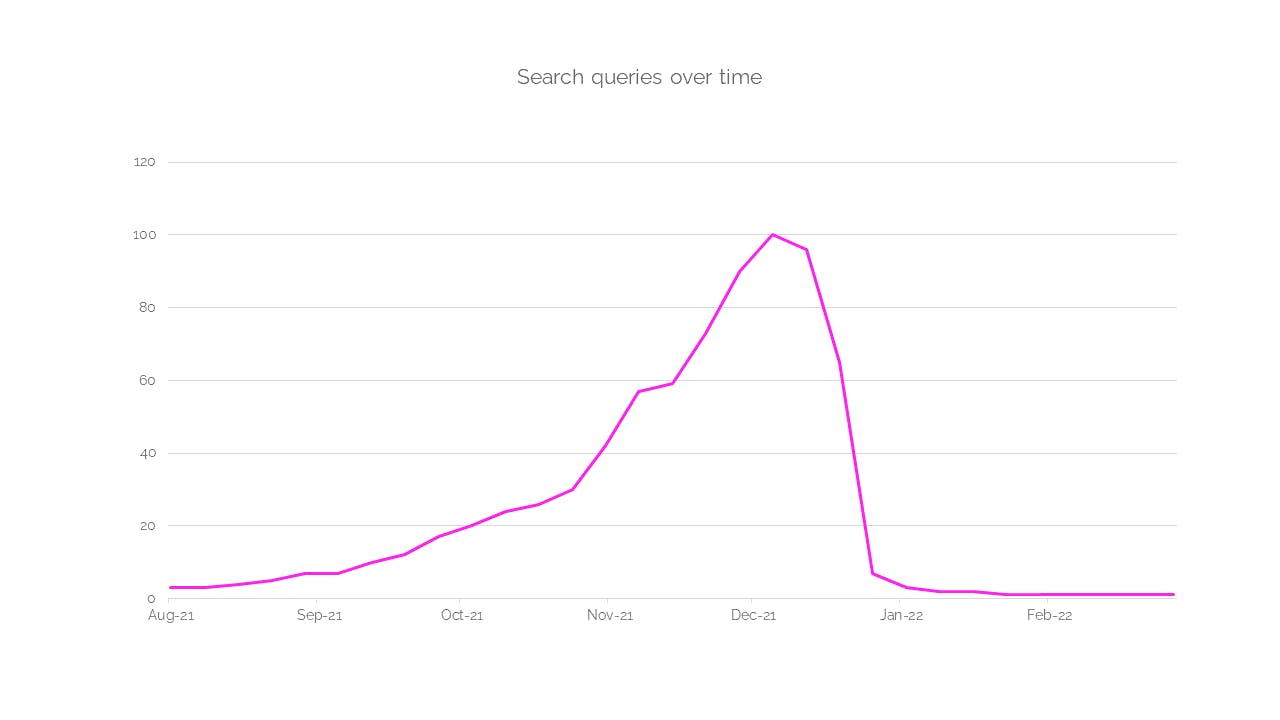 Google Search Trends for 'Christmas Gifts' in 2021.
Turning our attention to this year, ebay's latest Christmas Spend Trends found that a third of consumers are planning to start their Christmas shopping even earlier this year with 29% having started in August due to inflation - possibly to both spread the costs and avoid continued price increases (aka that 20% we mentioned earlier).
This means brands need to be ready with their gifting offer from the moment consumers start searching - whether that be bundles, special service options or new products - and get noticed during the research stage of consumer shopping.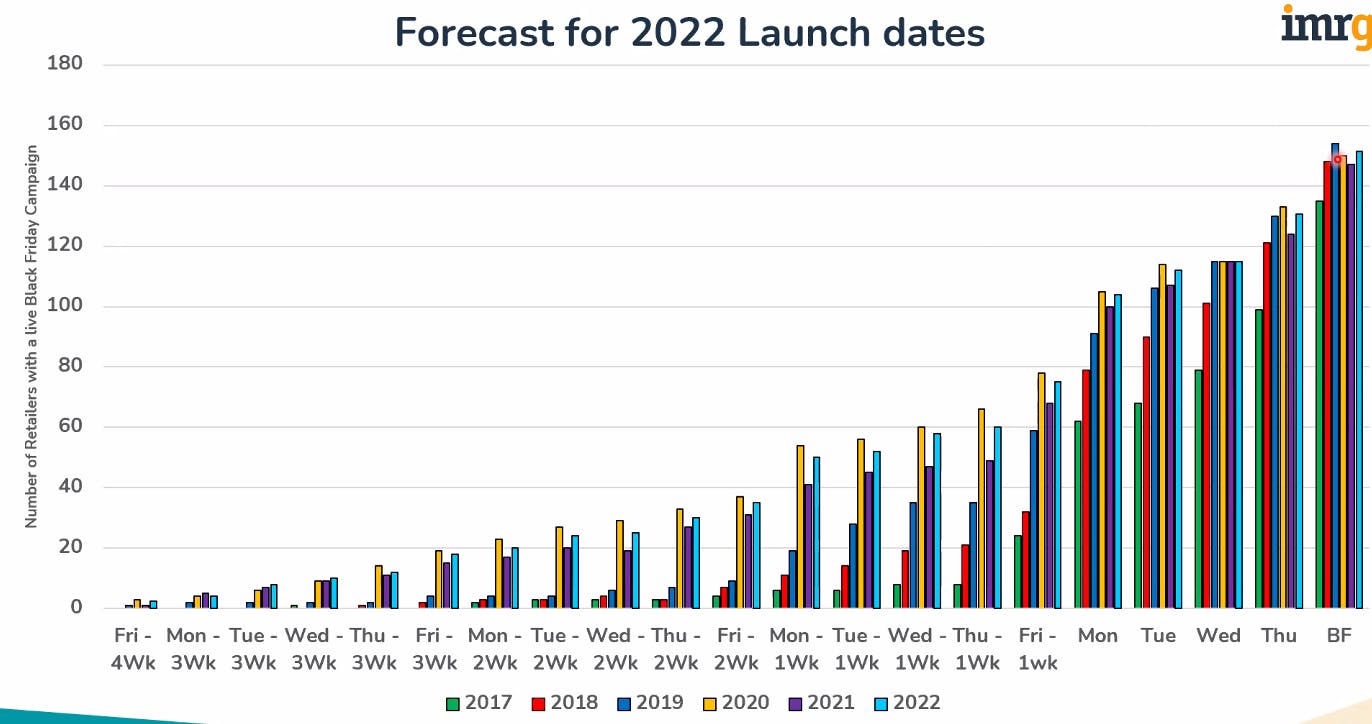 IMRG are predicting Black Friday launch dates will mirror those of 2020.
So what's causing this? (Other than inflation)
Remember the drama around those much loved games consoles last year - you couldn't get hold of a PlayStation 5 for love nor money. Whilst stock was an issue in 2021 we're expecting this to be an ongoing problem with luxury feeling the effects, with premium watch brands such as Rolex and Patek Philippe struggling to match production with their increased demand following the pandemic.
Not helping matters is the continued disruption in manufacturing as China remains strict on lockdowns, and that's without mentioning the existing bottleneck from the pandemic. Therefore, in a bid to avoid last year's disappointment, consumers are looking to purchase items likely to be impacted early.
So, what should brands be doing?
1. Ramp up prospecting activity to build customer database throughout September and October
To maximise sales generated during peak, brands must increase their prospecting activity in the lead-up, engaging new audiences before advertising costs rise and it becomes difficult to cut-through the saturated sale and Christmas advertising.  
This pre-peak warm-up period aims to build new email sign-ups, remarketing lists and brand demand, so that come November and December, you can lean on more cost-effective channels like Organic, PPC and Email.
So, how should you go about it? Throughout September and October, brands should:
Elevate prospecting budgets over a 3-4 week period
If budgets permit, expand prospecting across other channels (YouTube, TikTok, Pinterest, Programmatic Video/Display) to increase brand recall
Utilise creative and content that captures pivotal moments of intent: 

Informational intent
Also known as the research stage, and the perfect opportunity to build your authority in your space with educational or inspirational content that adds credibility and sparks interest with your brand.

Investigative intent
Whilst these consumers are not yet ready to purchase, they'll likely be comparing similar products, looking at reviews and recommendations (hello affiliates). This is prime time to run lead generation campaigns and begin building your data for retargeting later down the funnel, or in this instance November. Get personal to set yourself aside from your competitors.
Having built demand across September and October, brands can then shift budgets towards the bottom of the funnel and capture the increased demand.
Find out more about the channel specific tactics your brand can harness in the run up to and during Black Friday by downloading our BFCM Cheat Sheet.
2. Be tactical with your discounting approach
We mentioned the impacts of the cost of living on consumers, but what about brands? It certainly isn't going to go unnoticed, and if any this will mean brands need to be more considered in their discounting approach. 
With inflation comes higher manufacturing costs and heightened ancillary expenses, and whilst many brands across fashion and beauty are yet to raise their product prices, their discount may need to be less aggressive due to higher COGs.
So what do we suggest?
Tapping into your database
As we mentioned earlier, it's about using your database by offering discounts and promotions to returning customers who are more likely to convert thanks to them already being highly engaged. Conversions from returning customers generates 43% of brands' revenue and at a far higher profit margin
Levi's paved the way in 2021 by offering exclusive member discounts, helping to entice those sign ups and build their first party data for remarketing and retention later down the line.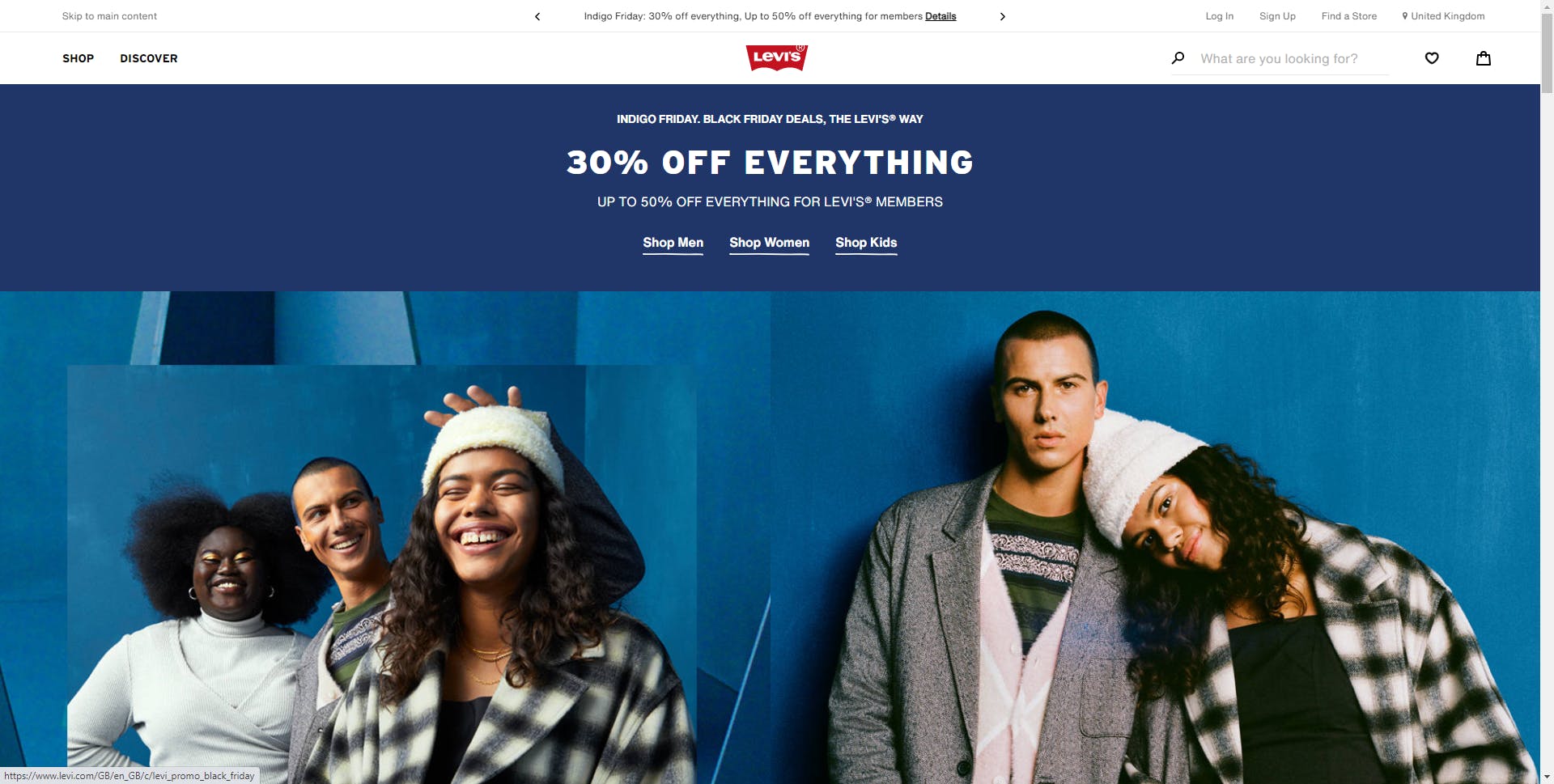 Levi's encouraged membership signups by offering exclusive discounts.
Avoid sales fatigue
Brands should also consider discounting certain products or product categories such as old stock that you're trying to shift or products with higher margins. These could fall into daily deals or staggered discounts, a tactic popular amongst brands in avoiding sales fatigue now that brands treat Black Friday as a month long event.
Take hair care giant Philip Kingsley, for example, who's discount strategy saw revenue up almost 40% on 2020. They ran a series of daily deals including discounts across supersized products and limited time product duos in the week leading up to Black Friday. The short duration of each offer not only keeps messaging fresh, it creates urgency in consumers to encourage click throughs.

Philip Kingsley's Black Friday Daily Deals.
Don't neglect December and January
But one aspect which is often forgotten by brands is how they can continue this momentum once we head into December and January sales. Often brands invest all their time and resource into planning for the run up to the holidays, meaning that once the festivities are over, so are their discounts, and unfortunately lots of those new customer relationships. 
A luxury fashion client of ours opts not to discount over Black Friday but does in the December and January sales with December equating to 12% of their revenue, versus the 8% of an average month.
3. Consider how to entice customers to shop direct
Last year etailers went hard on discounts, but with brands potentially having to tone down their discounts, they'll need to consider other ways to encourage customers to shop direct. There are a number of ways brands can do this.
Increased returns period
Whilst the likes of Zara and Next now ask customers to pay for online returns, a quarter of shoppers say free returns are a significant driver of their BFCM purchases. 
Whilst brands will need to take the financial hit for this, the messaging around a higher price point item with extended free shipping/returns has a bigger pull than a heavily discounted item with those added costs (especially when it's a gift). 
Increased customer service support
With an always-on society, and the likes of Amazon offering hassle free expedited returns and customer service, consumers have become accustomed to instant two-way conversations with brands. 
Brands need to cater to the consumer's schedule outside of the 9-5 by introducing live chat functions (Gorgias who are offering their service to new brands at no cost for the remainder of the year), to avoid losing loyalty and sentiment.
Exclusive product bundles
It's time to give consumers something they cannot get their hands on anywhere else whilst also giving you a means to shift some dead stock by pairing underperforming inventory back with more popular products. 
We've found that bundles and product packs work really well in terms of click through and revenue for Paid Social and are something that shouldn't be neglected when building Black Friday deals as they are popular options for gifting.
By going down this route brands are provided with cross-selling opportunities such as gift wrapping or targeted delivery.
Gift with purchase (GWP)
But GWPs provide brands with a number of other opportunities including:
Give consumers a taste of new products or upcoming products
Beauty brands can use this as an opportunity to offer miniature versions of new or unreleased product ranges to encourage repeat purchase of full size items. Brands can also tap into their customer data and provide suggested GWPs based on their previous purchases.
An alternative to discounting
This is a good option for brands who are concerned discounting their products will detract from the luxury appeal of their brand. Common amongst premium fashion, instead brands can offer a low COGs exclusive product (such as card wallet//cosmetics bag) which can only be added access as a GWP and not as a stand alone product.
Upping average order value
By adding a spending threshold to be eligible for receiving the GWP, shoppers are likely to top up their baskets so they can capitalise on the offer, helping to regain some of the margin you're losing by offering a free product.
Shift dead stock
Similar to product bundles, GWPs are another opportunity to sell older stock by attaching the free gift to specific products or ranges, rather than focussing on a spend threshold.
Leverage you brand purpose
It's easy for brands to get carried away and jump on the discount train, but that doesn't necessarily mean it's right for your brand. With any offers brands need to ensure this doesn't detract from their brand sentiment (find out more in our ebook) and continues to reflect the community you're wanting to build.
Take sustainable fashion brand Finisterre, not only do they operate as a pure play D2C meaning no need to compete with the cannibalisation of etailers, but they stay true to their brand purpose by donating £2.50 from every order to marine projects over the Black Friday period, rather than offering discounts.
Despite the current economic situation, there is still pent up demand from the pandemic with AOVs remaining high, indicating people are still in the market to buy. So, whilst we're expecting Black Friday to remain a key shopping event, it's likely to playout slightly differently.
Search demand will start early and brands need to be investing budget in brand campaigns whilst CPCs and CPMs are slightly lower to fill up their top of funnel ahead of Black Friday
Many consumers will hold back on spending as they wait for big discounts over the Black Friday weekend to help their gift budgets go further
Brands need to look beyond discounts to remain competitive against etailers, maintain share of wallet and avoid customer trade off
Are you peak trading ready? Why not download our BFCM Cheat Sheet via the below form, or alternatively if you'd like help on how you can maximise your Black Friday revenue, speak to a Reloader.
Emily Power - Head of eCommerce
Creating a unique Retention & Lifecycle strategy
With acquisition costs on the rise, Reload Digital shares tips eCommerce brands can implement to improve efficiencies and drive long-term growth using a robust retention & lifecycle strategy. This article explores how using loyalty schemes, referral programs & SMS you can create a layered retention program that keeps users repurchasing.
A Peak Planning Model for the BFCM retail and ecommerce season
As peak retail season approaches, Reload Digital shares tips eCommerce brands can implement to maximise performance over the biggest trading months of the year. This article explores how November is just the tip of the iceberg, and brands need to look at their strategy from September through to January to keep driving year-on-year growth.