•  Words by Michelle Allen - Marketing Manager
Trend Report: How eCommerce brands can overcome inflation
Your quarterly deep dive into the eCommerce trends and digital marketing innovations set to shape the industry over the coming months.
It's been an interesting few months… Global inflation has caused price increases across the board, leading to consumer confidence hitting a record low and the much feared 'R' word threatening to rear its ugly head. And whilst it feels as though we're only just coming out of the other side of the pandemic, it doesn't make for an easy ride for eCommerce.
But with that said, it's not all grey skies. Whilst UK online retail had it tough (falling almost 9% YoY), fashion still proved strong with sales up 13.5% on the year, potentially aided by Jubilee sales (thanks Queenie). In fact, some of our clients saw increases of over 100% across unbranded searches thanks to some early optimisations.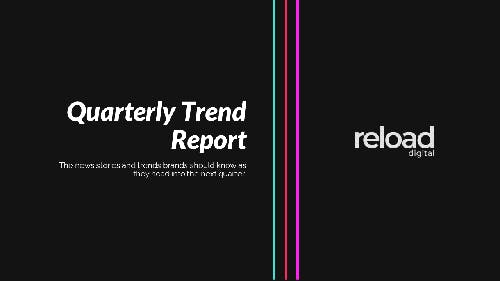 So, with that in mind, let's take a look at what else you can expect to find in our latest Trend Report…
1. The key challenges eCommerce brands are facing, from low consumer confidence to the knock-on effect of tightening purse strings
Whilst it's easy to assume inflation will directly impact retail sales, there's a bit more to it. Many consumers are cutting back on social activities such as meals out and holidays meaning there's less of a requirement to refresh wardrobes, ultimately weakening retail sales.
2. How brands can build robust recapture strategies to secure those second sales and increase profitability
With ad costs rising at a greater rate than ad spend, not to mention increases in fulfilment and ancillary costs, customer acquisition is becoming an expensive game for brands. So, with returning customers generating 43% of brands' revenue, it's time to look at building brand memorability and building good first party data for effective retargeting.
3. The latest trends and innovations across, fashion, luxury, beauty, and lifestyle
We're talking the latest tech including COS's installation of intelligent shop floor mirrors across its 11 US stores, Dior's 4-day exclusive WhatsApp campaign (spoiler alert: it smashed expectations reaching in the tens of thousands in the first day), and whether NFTs have a place in the home. Not to mention the return of bold colour cosmetics (why thank you TikTok) and Chanel's dedicated stores for its top spending clients.
If you want to speak to a Reloader about how your eCommerce or D2C brand can stay ahead in the run up to peak trading, get in touch.
Michelle Allen - Marketing Manager
Creating a unique Retention & Lifecycle strategy
With acquisition costs on the rise, Reload Digital shares tips eCommerce brands can implement to improve efficiencies and drive long-term growth using a robust retention & lifecycle strategy. This article explores how using loyalty schemes, referral programs & SMS you can create a layered retention program that keeps users repurchasing.
A Peak Planning Model for the BFCM retail and ecommerce season
As peak retail season approaches, Reload Digital shares tips eCommerce brands can implement to maximise performance over the biggest trading months of the year. This article explores how November is just the tip of the iceberg, and brands need to look at their strategy from September through to January to keep driving year-on-year growth.