•  Words by Craig Somerville - Managing Director
How eCommerce brands should be preparing for recession
Uncovering opportunities for brands based on learnings from past recessions.
As we enter the back half of 2022, we're in a peculiar scenario where nearly every economic institution and forecaster is predicting a recession. The combination of supply chain snarls, pandemic hangovers, war and post-lockdown behaviour change has seen inflation at record levels. Central banks are pumping the brakes, and we're most likely looking at a period of recession as a result.
This all comes less than two years after the last recession for most of the world's economies, the one induced in the first half of 2020 by the Covid-19 pandemic that preceded the current demand-fuelled surge we are seeing slow now.
So, what should marketers be doing?
It's a question we're getting asked more and more by brands as they look to prepare themselves to not just survive a recession, but thrive on the other side. So, let's take a look…
Learn the lessons of past recessions
For those who took note of the lessons of 2020, and indeed from every recession before that, the answer is simple; be ready to make the most of the opportunities that will come.
Some of you reading this will be thinking, "I've heard this from you before" and you'd be right. It was the exact same advice we gave in March 2020 when the pandemic was first setting in.
We predicted that market share would move aggressively, that marketing would become more effective and that those who built capability in their businesses whilst sales were lower would reap the rewards in the period that followed. The evidence from the boom that followed, particularly online and with ecommerce, matched that. Many of our clients posted record years across FY21 and FY22, and not just in obvious industries either.
Now a couple of years on, a number of studies have shown that those brands who invested in long term capability (often involving digital), adapted to consumer behaviours and leant into the pandemic recession have come out the other side far better off than their industry counterparts. Across industries that were affected very differently by the pandemic, brands ranging from Patch Plants to Emma Bridgewater outperformed their respective industries by large margins.
For those who missed their opportunity in 2020, this year represents something of a "do over" opportunity, where consumer behaviour is going to change and there will once again be winners and losers. Which side brands fall on comes down to what they do now.
So once again the marketer is going to tell you to keep marketing (surprise), but like in 2020 there's strong evidence to support that. Only then, we were referencing crises from 2007-08 as justification, whereas now we have evidence from the much more recent past.
For most businesses, particularly those undertaking digital or direct marketing, it is a cash-flow positive activity. For those with high performing campaigns, every £1 spent is ideally bringing back £3 or more. So, whilst it is tempting in a recession to cut marketing costs, it often has the opposite impact than desired by cutting revenue and profits by more than the saving itself.
According to recent research, firms who cut their marketing during an economic downturn saw -0.8% decrease in profits during recovery, with those increasing marketing seeing an uplift of 4.3%. When it comes to post recovery market share (two years on) we see the same pattern, with those cutting marketing spend bouncing back far slower +0.6% vs +1.7%.
Marketers and brands need to have a great grasp of their marketing ratios like MER and ROAS to ensure they know which activity is yielding results. As those who kept marketing or increased it during 2020 know, these returns often went up during the recession due to lower ad costs. 
Adapt your messaging, product & offers
Depending on the customer base you sell to, the price point and the products themselves, you will probably need to adapt various components of your marketing. Consumers don't disappear, but their behaviour does often change.
High end luxury items may not be advertised as much as alternatives that could be considered "affordable luxuries" or "special treats." Certain product categories in the same industry (eg: camping) tend to do better than others (eg: hotels) due to substitution spending as discretionary spending moves around. One often overlooked approach is to target customers who are shifting their desired price points as a result, not just between brands but within your own price points as well.
Every brand needs to do their research. There is enough information available to work out what product or service substitution will occur in your industry, how demand is likely to shift, and how consumer tastes may change for you to plan your campaigns. Now is the time to do that and adapt your promoted products/services, ad targeting and creative messaging.
ALDI have already begun to benefit from their work over the last few years of reframing how people think about cheap prices, creating an "acceptability to trade down" which focuses on celebrating good value and not just cheap prices. Their use of their Kevin the Carrot mascot in making this message accessible is something that could be replicated by all brands regardless of sector or product vertical. 
Focus on market share and share of voice, not growth
There are certain industries that shrink during a recession (some luxury items, beauty, restaurants, etc), meaning that often there can be an overall reduction to the size of the industry. But this is always temporary. If your overall industry shrinks by 5-10%, it can be hard (or almost impossible) to achieve 30% revenue growth yourself.
By focusing on advertising to gain a bigger share of voice (particularly if competitors pull back) and winning market share, you set yourself up for when the industry returns to normal. Competitors often don't notice this as quickly during this time either, because those losses are often put down to "the recession" and not that someone else is being smarter with their marketing whilst they are hunkered down. One of the most famous examples of this was in the recession of the early 90's, when McDonalds in the USA pulled back its advertising only to lose significant market share to Taco Bell and Pizza Hut, taking years to recover.
That means putting aside top line growth objectives for the time being, but knowing that if you're sitting on a 20% market share, making an aggressive play for another 5% during the recession will pay dividends once the overall market returns to growth.
To explain that, we've summarised this approach using the flowchart below.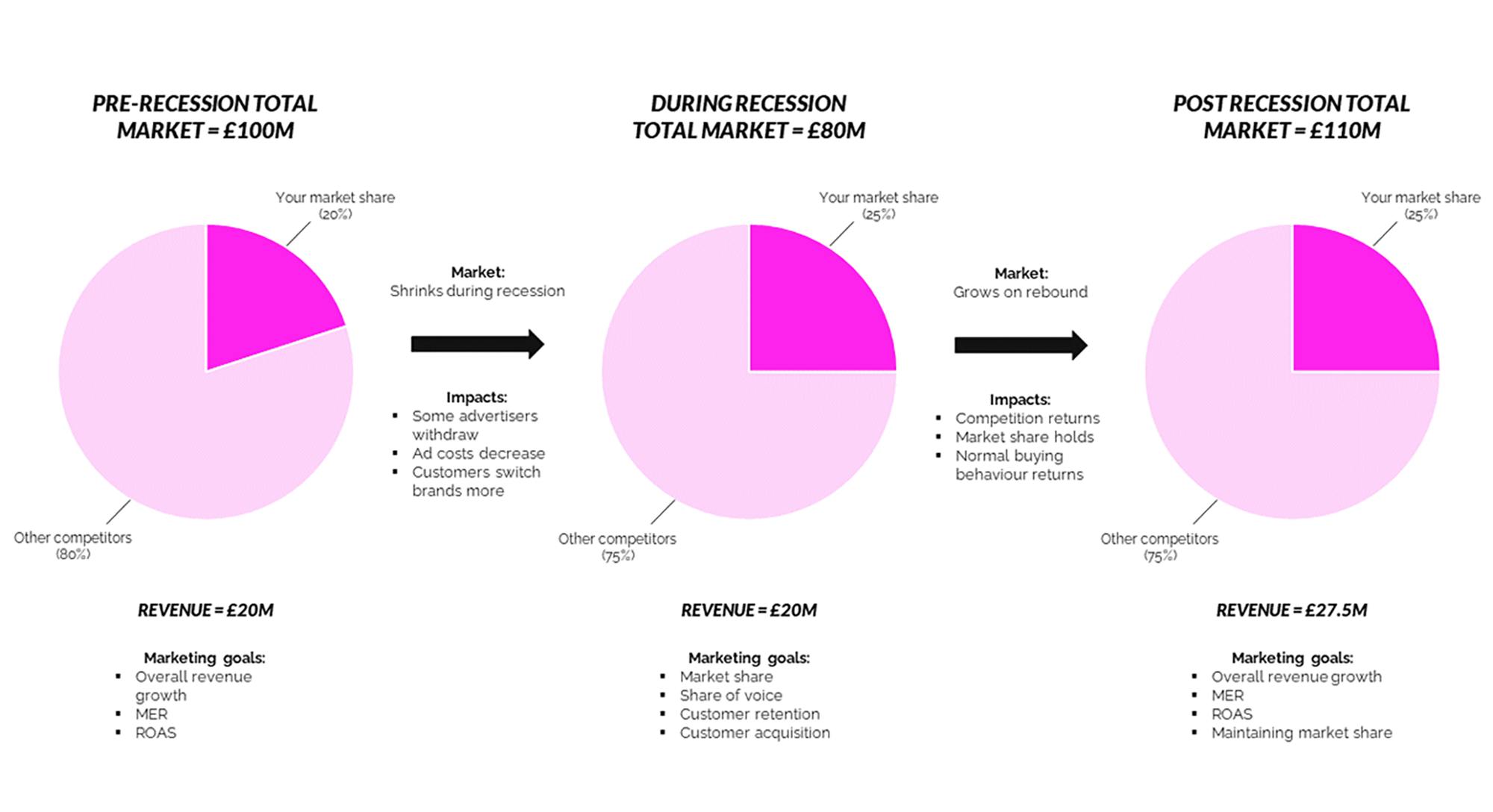 German giant Beiersdorf, owner of brands such as NIVEA and Eucerin, saw this effect play out during the last recession. Their 2020 results showed sales were down around 6%, in line with most of the skincare industry. But in their market releases from early 2021, they explained that despite revenue declines, they were optimistic about upcoming years, noting they had picked up market share in over half their markets and had invested in digitising their business along the way. Fast forward to Q1 2022, and their consumer division had grown at almost 12%, adding about €240 million to their top line compared to the same period just 12 months earlier.
Change the metrics of success
Instead of top line revenue growth, ROAS or other measures of immediate return, switch your focus to metrics that will result in growth once the recession ends.
That means switching and focusing on activity that lifts market share and share of voice, as well as metrics that indicate you're reaching customers who are switching to you like new customer acquisition, database/CRM growth and brand engagement. It's also important to ensure existing customers continue to stay connected to your brand, even if they are spending slightly less in the interim.
That's not to say you should ignore those other more immediate response metrics, as they help to keep cash flowing by bringing in sales, but the balance should shift accordingly.
There are a number of differences between now and 2020, and indeed recessions before that. But the one big advantage we have this time is that brands have time to prepare. During the first COVID outbreaks, brands could justifiably claim they were making the best call they could in "unprecedented" times.
In 2022, that excuse has been taken away. So, with recession looming, marketers should:
Learn the lessons of past recessions. Keep marketing, and go looking for opportunities to win market share from less prepared competitors.
Market share moves most quickly during a recession, and many brands made the most of this during the most recent recession in 2020, capitalising on the boom that followed.
Change the metrics of success from top line revenue growth to market share, customer acquisition and retention, and share of voice.
Prioritise investments that will pay off when markets return to growth.
If you'd like to find out more about how your brand can prepare for the recession speak to a Reloader.
Craig Somerville - Managing Director
Creating a unique Retention & Lifecycle strategy
With acquisition costs on the rise, Reload Digital shares tips eCommerce brands can implement to improve efficiencies and drive long-term growth using a robust retention & lifecycle strategy. This article explores how using loyalty schemes, referral programs & SMS you can create a layered retention program that keeps users repurchasing.
A Peak Planning Model for the BFCM retail and ecommerce season
As peak retail season approaches, Reload Digital shares tips eCommerce brands can implement to maximise performance over the biggest trading months of the year. This article explores how November is just the tip of the iceberg, and brands need to look at their strategy from September through to January to keep driving year-on-year growth.