•  Words by Laura Dodes - Affiliates Manager
The trend of wasted spend: Why neglecting your affiliate programme is creating spend inefficiencies
From flexible commission structures to spotting fraudulent spend, here's how brands can maximise their investment.
Whilst affiliate marketing isn't a new phenomenon (in fact its patent dates back all the way to 1989), it is has seen its strongest growth in recent years with interest in the channel growing by 264% between 2020 and 2022.
This year looks to be no exception with affiliate networks predicted to remain robust despite the challenging economy thanks to their high ROI and low-risk model. This, combined with the increase in partnership opportunities over the past 12 months, will see affiliate marketing hit a value of $14.3b in 2023 (and a further $1.4b in 2024), with core growth markets including the US, Japan, Germany, Australia and the UK.
With experience of in-house affiliate programme management at brands including French Connection and Charlotte Tilbury, our Affiliates Manager, Laura, is exploring how eCommerce and retail brands can overcome the trend of wasted spend when it comes to optimising their affiliate marketing strategy.
How much attention have you paid to your affiliate programme since launch?
It's not uncommon for affiliate programmes to be a little neglected. With it typically encompassing no more than 10% of a brand's digital spend, you may be inclined to give it a similar proportion of your time.
Monitoring an affiliate marketing programme is a necessity. It ensures that affiliates are adhering to brand guidelines (of great importance to more premium brands), gives you the opportunity to identify high-performing affiliates and spot opportunities for growth. Crucially, it identifies where you may be over-spending.
When auditing affiliate programmes for various eCommerce and retail brands, it's noticeable that the vast majority have adopted minimal-to-no commission strategy. Nearly half of brands opt for a flat commission of X% and offer affiliates the same reward for different results, whereas using a flexible commission structure would be most cost-efficient.
Adopting a flexible commission allows you to:
1. Reward strategically depending on your KPIs
Have you seen your AOV plummet? Do you have a new product range to push? Is there a huge focus on new customer acquisition this year? Most networks now offer the option to commission flexibly depending on your KPIs. Doing so will allow you to reward affiliates effectively for working towards metrics that matter most to you. 
In action:
Setting up tiered commission structure based on basket value for a fashion brand improved AOV by 23%.
2. Lean on affiliates with various touch-points in your customer's journey
Every digital marketing channel offers the opportunity to reach customers at different stages of their journey with your brand – the affiliate channel is no different.
Incentive-led affiliates meet customers at the bottom of your marketing funnel and will likely be the largest revenue drivers of your programme.
Content-led affiliates meet customers at the top of your marketing funnel, introducing them to the brand and driving consideration.
Rewarding these two affiliate types in the same way for delivering different results does not provide a successful or cost-efficient marketing strategy.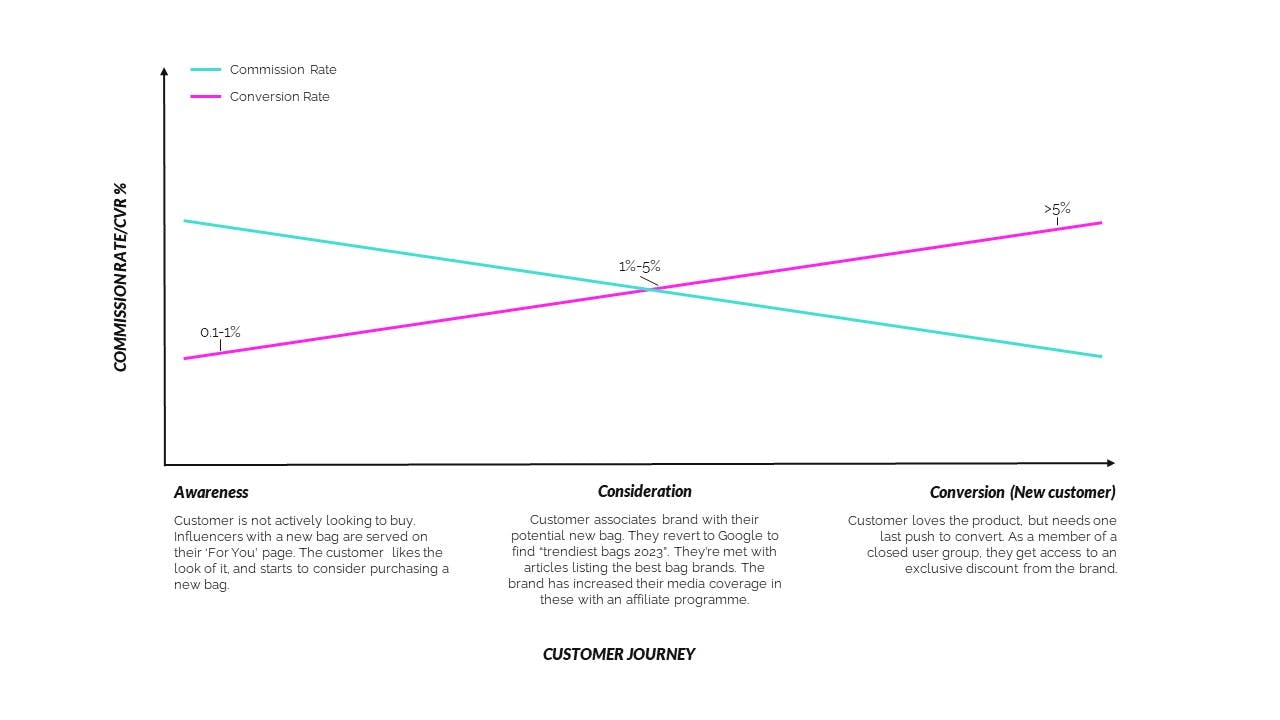 Rewarding affiliates based on their KPIs.
How can you identify the money-guzzlers?
If your top-performing revenue partner is on an always-on 10% commission, it can be easy to look the other way. An ROI of £10 in any other channel would be revered. However, just because it's good for performance marketing, does not mean it can't be better. How can brands go about this?
Digital marketers need to understand the maximum ROI an affiliate can work to whilst delivering the same results. By flexing the commission structure in this way, you can reduce costs at the bottom of the customer funnel, allowing for increased spend at the top. Thus, improving new customer acquisition across your entire digital channel mix whilst creating an affiliate programme that can grow sustainably.
Commissioning by different KPIs, such as by product or by category, is another effective way to incentivise affiliates and drive desired actions. For example, if you are launching a new product line, you may want to offer higher commissions to affiliates who drive sales for that product line.
3. Use third parties to identify fraudulent spend
We asked Chloe Liang, Account Executive at paid search and brand compliance monitoring tool BrandVerity, about the trend of fraudulent affiliate spend:
"Affiliate malpractices (brand bidding, ad hijacking) can result in undue commission pay-outs, higher CPCs, reduced CTRs/organic traffic, and lower impression share for the brand's own ads. Brands sometimes suspect that something is amiss in their affiliate programmes or Search campaign performance but can't really identify the problem because bad actors use a number of evasive tactics to avoid detection.
These tactics can easily slip through manual monitoring and is not always visible in Google Analytics. When the visitor clicks on the ad, they are redirected through the affiliate's tracking link, and then land on the brand's website. We have seen an increasing number of more sophisticated ad hijacking where bad actors use cloaking redirects to mask their real affiliate tracking link which makes the identification of their ID more complicated."
Having a pair of expert eyes, or simply the time and resource to actively ask your affiliates how they are promoting your brand, can be the quickest way to identify affiliate fraud and remove it from your programme.
2023 is the year of affiliate marketing
Affiliate marketing continues to be on trend this year, but wasted spend is last season. Active affiliate programme management is crucial to maximise spend efficiency and ensure that your strategy is delivering maximum value. Through monitoring your affiliates closely, you can grow both the channel and reach your digital marketing goals, by identifying red flags early on and optimising your commission structure to incentivise the right behaviours and affiliate partners.
Reload's data-driven approach to affiliate programme monitoring, assessing the role of affiliates at each stage, enables brands to optimise their commission structure and maximise the contribution of the affiliate programme to their overall digital marketing strategy.
If you've got a burning question on affiliate marketing or want to find out how Reload can help accelerate your digital marketing strategy, get in touch.
Laura Dodes - Affiliates Manager
Creating a unique Retention & Lifecycle strategy
With acquisition costs on the rise, Reload Digital shares tips eCommerce brands can implement to improve efficiencies and drive long-term growth using a robust retention & lifecycle strategy. This article explores how using loyalty schemes, referral programs & SMS you can create a layered retention program that keeps users repurchasing.
A Peak Planning Model for the BFCM retail and ecommerce season
As peak retail season approaches, Reload Digital shares tips eCommerce brands can implement to maximise performance over the biggest trading months of the year. This article explores how November is just the tip of the iceberg, and brands need to look at their strategy from September through to January to keep driving year-on-year growth.