•  Words by Mollie Zsigo, Digital Account Manager
3 reasons why eCom brands should build an Affiliate Marketing strategy for peak trading season
How to leverage Affiliate Marketing to support eCommerce sales growth
'Affiliate Marketing' is a term eCom brands and marketers will be familiar with – but what does it actually mean and how can you make it work for you to maximise your eCom growth strategy during peak trading season.
At its core, Affiliate Marketing is similar to Influencer Marketing in the sense that a brand pays a third party – in this case, an 'Affiliate' – to promote and sell their products.
Where Affiliate Marketing differs from Influencer Marketing lies with two key factors; the first being that 'Affiliates' aren't strictly social media Influencers, but can also be blog owners, press sites/articles, online magazines, cashback websites and coupon websites too. The second differentiating factor is that, instead of paying a set fee for the promotion, the brand only pays the Affiliate a percentage of the sale. This percentage is decided upon by the brand in the first instance, allowing the brand to have complete control over costs at every stage of the relationship.
A common misconception is that Affiliate Marketing is strictly discount based which is actually not the case at all. Whilst working with discount/coupon sites is an option, there are lots of other 'types' of Affiliates that brands can work with, as listed above.
Travel/tourism brands, for example, would more likely align themselves with content partners, such as blog & travel sites, as these are the best at driving discovery, new customers and brand awareness. An established skincare brand who's struggling with customer retention however, may choose to work with Cashback or Loyalty Affiliate's, offering a percentage of cashback for a purchase incentivises repeat purchase. With Affiliate Marketing, the type of partner a brand aligns themselves with really does come down to their overall objective.

If implemented correctly, Affiliate Marketing can be extremely successful for businesses and contribute a consistent stream of additional revenue. According to (Truelist, 2021) , brands executing an effective Affiliate Marketing strategy can see Affiliate sales account for as high as 15%-30% of their overall business revenue, whilst also diversifying their customer base at the same time.
Brands and marketers are also beginning to recognise the impact of Affiliate Marketing, with UK brands allocating 6% of marketing budgets to Affiliates (eMarketer, 2019) To put this into perspective, UK brands are also spending 6% on event marketing and 7% on paid search.
As we enter peak season for eCommerce, with Black Friday and Christmas around the corner, let's dig into why should Brands be incorporating Affiliate Marketing into their overall marketing strategy?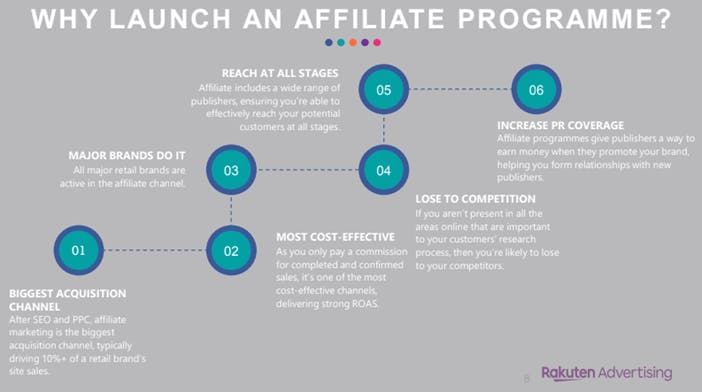 1. Increase your brand awareness
In 2020, global eCommerce revenue grew by 28% (eMarketer, 2021) solidifying the need to raise awareness to your brand and ensure you're noticeable amongst a 'crowd' of eCom stores.
Potential customers are highly unlikely to purchase products from a brand they've never heard of, as 81% of online shoppers conduct research about a brand prior to pulling the trigger (Oberlo, 2021)
Affiliate Marketing is great for increasing brand awareness as it opens your brand up to the audience of the Affiliate, highlighting your products to a whole new range of potential customers. In addition, Affiliate partners typically see high conversion rates, based on the fact that they work with brands that also align with their own audience/demographic – so advertisement feels more native and personal. In addition to this, your Affiliate partner's will have built up credibility & authority amongst their customers and so converting them via a trusted Affiliate may be easier.

New Customer Conversion Rate for a UK based Beauty brand, via Affiliates, Paid Social & PPC.
Take a look below at a beauty brands +180% year-on-year New Customer growth coming from Affiliates over a 5-month period, whilst actively partnering with new Affiliate partners.

It is important to note that Affiliate Marketing is not just restricted to awareness marketing, but can also be applied to other stages of the customer journey, depending on the type of Affiliate Partner you are working with.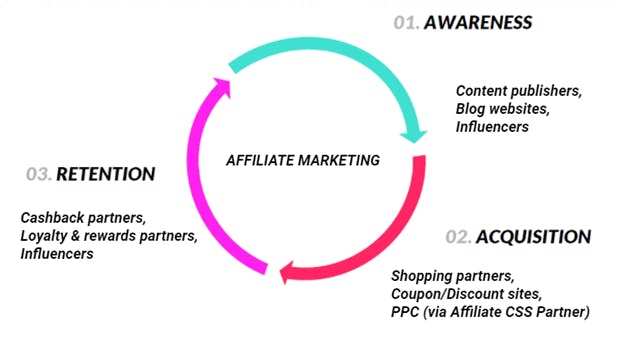 For success with a long-term Affiliate Marketing strategy, best practice is to use a wide and diverse range of publishers – including content partners, shopping/discount or PPC and cashback or loyalty partners in order to reach customers at all stages of the customer journey – awareness, acquisition and retention too.
2. Costs are dependent on results
As far as costs go, Affiliate Marketing is one of the more 'cost-effective' ways of acquiring new customers as will only pay commission when  the Affiliate sells a product.
For example, the avg. benchmark CPA figure for all industries marketing on Facebook is £13 (Instapage, 2020) but with Affiliates, the 'CPA' is set by the brand – so if a brand decided to give their Affiliates partner 5% commission and they sold a £50 product, the cost to acquire that customer would be £2.50. However, unlike PPC and Paid Social, if the Affiliate doesn't sell any products for the brand, then the brand wouldn't pay anything.
This makes Affiliate Marketing a very attractive model as, until you actually make a sale from it, the actual media 'clickspend' is £0. It is important to note that Affiliate Marketing platforms do incur traditional platform costs, which vary depending on which platform you decide to use. For example, of the top Affiliate platform Rakuten Advertising costs £400-800/month in platform costs, depending on the service level you choose. Awin, another largescale Affiliate Marketing platform, aimed at slightly larger businesses, charges a percentage fee on top of monthly commission payments to publishers.
During peak selling season, brands can expect a steep increase in advertising costs on Facebook and Google as demand and competition soar. The great thing about Affiliate Marketing is that the commission rate is always set (unless you change it) so costs over peak seasons will remain stable. Whilst the more you sell, the more commission you pay, the amount paid per conversion will always remain the same.
3. The brand is always in control
As mentioned, Brands are always in control when it comes to Affiliate Marketing cost - with the average commission rate starting at around 2% and increasing anywhere upwards of 10-12%, depending on the brand and the Affiliate partner.
In order to incentivise sales, a brand could increase commission rates with their Affiliates for a limited time with the aim of driving a higher sales volume over a condensed period of time. It's within the Affiliate's interest to make sales for your brand in order to earn – and maximise- their commission.
Brands are also in control of exactly which Affiliates they are partnered with. For brands that offer ongoing sitewide promotions, it is worth partnering with Coupon or discount-based Affiliates as key sites where shoppers go when they're looking to save money. Brands don't need to increase discounts to appear on these sites, they simply use these sites to advertise the promotions they are currently running. These types of Affiliates are actually the best option for a brand whose main objective is increasing sales, with users shopping via coupon or discount sites are typically quite conversion ready.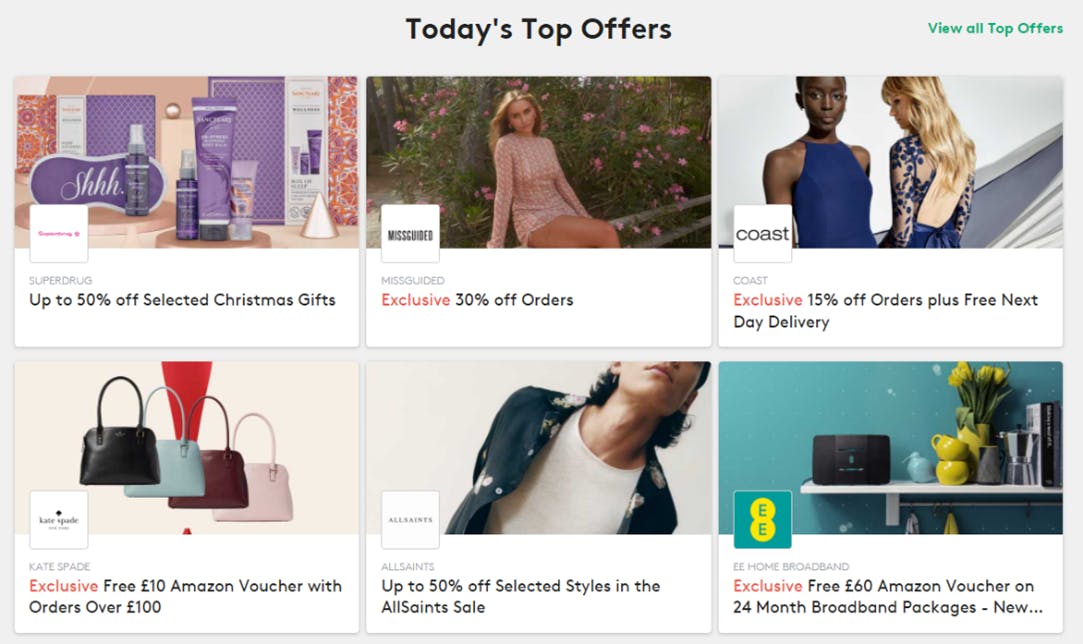 Coupon sites are great at driving sales.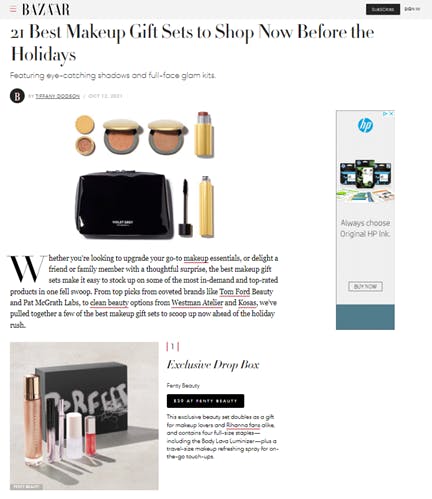 Content sites are great a driving brand awareness & new customer acquisition
During peak selling season, when brands need to work harder to cut through the digital noise, it is worth considering providing private and exclusive deals for your top-performing affiliates. When doing this, brands will usually increase their commission with the partner, or pay a set one-off fee to be given increased tenancy on the host website homepage, inclusion in email newsletters and social channels to increase exposure and drive sales.
Despite Covid-19 uncertainty, Black Friday & Cyber Monday 2020 hit a sales milestone last year, grossing £10.24 Billion total (Shopify, 2020). As online shopping demand shows no sign of slowing down this year, consider making Affiliate Marketing part of your eCommerce customer journey, setting your brand up for success by partnering with high-value Affiliate partners that align with your customer base and values.
Whilst other channels such as Google, Paid Social and Email will still have a place in your digital strategy, if increasing awareness and new customer acquisition is your key objective, then make room in your budget for Affiliates too.
Now that you understand Affiliate Marketing and what it can do for your brand, why not:
Check out some of our Partner platforms for Affiliate Marketing – Rakuten, Awin & Webgains to see which you think would be a best-fit for your brand.


Download Rakuten's 'Blueprint' for Affiliate success


Get in contact with us to find out how we can help propel your Affiliate Marketing strategy.


If you're interested in learning more about Affiliate Marketing and which Affiliate strategy that will work best for your brand or client, don't hesitate to get in contact with our specialists to learn more.
Mollie Zsigo, Digital Account Manager
Creating a unique Retention & Lifecycle strategy
With acquisition costs on the rise, Reload Digital shares tips eCommerce brands can implement to improve efficiencies and drive long-term growth using a robust retention & lifecycle strategy. This article explores how using loyalty schemes, referral programs & SMS you can create a layered retention program that keeps users repurchasing.
A Peak Planning Model for the BFCM retail and ecommerce season
As peak retail season approaches, Reload Digital shares tips eCommerce brands can implement to maximise performance over the biggest trading months of the year. This article explores how November is just the tip of the iceberg, and brands need to look at their strategy from September through to January to keep driving year-on-year growth.