•  Words by Tara Hughes - Email & CRM Specialist
Creating a unique Retention & Lifecycle strategy
How implementing a layered retention & lifecycle strategy is the key to long-term growth.
Growth is everyone's favourite buzzword, but often we jump straight to New Customer Acquisition in a bid to improve revenue year on year. Whilst NCA is a great way to get that quick revenue boost, this can often be at the detriment of efficiencies as acquisition costs are constantly on the rise. Long term success comes from balancing acquisition efforts with loyalty & retention, to ensure those high acquisition costs go far and translate into loyal, repeat customers.
When we hear retention, we think Email, but this alone may now not be enough to stay competitive. Diversifying your retention offering to include the likes of SMS, Loyalty & Referral schemes will avoid overreliance on discounting and instead nurture users across multiple touchpoints, keeping them coming back for more.
Build a community through loyalty programs
With competition becoming more and more aggressive, loyalty programs offer tangible incentives that set brands apart. Through rewards, exclusive discounts, and early access to sales, these initiatives acknowledge your customers, make them feel valued and keep them coming back again and again.
Sephora's layered loyalty program hooks users into their program with initial discounts, gift cards and for their US users a points system that allows them to move up different tiers collecting rewards. Whilst this is a great entry to the brand, it is Sephora's community of over 6 million beauty lovers that keeps users hooked in their program. This space allows users to enter competitions, review products, ask questions & much more. Each member's contribution is ranked using a badge system which gamifies the process drawing users in. If you would like more details as to how Sephora has kept their members active, we recommend this article.
What is more, these active community members are fuelling Sephora's ecosystem by encouraging product reviews which have the viral effect without the need for marketing spend, beauty news forums which is a constant production of new content fueling Google's SEO algorithm & encouraging the production of UGC content that can then be repurposed across Social.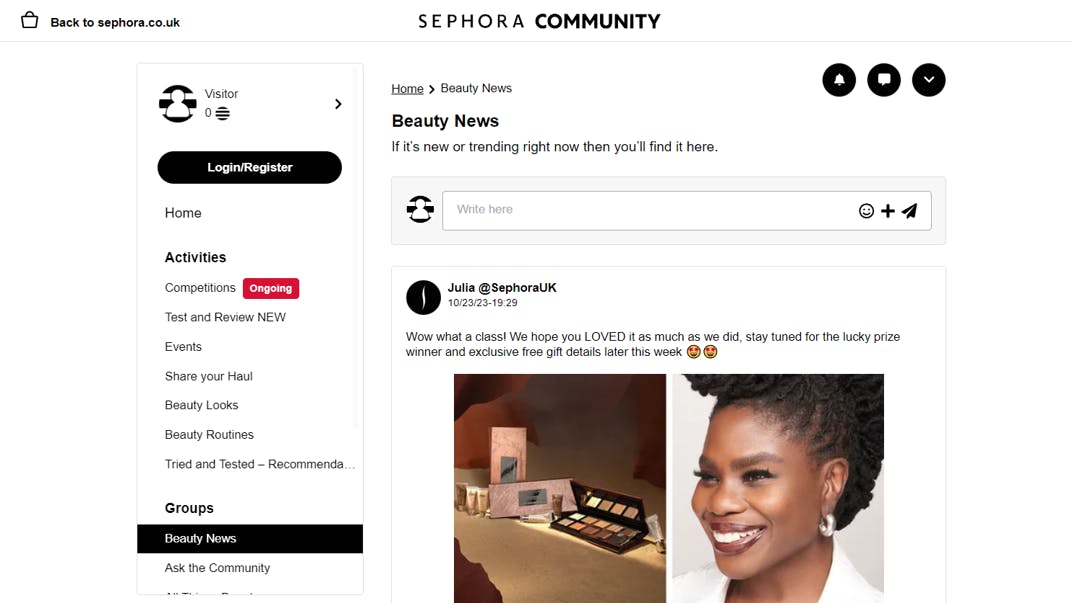 Turn your community into brand ambassadors
You can also continue to build customer loyalty while extending the community through the use of referral programmes. By incentivising successful referrals, businesses tap into the amplifying effect of word-of-mouth. Customers evolve into brand advocates, actively propagating the brand and broadening the community.
This integrated approach not only strengthens the bond between the brand and its customers but also fosters a sense of belonging and appreciation. It empowers customers to become enthusiastic advocates, spreading their positive experiences with others. In doing so, retail businesses not only retain customers but also create a vibrant and dynamic community that continues to thrive and grow.
An example of this is All Plants who set up a referral scheme to acquire and reward customers so they'd become brand advocates and organically grow the business. They added the scheme to x4 key touchpoints; customers post purchase webpage, a pop-up on the homepage that just targets purchasers, the customer's account section, and also physical leaflets within their order. These touchpoints lead to 34% of customers referring their friends, and 27% of these referrals come through as new customers.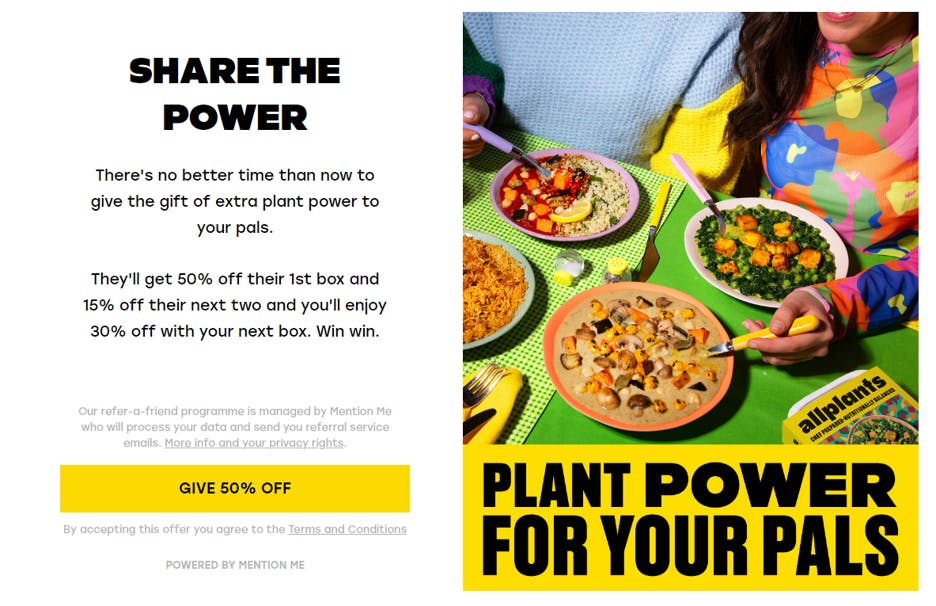 How to link SMS into your wider Email strategy
Firstly, it is important to differentiate SMS from your Email strategy. One of the biggest mistakes brands make is a 'copy/paste' strategy where you send your SMS subscribers the same content at the same time as Email. Whilst both platforms are designed to speak directly to your user, they have different connotations, best practices and use cases. Here's 3 reasons to add SMS into your channel mix:
1. Quick open rates for urgent messaging: With inboxes becoming more crowded, especially over peak seasons, SMS offers further visibility as most users are frequently checking their phones and texts are hard to ignore. In fact, it's estimated that 98% of text messages are opened and read, which is significantly higher than email open rates. Because of this, we also tend to see higher conversion rates than email, meaning that even though SMS is more expensive, when used correctly it has a stronger ROI.
2. Give users that personal touch - SMS can also feel more personal, we expect texts from our friends and family, and from email we expect work and marketing. This can therefore improve brand to customer relationships, especially when you're hitting customers with relevant content such as special offers, birthday messages and loyalty point updates. On the other hand, SMS is also an intrusive channel, and it's easy to overstep. 73% of users will unsubscribe from SMS if they feel the content is not relevant to them, and therefore segmentation and frequency is key to keeping your subscribers engaged.
3. Level up your customer service - Conveying the same shopping experience you receive in store, is one of the biggest challenges luxury brands face. Ulla Johnshon paired the personal touch of SMS with their rich, visual imagery to showcase their new products & promote their runway shows. This more immediate, 1-2-1 approach is similar to the sales associate experience as a user feels they're talking directly with the brand. This tactic can only be used within the US and CA markets due to the carrier and their restrictions in the EMEA market.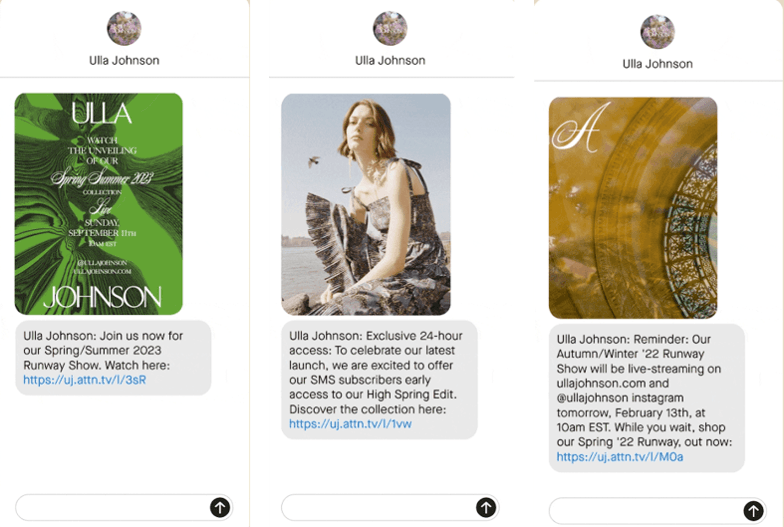 Measuring the success of CRM loyalty strategies is crucial for improvement. Whilst there are a multitude of metrics you can use to track such as open rates, repeat customer rates, churn rate etc, we always recommend bringing it back to Customer Lifetime Value. Your Email, SMS, Loyalty, Referral & Community programs all aim to retain your customer for longer, which therefore should see CLTV increase overtime. These softer metrics should not be neglected and still tracked per channel to spot optimisation opportunities & that each channel is contributing positively.
Having a robust retention strategy is crucial for businesses aiming to sustain long-term success. Whilst this can come at a cost, there are many routes to maximise this return such as, encouraging your community to contribute to wider marketing initiatives and benefiting from higher open and conversion rates with SMS. As we see competition continue to rise across most categories, the key to success will not be to offer deeper discounts, but to be more inventive with your retention & loyalty offering to drive cut through amongst the noise.
Tara Hughes - Email & CRM Specialist
A Peak Planning Model for the BFCM retail and ecommerce season
As peak retail season approaches, Reload Digital shares tips eCommerce brands can implement to maximise performance over the biggest trading months of the year. This article explores how November is just the tip of the iceberg, and brands need to look at their strategy from September through to January to keep driving year-on-year growth.
'Getting peak right': Planning for a killer Black Friday
Black Friday is a big revenue driver for brands, but with a difficult economic environment, how can they expect this to influence this year's peak trading? We're sharing our predictions for the busy period and advice on where brands should focus their digital marketing strategy to 'get peak right'.