•  Words by Nicki Eggie - Paid Advertising Lead
Why your brand should consider Amazon as another opportunity to sell
Why you should be considering Amazon as an extension of your brand's sales strategy in 2021.
While Amazon isn't a NEW thing by any stretch of the imagination, it certainly is a rapidly growing channel that can no longer be ignored by eCommerce brands. With a market share of more than 30% of the UK's entire eCommerce market, and a 51% increase in annual net sales (The Drum, 2020), now is the time to seriously consider the venture to Amazon selling.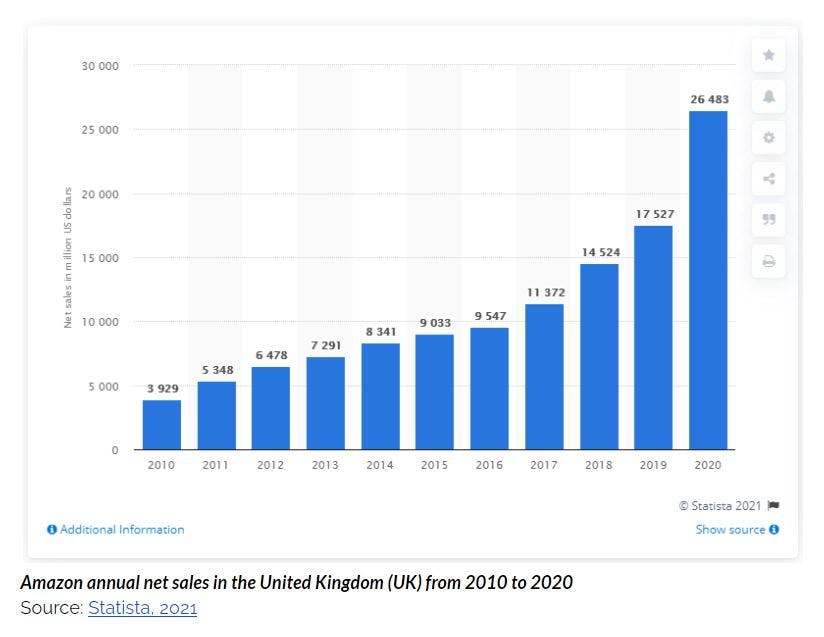 Pros & Cons of Website vs Marketplace Selling
While the growth of Amazon is indisputable, selling on the platform does have its drawbacks comparative to selling on your own website. Here we dive into the pros and cons of website vs marketplace selling to help you decide for yourself.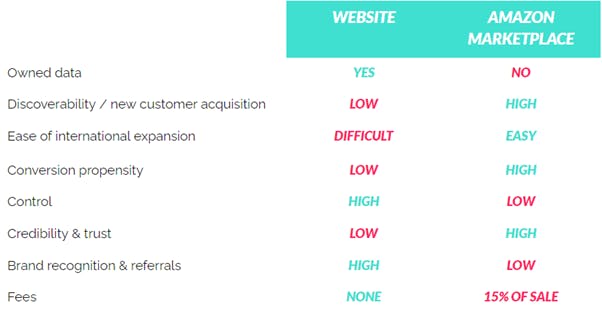 1. Owned Data - ✔ 1 point Website
When hosting your products on Amazon, you bypass the website altogether which means you're sending zero traffic to your own website. This means you're not supplementing your remarketing lists or your email database, which means no retargeting advertising and no retention strategies. So ask yourself- how much is my data worth?
2. Discoverability - ✔ 1 point Amazon
In my opinion, your product discoverability across Amazon is one of the strongest advantages this channel has. Amazon users rarely search for brands, instead they will look for a product and evaluate their options. This raises your chances of attracting new customers because the likelihood of them 'discovering' your brand is increased. From an advertising perspective, it therefore becomes far more profitable for you to reach new customers on Amazon than for you to acquire them on Google. In my personal experience I've found that Amazon advertising produces 5x greater 'unbranded' revenue than Google Ads.
3. Ease of international expansion - ✔ 1 point Amazon
Expanding into an international market can be costly and risky, but Amazon makes it quite easy by: 
1. Being an internationally trusted marketplace, you'll leverage Amazon's own trust that they've built with their users.
2. Fulfilment By Amazon (FBA) means that you won't have to set up warehouses or sign long-term fulfilment contracts in new international markets.
3. As we already mentioned, it's a marketplace that favours product searches rather than brand searches - therefore low brand awareness doesn't become the death of you. In fact, 64% of Amazon sellers are profitable within their first year of selling.
4. Less capital investment means lower risk/cost associated with failing (i.e. if the market isn't receptive to the product, you can simply pull the storefront with minimal capital wasted).  59% of Amazon sellers have spent less than $5,000 USD to launch their store, whilst building a regionally appropriate website and organising the logistics would cost a lot more.
4. Conversion propensity - ✔ 1 point Amazon
People are using the marketplace because they are ready to buy, therefore the propensity to convert is so much higher than it is for Google. This means conversion rates are higher, and CPAs are lower. 
Webfx has created a helpful infographic outlining the key distinctions between Google and Amazon - reporting that while Google benchmarks around a 3.75% conversion rate, Amazon comes in at almost triple that, hovering around 10%. Not to mention the cost per click involved with advertising on Amazon is 2.5x lower than Google Ads. With a higher conversion rate AND lower advertising costs, that leaves us with a CPA which is 7x cheaper on Amazon than Google.
5. Fees - ✔ 1 point Website
So we know the advertising costs for Amazon are much lower than Google, but what about the cut they take? Amazon takes a generous fee of 15% on every sale you make, so be sure to crunch your numbers and see if your profit margins will be able to stomach this. 
If you're currently relying quite heavily on Google Advertising to bring traffic to your website, you may still find it more profitable to sell through Amazon than your own website due to the lower advertising costs (did I mention CPAs are 7x cheaper?). 
6. Control - ✔ 1 point Website
With your website, you have control over pretty much everything! From content to design and everything in between - it's your brand story and you get to choose how you want to present it. However, Amazon essentially strips you of any creative license and limits you to their own rules such as how to present your storefront, what images are allowed, how much detail you can have, etc.  So if you do rely heavily on telling your brand story to drive sales, then Amazon may not be the place for you.
7. Credibility & Trust - ✔ 1 point Amazon
Nothing new here - Amazon is a very well-known worldwide business that is trusted and preferred by a lot of online shoppers. So when you launch your products on their marketplace, you're leveraging the trust they've already built with their customers (one of the reasons why they feel entitled to 15% of your sales). 
This can also work as a disservice to you because 9 out of 10 online shoppers will price check a product on Amazon. So your website may actually do all the hard work to sell your product but the user will convert via Amazon instead, purely because they know they'll get fast delivery and easy returns.
8. Brand recognition & referrals - ✔ 1 point Website
One I personally hadn't considered is brand recognition and referrals. When you ask someone where they got an item - they'll say Amazon. Very rarely will they actually quote the seller name- therefore limiting your brand recognition and word of mouth marketing. However, you can mitigate this by slipping some discount codes and flyers into your product package to encourage Amazon customers to repeat purchases with the brand directly through your website.
Now if you're skimming this, you may just count 4 points Amazon vs 4 points website. But the main idea here is for you to evaluate which points carry more weight to you. Perhaps your equity is tied up in your brand story that couldn't possibly be conveyed on Amazon - or maybe your owned data is the foundation of your brand's retention strategy. But just remember, no one is asking you to choose between website OR marketplace selling, but rather to consider another opportunity to sell in a rapidly growing channel. And if you're not sure if your industry sells well on Amazon - I'd encourage you to check out Jungle Scout's comprehensive report titled The State of The Amazon Seller 2020 which ranks the most popular product categories sold on Amazon, (spoiler - if you're in Homewares and not on Amazon, you're losing big bucks!).
And what about investment?
When thinking of the possibility of selling across Amazon, you'd be forgiven for thinking that this is going to be a lengthy and costly process that, despite its growth as a channel, will struggle to return a profit for your brand within the first couple of years. So you may be pleasantly surprised to read that:
1. The majority of Amazon sellers (60%) had their store set up in less than 3 months, and nearly everyone (97%) fully set up within a year. 
2. Most sellers (59%) spent under $5,000 USD to launch their business on Amazon, including the cost of inventory, fees and promotion.
3. Two thirds of sellers returned a profit in less than a year.
4. 36% of sellers see profit margins higher than 20% and 67% reported at least a 10% profit margin while just 8% said their Amazon store is not yet profitable.
5. Most sellers (57%) spend less than 20 hours per week managing their Amazon storefront, and 13% spent just 30 mins per day. 
Source: Jungle Scout - The State of The Amazon Seller 2020
Final thoughts and takeaways
I present all of this information to you not to try to convince you to move all your products to Amazon and ditch your website, but rather to consider Amazon as a strategy to fill the gaps of your website can't. As a Digital Marketer, I find something very poetic about how unintentionally complementary these methods of selling are - each working to fill the other's weaknesses. So I hope by the end of this, you consider a strategy that allows Amazon to work in conjunction with your website, to encourage brand discoverability, aid international expansion, and essentially just remain competitive in the eCommerce industry. After all, marketplace selling is only going in one direction - upwards!
Reach out to our Reload team today if you have any further questions about setting Amazon up as an additional sales channel for your brand, or if you'd like to find out more about Amazon Ads - we're here to help!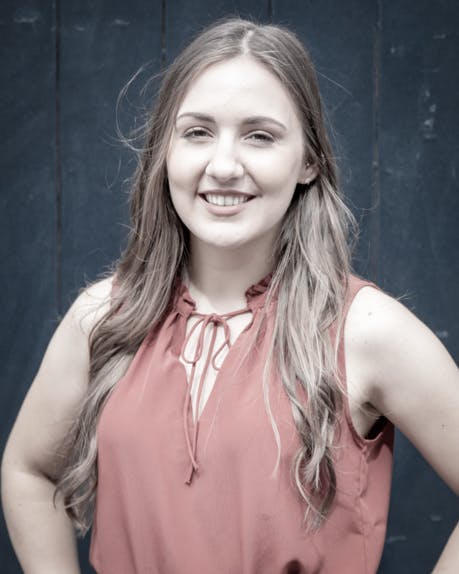 Nicki Eggie - Paid Advertising Lead
Creating a unique Retention & Lifecycle strategy
With acquisition costs on the rise, Reload Digital shares tips eCommerce brands can implement to improve efficiencies and drive long-term growth using a robust retention & lifecycle strategy. This article explores how using loyalty schemes, referral programs & SMS you can create a layered retention program that keeps users repurchasing.
A Peak Planning Model for the BFCM retail and ecommerce season
As peak retail season approaches, Reload Digital shares tips eCommerce brands can implement to maximise performance over the biggest trading months of the year. This article explores how November is just the tip of the iceberg, and brands need to look at their strategy from September through to January to keep driving year-on-year growth.