Optimising your Google Shopping Feed
How we can help you optimise your Google Shopping & Facebook Catalogue Ads to get the most out of your paid advertising.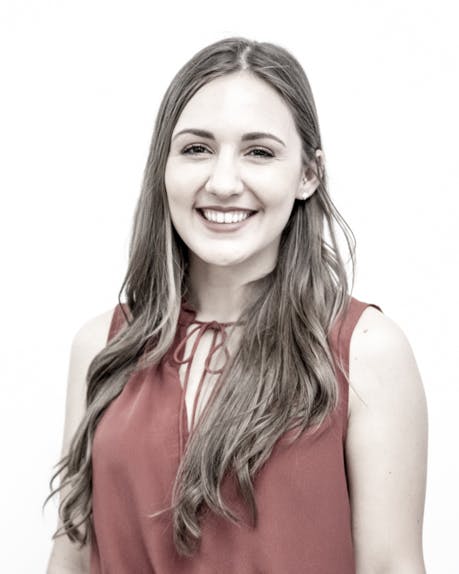 Words by Nicki Eggie - Paid Advertising Lead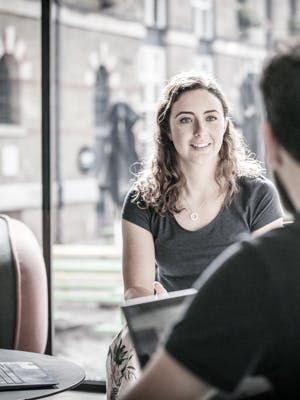 Feed Optimisation for Shopping Ads
How we can help you optimise your Google Shopping & Facebook Catalogue Ads to get the most out of your paid advertising.
Feed Optimisation - What's involved?
Unlike search campaigns where you specifically bid on the keywords you'd like your ads to appear for, Shopping campaigns source 'keywords' directly from your product feed. Shopping feeds are often set up using website integration apps and content APIs to extract your product information and reconfigure it into a 'feed-friendly format'. This means your keywords can only be as good as your product information. You may be thinking "well my product content is great!" but where this method of feed production falls short, is that they only pull through the bare minimum of what's required in a feed in order to start advertising. There is so much more you can be adding to a product feed that extends beyond the parameters of a product page. Observe the example below where the first image depicts the information extracted from a content API while the second image features additional product details that have been added using Feed Optimisation software.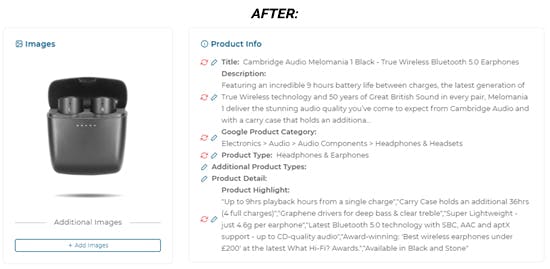 How could I benefit from it?
By bulking out your product feed with details that extend beyond the parameters of what is available on your product pages, we promote the opportunity and quality of our Shopping campaigns. 
Some of the more common benefits are below:
1. Taking back your own brand search scape 
For many D2C brands, you have the challenge of 'competing' with your eTailers for your own product terms to maximise your profits. However, when someone searches for your brand + product name, often you'll be outranked by your eTailers due to your Product Title missing your brand name. 
For example - if a user is searching for 'Philip Kingsley Elasticizer', you can see that eTailers have 'Philip Kingsley' in the product title while the brand itself simply has the product name. This is because Content APIs will extract your product titles from your website and where your etailers have named the product 'Philip Kingsley Elasticiser', you've just named it 'Elasticizer' - therefore despite you owning the product, your eTailers are receiving preference as their product title is more relevant to the search query at hand. 
Feed optimisation allows you to edit your product titles within the feed (to include your brand name) without this changing on your product page.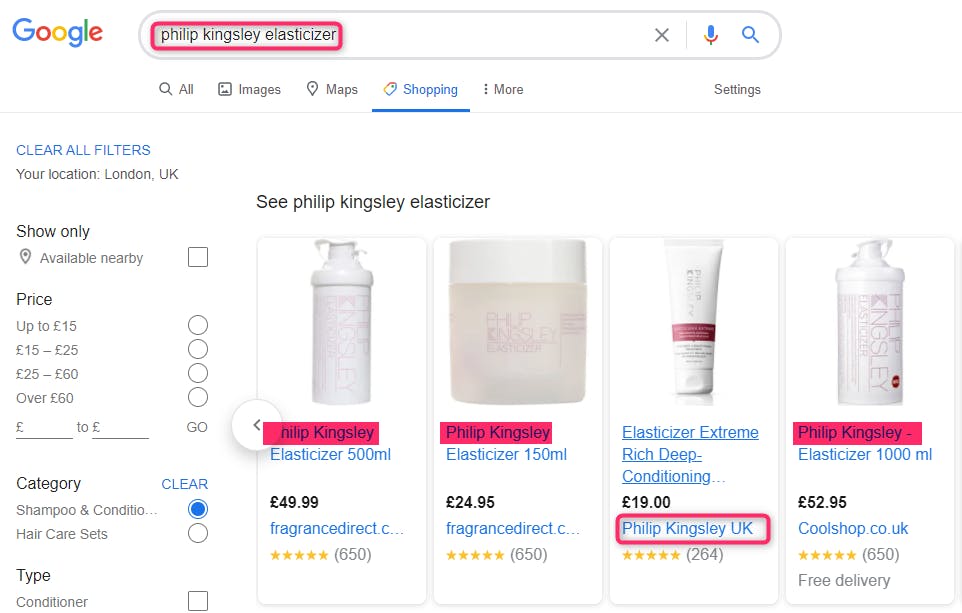 2. Expanding the scope of your 'keyword targeting' to promote opportunity 
If your brand boasts simple, clean product page designs then chances are, you don't have much content on the site. This becomes problematic for your shopping campaigns as there isn't enough information in the product titles & descriptions to reference for its 'keyword source'. And even if your product descriptions are quite healthy, typically SEO best practice limits you to 156 characters for descriptions and up to 70 for titles. However where your Shopping campaigns differ, is that Google will actually read up to 150 characters in your title and 1500 in your description to help increase keyword coverage. Feed optimisation allows you to further bulk out your product information (and therefore keyword opportunities) without affecting your on page look, feel or SEO rankings. 
You may also have a product which resists just one title - e.g. sofa, couch, lounge / lotion, moisturizer, cream etc. You may want to stick to just one term on your product page for consistency purposes, but this leaves you limited in terms of your impression opportunity for Google Shopping. With the ability to edit your feed without it affecting your on page content, we can start to add in these additional terms to promote keyword opportunity. 
Example: Having a personalised product inventory can be tricky as there's only one naming convention you can use on the product page, but keyword research shows us that users are referring to a plethora of terms to arrive at this page: personalised, customised, name, writing, upload photo, monogrammed etc.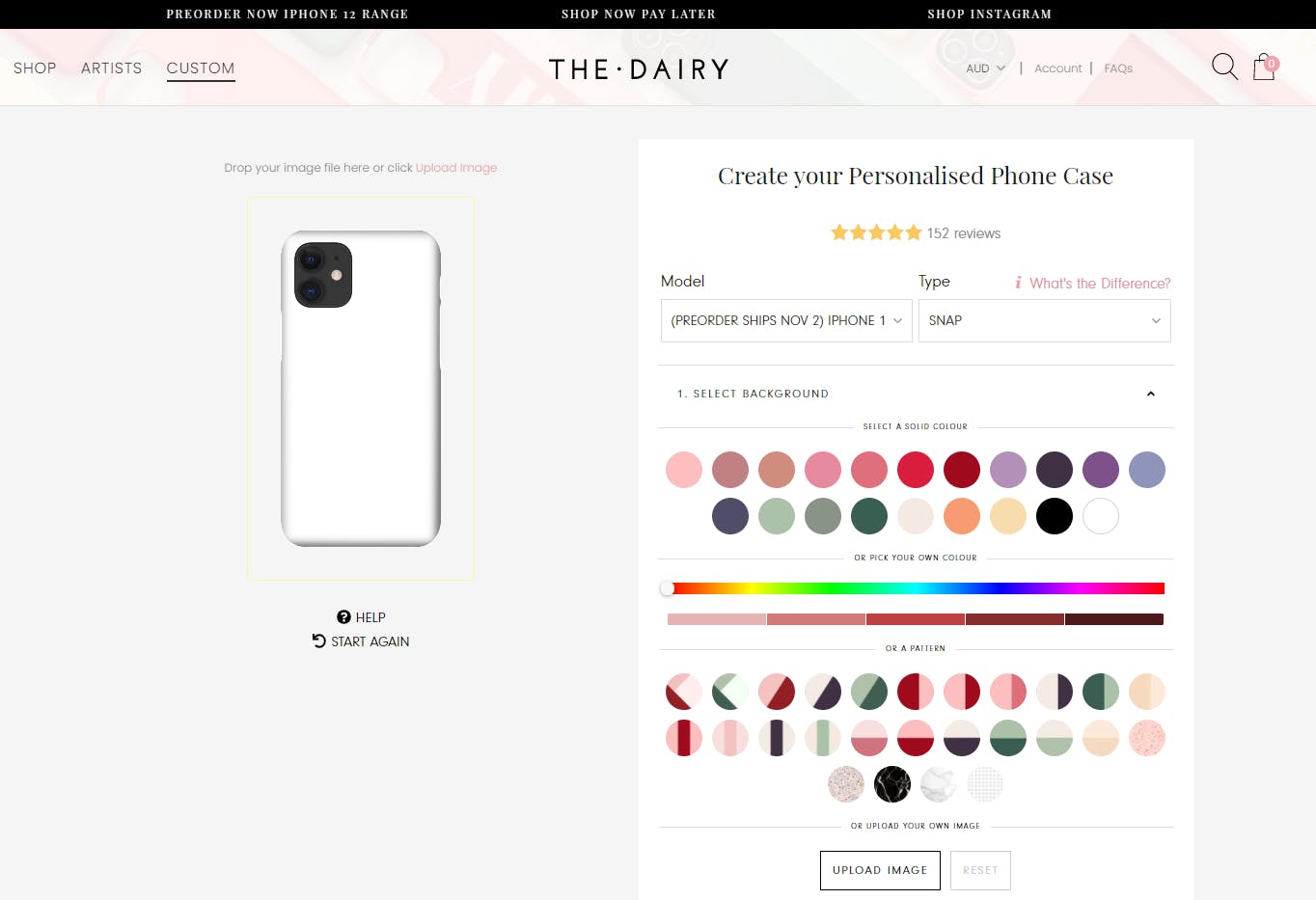 We were able to optimise the product feed listing with a description that covered all of the above keywords in just a couple of sentences (see excerpt below).
"Create your Personalised Phone Case - Customise your phone case, your way! With a range of stylish fonts and colours, you can monogram your name, initials or favourite quote to your very own personalised phone case! And with our high-resolution printing capabilities, you can even upload a photo and be rest assured it wont fade, rub or scratch off - so you'll have your loved ones with you all day, every day."
3. Getting smarter than Google with performance-based segmentation
Google Smart Shopping is great for optimising your ad delivery towards those products that perform the best in terms of conversion value (i.e. revenue) - however lacks strategic capabilities beyond that. 
For example you may have a product range that has a high price point and a very healthy profit margin but only gets a few transactions every month. Google Shopping will de-prioritise these products and will limit their impression opportunity and will instead push easier-to-sell products with potentially smaller margins. With a feed optimisation tool, we can segment your product feed into different performance based categories that Google neglects to consider, and create separate campaigns for each - thereby managing the budgets and associated KPIs for each segment. 
Instead of having all your products in one smart shopping campaign where Google just pushes the products that sell well, we can create a structure that considers the below: 
1. High Profit Margin Products - Pushing products that have limited impression share but hefty margins (promoting profit growth)
2. Entry Level Products - Pushing products that users likely transact first on, before they come a lifetime customer (promoting new customer acquisition & lifetime value)


3. Top Selling Products - Pushing those top 20% of products that bring in the bulk of your revenue


4. Remaining Products - All remaining products that don't exist in one of the above categories (we would supply a lower budget here)
These products will update daily based on the last 30 to 90 days worth of data - so we'll never be stagnant!