•  Words by Francesca Raggio - Growth Manager
iOS15 - What this really means for email marketing and how you can prepare
We explore what the Apple iOS15 update means for email marketing, how to mitigate the impact & why we should embrace this as an opportunity for real customer engagement.
The way we measure email success is changing, making true engagement more important than ever. But what does this really mean?
Data privacy - The hotly debated topic across the digital industry has taken centre stage once again since the news that the upcoming September 2021 release of iOS15 brings with it major changes that will impact how we measure email marketing performance. The most prominent of these changes means that we'll no longer be able to track when a user opens an email, putting an end to the open-based email marketing tactics.  
Whether your attitude is to praise the tech giants for putting customer privacy first or you're understandably concerned about the new barriers to customer data capture to inform your digital marketing strategy, there is an undeniable need to evolve our way of thinking and embrace a new approach to measuring real customer engagement. 
So what exactly is going to be affected?
There are two new elements from the iOS15 privacy update that we know will impact email tracking within Apple's native Mail app:
1. Users will be able to opt-out of open tracking: This means that open rates will no longer be seen as a reliable engagement metric across all ESPs. 
2. Users will be able to hide their IP addresses: This means that email senders will not be able to view a user's exact location, but rather will be randomly assigned an IP address that corresponds to the region the device is in, making the data more generic. 
There is also a third element, that although has been available for some time already, will certainly become more prominent once this update is rolled out. That is, a user's ability to hide their email address. 
As far as we know, these Mail Privacy settings will not be available by default, but instead will be shown as an available option when users upgrade to iOS15. 
But what about other mail providers I hear you ask? Well, it is worth noting that according to Litmus, Apple commands anywhere from 45% to 57% of the email client market share, meaning that marketers will lose the open rate and IP data for nearly half of email recipients!
So does this mean email marketing is dead?
Absolutely not! In fact, whilst this will present a whole new learning phase for the email marketing industry, it should be embraced as a pivotal change for two reasons. Firstly, it will empower consumers to engage with brands in a way that makes them feel comfortable, and secondly, it will pave the way for marketers and eCommerce brands to build and nurture owned relationships with their customers. The overarching message here is the benefit of creating real engagement with customers, which thankfully can be measured in many different ways. 
How should you be preparing for these changes?
As with any major change in the digital industry, it is important to take preparative steps to minimise the impact that iOS15 will have on your email marketing channel once the roll-out comes around. 
Thankfully, we've done the hard work for you and summarized 5 key steps for you to start futureproofing now:
#1 Redefine your engagement metrics and email KPIs
Starting from now (yes now), you should be replacing open rate as your primary metric with clicks across your key segments. Whilst open rate data is still available we'd recommend using this as a secondary metric so that you're still gathering the data, but start to shift focus onto clicks as the success determiner. 
Other key metrics to start tracking include purchase behaviour (products, categories, frequency) and also subscriber website activity such as views and add to cart. These are both key indicators of a user's engagement with your brand as well as their intent to convert which is the ultimate goal. 
#2 Create a new 'engaged' segment 
A continuation of the point above, we recommend creating a new 'engaged ' segment based on recency of sign-up as well as clicks, website and purchase behaviour. The reason for doing this is that once the iOS15 update comes into play, your 'engaged' segments based solely on open data will become invalid, as ESPs will essentially mark everyone as an 'open'. Using recency of sign up as a metric is also a good way to weed out old subscribers who are likely to be inactive. 
We've provided an example of what this segment could look like using Klaviyo.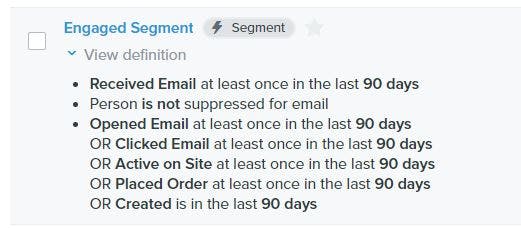 To make the most of your open rate data whilst it is still available, we recommend testing different variations of campaign subject lines to get as much visibility as possible on the type of content your customers respond to. Arming yourself with this knowledge can support future campaign strategy, helping to create highly engaging emails. 
#4 Focus on your deliverability i.e. clean your lists
A huge factor in driving those authentic, long-term relationships with your customers is the quality of your subscriber list. Put simply, if you're consistently emailing users that may no longer want to hear from you, this will negatively impact your engagement metrics (opens for a short period of time and then clicks), contributing to increased spam rating and emails ending up in junk! 
So, there are a couple of steps we advise taking:
1. Utilise open rate data whilst you still can: Create an 'unengaged' segment of inactive subscribers based on open rates whilst they are still available. We'd recommend segmenting your subscribers by properties such as "hasn't opened in the last 90 days" with the condition 'OR' "hasn't clicked in the last 90 days". You can then go ahead and manually 'suppress' these users so that your lists only include people who are active and want to hear from you. 
2. Set up a Sunset flow to keep your lists clean: Sunsetting is the practice of incrementally removing inactive users from your database and we recommend activating Sunset campaigns periodically to clean your lists. After the iOS15 update, engagement will need to be based on active i.e. clicks rather than passive interaction as before i.e. not opening an email. This means setting clear call-to-actions in your Sunset campaigns such as "Yes, I still want to hear from you". If someone doesn't click on the link, they will be considered unengaged and should be suppressed.
It is worth noting that some users may open an email and then proceed directly to the website to purchase without clicking the email. It is therefore recommended to add a filter within this flow that will consider anyone who hasn't purchased 'OR' clicked an email since starting this flow as 'unengaged'.  
Within a Sunset campaign, anyone who actively unsubscribes will be automatically removed from your email database, whilst anyone who passes through without clicking an email or purchasing can be auto-tagged as 'unengaged' and then manually suppressed. We also recommend regularly exporting the list of unengaged users and uploading them as a custom audience for Facebook. 
Omnisend has created a recommended timeline for sunsetting unengaged subscribers based on clicks.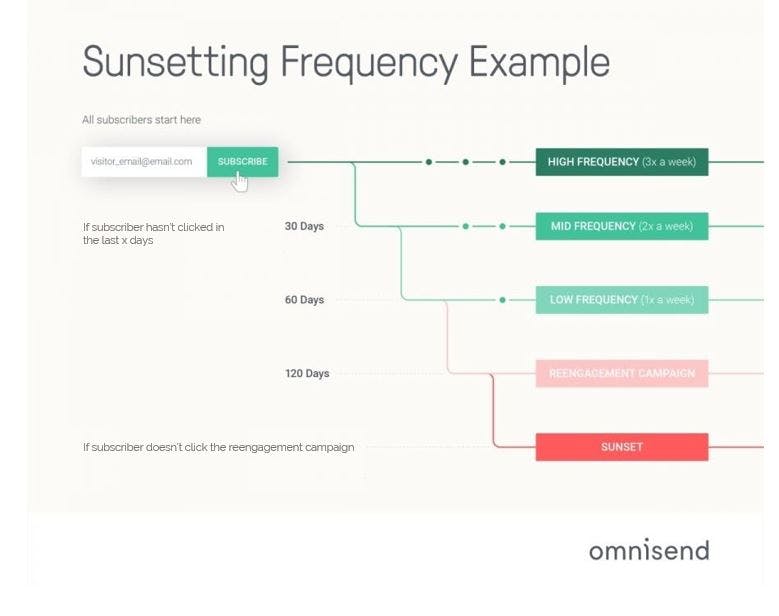 #5 Start considering SMS Marketing
With the potential of a 4000+% ROI (Klaviyo, 2021), no reliance on open rates or pixel data, SMS Marketing is quickly becoming an extremely lucrative channel, particularly in-light of the iOS15 update. 
If you weren't convinced already, here's some additional stats on SMS Marketing to sink your teeth into.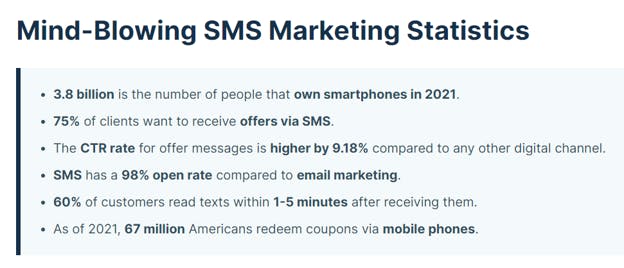 The success rate from SMS clearly shows the importance of clicks as an engagement measure, giving us all positive reinforcement that email will survive once open rate data is no longer available! 
The majority of ESP providers will provide SMS marketing for an additional small fee. Klaviyo for example will be rolling out SMS for the UK & AUS in August this year - just in time for the update! So, start considering SMS as part of your Marketing strategy (if you haven't done so already), and let those engagement metrics do the talking. 
To wrap up, whilst this latest privacy-focused update may have temporarily rocked the email marketing industry, it ultimately reinforces the need for harbouring first-party relationships with customers, building authentic long-lasting communication that in-turn can help to reap long-term monetary rewards. The biggest challenge is finding innovative ways to both engage your customers and then obtain that engagement data, but one thing is for sure, the overarching sentiment is that marketers and brands will survive and thrive post iOS15 without third-party data. 
If you'd like to discuss your email marketing strategy in light of iOS15 and how your eCommerce brand can navigate this change, get in touch with our team of specialists here.
Francesca Raggio - Growth Manager
Creating a unique Retention & Lifecycle strategy
With acquisition costs on the rise, Reload Digital shares tips eCommerce brands can implement to improve efficiencies and drive long-term growth using a robust retention & lifecycle strategy. This article explores how using loyalty schemes, referral programs & SMS you can create a layered retention program that keeps users repurchasing.
A Peak Planning Model for the BFCM retail and ecommerce season
As peak retail season approaches, Reload Digital shares tips eCommerce brands can implement to maximise performance over the biggest trading months of the year. This article explores how November is just the tip of the iceberg, and brands need to look at their strategy from September through to January to keep driving year-on-year growth.